There are approximately 4,000 film festivals in the world. In the last decade, there has been a whopping 400 percent spike in new festivals. Film festivals are popping up faster than Starbucks.
Unlike coffee chains, film festivals need to be distinctive, to distinguish themselves from the other 3,999 festivals. Some focus on particular genres, such as horror and sci-fi, documentaries or dramatic narratives. Others adapt specific subjects, human rights, national identity. Some show very serious films, others less serious, some hardly serious. Some emphasize their size: "We're the largest..." Others tout their status: "We're among the most influential."
Yet, among these 4,000 film festivals, there is one that has an identity not by choice, not by design, but from history. An identity with roots that reach back more than a century, an identity that today rests upon a solid tradition that speaks to the creative impulse and the rebellious nature in America. Not surprising, this film festival's motto is, "fiercely independent."
"This Woodstock Festival has character," shouts Richard Kroehling, two-time Emmy Award winner and director of the recently released
2B
-- a film about future society in decay yet with the potential for radical transformation. "It has a smart, sophisticated audience, which makes for a smart festival with films that are complex." Richard takes a long swallow from his beer, "It's great!"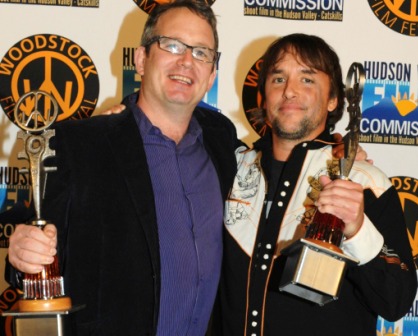 An amplified, deeply masculine voice suddenly intones: "Ten minutes until event begins."
Weaving and twisting and inching myself toward the bar -- suddenly I spot Bob Malkin, asker of a great question at "The Changing Face of Independent Films" panel, a question I'm presently unable to remember. "I had a SoHo galley for many years. Then I found my heaven -- Woodstock and this festival! I love independent film! This is a film festival in the middle of streams, waterfalls, mountains -- Woodstock is one big art, music, film party all year round!" Bob raises his wine glass for a toast.
"Eight minutes until event begins," the amplified deep voice informs. A plastered herd struggles from the bar to a narrow hallway creating instant bottleneck.
Why filmmakers come to film festivals is clear. Chris Gore in his Ultimate Film Festival Survival Guide writes that a cash bar at a film festival is a nightmare comparable to receiving a Chairman Mao manicure and an unemployed Rotor Rooter man giving you a colonoscopy. Well, maybe he didn't write it that strong, but he makes it clear numerous gratis inebriations are crucial for a successful film festival. Once that hurdle is cleared and the fog rolls in, filmmakers come to festivals to gauge audiences' reactions to their new films. And they come to acquire good press, although that normally depends on how good the truth seekers are at weaseling themselves into the gratis booze. The hopefuls also come to land a distribution deal for their film, although buyers, unfortunately, are seldom among the blitzed. Finally, for those in the grip of a hallucinogenic reality enhancer, they come to acquire money for their next film.
Why viewers come to a film festival is likewise simple. To crash parties and buddy up with sloshed film people. Being Woodstock, any barrier erected around anything is guaranteed to ignite horrific screams, if not worse. Tinker Street in flames is not a goal of the film festival organizers. Second, the 15,000 film enthusiasts come to this festival to feast on excellent films, those made for thinking adults.
But nothing is simple in life, we've all learned that. There is more to this frenzy of film festival expansion than free booze and filmmakers' desperation for recognition and distribution and starving filmgoers craving films not dumbed down for teenagers riding testosterone rockets and gorging on syrupy stories. And I know what it is. Lurking in the heart of every rational, urbane, well adjusted American thumps the irrational desperation to hang out with a movie star. Let's face it, we're all sick.

"Two minutes until event starts," the voice instructs. I plow into and weave through the plastered bottleneck, grinding away, until I squirt out into a huge womb stuffed with delightfully happy sick people. It's the awards event, the gala of the festival at Backstage Productions in Kingston, near Woodstock.
"Welcome to the 10th Anniversary Woodstock Film Festival," executive director Meira Blaustein is greeted by a thunderous applause from 500 feverish festival enthusiasts. It sounded like we were in South Bend, Indiana -- Notre Dame football game. "Ten years ago, Woodstock had everything. It had music. It had sculpture. It had painting. It had poetry. It had theater. But it did not have film."
At my table are a dozen journalists split between writers and photographers. On the round table sits two sparkling bottles of Barefoot Wine, red immediately embraces me, while white remains orphaned, untouched. It's a beady eyed group with minds probably washed too long by too little excitement, spirits crushed by the brutal drudgery of daily journalism.
On the stage, Giancarlo Esposito -- four Spike Lee films, several Broadway plays, endless television shows -- says, "To outsiders Woodstock seems to be defined by the concert 40 years ago." He goes on to say the 1969 half-million strong Woodstock Arts and Music Festival was a generation-defining event, but not defining for the town of Woodstock.
In the 18th and 19th Centuries, the hamlet of Woodstock was an way station on a windy mountain road with several taverns and boardinghouses surrounded by struggling farms and a ton of bears. In 1903 came the Byrdcliffe Art Colony, painters and craftspeople and social reformers with all sorts of weird ideas -- like, art is good, and life should be enjoyed. This was during a time when life was bad and art was a waste of time. Byrdcliffe was joined in 1916 by the Maverick Art Colony, which added musicians and poets to the bohemian mix. This crew was even less keen about the industrial revolution ravaging America. It was Maverick that started the Woodstock tradition of musical concerts and strange festivals, and the locals growing bulging neck veins as their mouths spit, "You immoral creeps!"
Weirdness and debauchery, however, are magnets for some. For more than a century a small yet steady stream of musicians and artists, poets and independent thinkers, now filmmakers, have taken up either full or part-time residence where once stood mountain taverns and boardinghouses, failing farms and tons of bear crap.
"The town had everything to do with the music festival," Michael Lang, longtime Woodstock resident and originator of the Woodstock Arts and Music Festival 40 years ago, told me on opening night of the Woodstock Film Festival. "This village is steeped in tradition, the Maverick Concerts [started in 1916 and continue today], the Shout Out Concerts [in the 1960s]. There was a strong music scene here."
Money was of course necessary, big money, but money cannot go where culture has not already been.
When Jane and Ralph Whitehead -- who inherited a bundle of money -- searched for a location to establish their utopian dream, Byrdcliffe Arts Colony, they chose the natural beauty of Woodstock nested in the Catskill Mountains under towering Overlook Mountain. They also chose Woodstock because of its relative closeness to the nation's largest city, the country's art and literary capital, New York City. Thirteen years later, Harvey White decided Byrdcliffe was not radical enough for his socialist soul and he sought a new location to establish the Maverick Colony. Harvey simply walked to the other side of Woodstock. For the thousands of artists and writers and spiritual experimenters who have followed, Woodstock's natural beauty and close proximity to New York City, its long history of creativity and alternative living, make it a unique place to cultivate the spirit and to educate the beast.
The mammoth Woodstock Arts and Music Festival in 1969, then, did not create Woodstock. It was little Woodstock that created the mammoth music festival.
And little town has shaped the Woodstock Film Festival. In a small town with small venues the festival must remain small. In close proximity to New York City, the Mecca of independent filmmaking, the festival attracts large numbers of filmmakers and industry people. This combination creates an intimate festival, one where the stars and professionals are not segregated, as in large festivals, but integrated with filmgoers. The Woodstock spirit is egalitarian, not red carpet for the stars and no carpet for everyone else. Right now, however, I'm thinking about a different star, one called Barefoot.

"You mind if I have that bottle?" I ask a pair of droopy eyes across the table. A tiny sparkle of saliva hangs from the corner of his slightly parted mouth. Droopy looks at me, looks at the bottle. Looks again at me, and back at the bottle. Like a caterpillar pumped full of horse tranquillizers, Droopy stretches his arm forward. His hand reaches the bottle, fingers curl around the neck of the bottle. The bottle rises, rises higher. And in a miraculous display of human dexterity, with hand grasping bottle, arm extends outward as body leans on table and across the table comes White Barefoot.
It's the brutal price paid by journalists to bring all of us the truth ... the ugly reality of -- Wait! Droopy is going to speak! Actually, Droopy was just moving his tongue to catch some dripping saliva.

The 40th anniversary of the generation-defining Woodstock Arts and Music Festival -- actually what had the greatest impact was not the event itself but the documentary about the event -- was too large to be ignored today. At the Woodstock Film Festival, the kick off film was Barbara Koppel's Woodstock: Now and Then, which sold out. This was followed by When You're Strange: A Film About The Doors and Neil Young Trunk Show, both of which also sold out. Several more music films rounded out the heavily attended "Focus on Music." Another category at the festival was "Exposure," documentaries that explore social issues. Music and social responsibility, two major themes at the film festival, have existed in Woodstock since those weird Byrdcliffe freaks and Maverick perverts sent this sleepy mountain village into shock and down a very different path.
On the stage, trophies that to me look like wrenches welded to a medal base or fixed to an automobile tail light, topped by peace signs twisted to W wings -- the Woodstock Film Festival's nifty logo -- are being handed out for The Lee Marvin Award for Best Narrative Feature, which went to Don't Let Me Drown, directed by Cruz Angeles. Strange, for five days I never even heard of that film. Where was I? The Maverick Award for Best Documentary went to Junior, directed by Jenna Rosher, who gives an enthusiastic, touching acceptance speech. I saw that film and it's brilliant! The Honorary Trailblazer Award was given to producer Ted Hope ... Honorary Maverick Award to writer/director Richard Linklater ... Haskell Wexler Award for Best Cinematography to ... individuals spring out of their chairs, run and twist around tables and jump up on the stage -- attired eloquently in dirty sneakers, rumpled shirts hanging outside worn blue jeans, sweat shirts. Well, most. But this is not Kodak Theater and the Hollywood crowd. This is good films and dirty sneakers.
"Woodstock is my favorite independent film festival," says Ron Mann, the esteemed Canadian filmmaker. "There's a community here and a good mix of films with social justice and music well represented. I love the informality, there's no red carpet just a green one." Ron, whose films include Grass: History of Marijuana and Know Your Mushrooms -- Mushrooms? Beady eyes ... near catatonic ... salivating! Wow! Yes, even journalists succumb to the weird and perverted Woodstock spirit.
The Woodstock Film Festival draws a film-suave audience craving challenging films that are presented in a gorgeous setting of soft mountains and rocky streams and fiery changing foliage. There are celebrities galore and industry big-wigs everywhere. More important, there are great films and 15,000 mad film fanatics. This festival has what every film festival wants, most claim to have, but none have. An identity rooted in the creative arts and independent thinking that stretches back more than 100 years. An identity that 40 years ago was the genesis for a musical event that caught the attention and imagination of the world. An identity that 10 years ago said Woodstock must have a film festival.
That's all, see you next year at the 11th Woodstock Film Festival.
***
Notes from the Woodstock Film Festival

By Deb Prothero

•The opening of the Woodstock Film Festival, a film called Woodstock Now and Then brought out many local people to reminisce and to witness a live remembrance of what they themselves had lived through. One local, Abigail Robin took time to talk about her experiences. Having moved here in 1962, Ms. Robin was part of the community prior to the infamous concert. Being a teacher in the local junior high school at Onteora and having hosted dinner for Bob and Sarah Dylan -- she served coq au vin -- Robin revealed many tales of the community that was and is Woodstock now.

•Preceding feature and documentary films with short films not only introduces the uninitiated audience members to the format, it serves as an ice breaker. Unbelievable 4, an animated short, lampoons an unbelievable foursome: Bush, Cheney, Rice and Rumsfeld. The audience chortled embarrassingly throughout and trumpeted the film with wild applause at the conclusion. A great audience warm-up for the documentary that followed!

•The signature short for the 10th annual Woodstock Film Festival played prior to every screening. Squirrels are not just tree rats, they roll film in Woodstock!

•The future of independent film is exciting if the 16 shorts submitted by teens and students is any indication. The topics ranged from pure fancy to serious social issues and every point in between. Techniques from animation to illustrated cels were employed. Pinhas directed by Pini Tavger of Tel Aviv University, won the Student Short prize at the award ceremony on Saturday evening.

•Reni Cantine and Friends have played 40 events over the course of this 40th Anniversary of the Woodstock Music Festival on behalf of the Chamber of Commerce. They were playing at the TD bank on Sunday - kicking up rock 'n roll tunes on the main street through Woodstock to emphasize the new Sunday hours at the bank.

•Festival volunteers are interns learning the ropes in an industry in which they'd like to participate in or seniors who have retired and have more time to devote to a task they enjoy. On the whole, the volunteers at WFF were exceptionally helpful people.

•Unlike other film festivals, Woodstock has one thing to recommend it to industry folk. The directors of films entered in the contest each year are put up in the homes of local volunteers. According to Ron Mann, this is the best part of attending the Woodstock Film Festival. It keeps the event intimate and friendly.

•The Colony Café, ostensibly the press office during the Film Festival, was a great place to hook up for interviews and get online to file stories. Provided by the WFF and hosted by the public relations wing of WFF, the Colony offered a place to sit quietly to write. In the evenings the Colony often had live music including the Mighty Uke concert with Jon Braman benefiting the Killian Mansfield Foundation on Friday evening and the Perfect Age of Rock and Roll on Saturday including Pinetop Perkins at 96 years young, one of the last great bluesmen of all time. At all hours, the Colony was a hopping place.

•Michael Lang and Artie Kornefeld were nicknamed Butch Cassidy and the Sundance Kid during the Woodstock music festival. Ostensibly the music concert was intended as the opening of the Recording Studio. Lang had said, "Maybe we could get a few local artists to play for the opening." An iconic event that defined a generation to the world grew from these small beginnings.

•Without film footage, the Woodstock concert would be almost unknown and as Michael Lang said, "the film enshrines the event." Max Yasgur was accused by other locals of loving hippies but his stand: he "hated the drugs but felt the young people had the right to express themselves." Woodstock, the music festival, has laid the groundwork for future successes like the Film Festival. Interestingly film that is presented now is representative and enshrines this era while reaching forward to the wider genre of features and shorts as well.

•The Sunday evening conclusion to the week's event was the community's regularly held Drum Circle for Peace in the Community Green. Happening each Sunday from 4 - 6 PM residents bring out all types of instruments to play along with the Woodstock Drum Circle for Peace. Flutes, clarinets, and maracas joined the drums in a two hour long concert for peace. It is the local residents of Woodstock who keep the spirit alive.