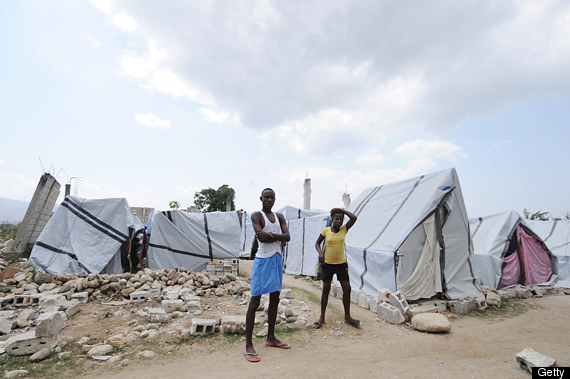 Urbans is a 7-year-old boy who lives in a makeshift shelter covered with bed sheets at the Petionville Displaced Person's Camp in Port-au-Prince where I (Maria) have worked for the last two months. The first day I met him, a week after the devastating earthquake on January 12, he asked me to marry him. Of course I said yes. He is a gregarious boy, all smiles, smarts and wit. Shocking, as he lost most of his family and his home in the quake.
Last week, after a night of heavy rain, Urbans showed up at our camp with one flip-flop much too big for him and soggy, muddy clothes. I asked him where his other shoe was and he told me in broken English, "The mud stole it."
After more than two months, hundreds of thousands of Haitians are still without tents. The rainy season is upon us and the hurricane season starts in May. Though many of the big aid organizations are doing their best to provide shelter, the "regulation" tents are still hard to come by and the bureaucracy of the aid world makes for a painfully slow process.
That is why we have created "Raise the Roof," a campaign to IMMEDIATELY get these much needed tents to the ground. A Home in Haiti and L'Athletique d'Haiti have joined forces to acquire and distribute the tents to the people who urgently need them in the hundreds of displaced persons camps in Haiti.
You can help Urbans and all of the homeless in Haiti by purchasing a tent with only one click of a button. Please go to www.ahomeinhaiti.org to order yours.
Thank you in advance from the good people of Haiti.