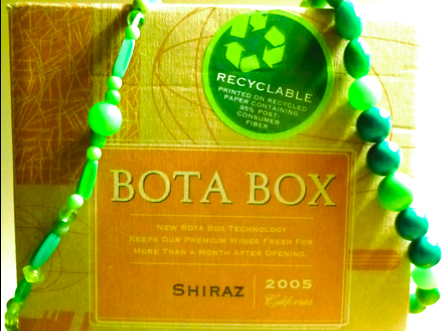 If your Valentine's Day is also a green day, you can repurpose vintage Mardi Gras beads, either the Czech crystal from the '30s or the brightly colored strands that followed. But timewise who am I kidding - Valentine's Day is tomorrow.

Plan B?
For a West Coast gift option, Global Green USA is offering a two for one ticket sale through Valentine's Day for its Pre-Oscar Benefit on February 19 in West Hollywood. They've added Cheryl Crow and Gavin Rossdale to the entertainment lineup with hosts including Orlando Bloom, Leonardo DiCaprio, Penelope Cruz, Rosario Dawson, Marisa Tomei, Kate Bosworth, Norman Lear and Heather Graham in case your loved one would be into attending a groovy gala of green glitterati. Try saying that three times fast.
And down in New Orleans Global Green is presenting a Green-It-Yourself Workshop on Valentine's Day at The Jazz and Heritage Center. This week's workshop features how-to demonstrations of green building techniques for those still coming home. The workshops are free and you could win a kit with green building supplies.
Plan C?
Feel like a winner? Green Spa Therapy in New Orleans offers a drawing for its Rainforest Spa Package. Green Spa Therapy will also sponsor fifteen trees planted on behalf of each Rainforest Spa Package.
Throw in a recyclable box of wine and you're in business.