For this 25th year of MoMA's New Photography series, curator Roxana Marcoci gathered four artists who use appropriated images and found objects as raw material.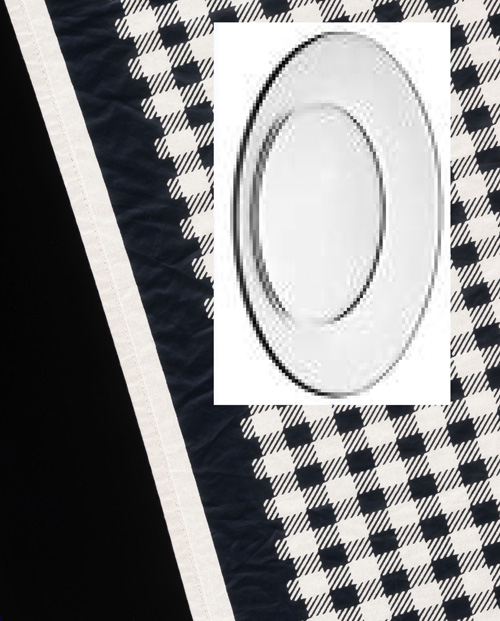 Roe Ethridge (American, born 1969). Comme des Garçons Scarf with Glass Plate. 2010
Chromogenic color print 72 x 60" (182.9 x 152.4 cm)
Courtesy the artist and Andrew Kreps Gallery, New York
© 2010 Roe Ethridge
Greeted with a wall of Roe Ethridge, one is struck upon entry by how dreary the gallery looks. These are, for the most part, not entertaining images: they are objects of contemplation. Borrowed pixels and ink dots appear at first as pointlessly dull photographs: a badly pixelated plate, an exactly centered pumpkin, and several flat out commercial shots beg for a close look. Mix-matched dither patterns and pixilated details compete for attention with obvious commercial camera work. Seen together, these works propose a wry joke. It's all captured imagery: the ridiculous pumpkin and the models. Knock yourself out imagining a difference.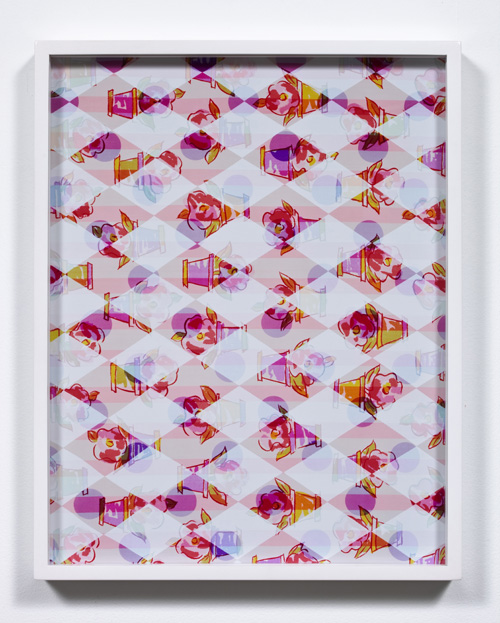 Elad Lassry (Israeli, born 1977) Wall. 2008. Chromogenic color print, 14 x 11" (35.6 x 27.9 cm) The Museum of Modern Art, New York. Fund for the Twenty-First Century
© 2010 Elad Lassry, courtesy David Kordansky Gallery
Much of Elad Lassery's charmingly framed pieces look wrong. The eye is drawn to the vibrant citrus frames and backgrounds, but the subjects seem to be misplaced, obscured with lacey patterns, or chopped up.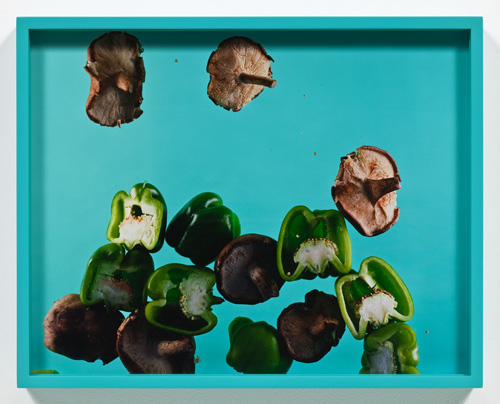 Elad Lassry (Israeli, born 1977) Green Peppers, Shiitake. 2009. Chromogenic color print, 11 x 14" (27.9 x 35.6 cm) The Museum of Modern Art, New York. Fund for the Twenty-First Century © 2010 Elad Lassry, courtesy David Kordansky Gallery
Close inspection, however, shows a careful overlay of superimposed images that form new patterns, unfinished stories and references, and a rich collage of reflections on glassy and metallic surfaces. Everything is used -- shadow, reflection, and narrative -- to create a synchronicity that needs to be viewed as whole, without any separate regard to foreground, background, subject or even frame.
In sharp contrast to Elad Lassery's subtle wall-flowers, are the saturated, sexy Alex Prager photos, and her film, Despair These are not subtle.
Despair, plays with The Red Shoes but references Hitchcock's Rear Window, North by Nortwest, and Vertigo. Filled with clever references as well as overt ones, the tiny film feels like every movie we've ever seen with a beautiful tragic woman, covering a tidy checklist of perfect outfit, massive hair, bare legs, epiphany signified by spinning, despair signified by running, and release via suicide.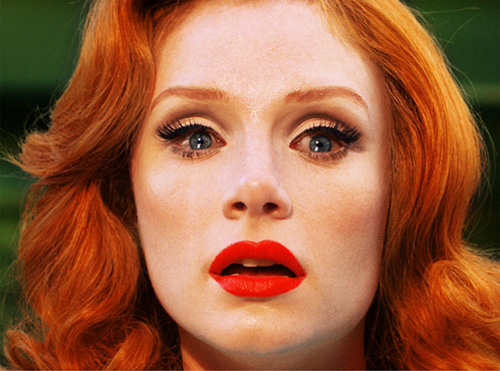 Alex Prager (American, born 1979) Despair. 2010. Chromogenic color print, 16 x 20" (40.6 x 50.8 cm) Courtesy the artist and Yancey Richardson Gallery © 2010 Alex Prager, courtesy Yancey Richardson Gallery
Psst: Watch as the despairing woman runs through an apartment building, flicking past windows, as we spy on her: one of the windows momentarily frames a curious little painting that turns out to be an oil of the actor Giovanni Ribisi, rendered by Prager's sister, Vanessa, who created it especially for a 2007 collaboration on a magazine spread.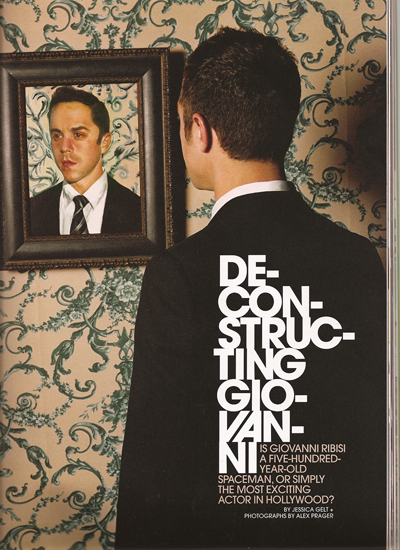 Amanda Ross-Ho makes collages and boxes that call to mind Joseph Cornell. She seems to be doodling with -- as well as on -- the images and materials she finds around her. Much of the work in this show appear to be a record of her work days and surroundings. But they are carefully arranged and reconstructed. A peg board is drilled hole by hole. The casual materials she depicts belie the pain-staking process involved in making her mixed media works.

Amanda Ross-Ho (American, born 1975). Untitled Detail (Atmosphere). 2007
Chromogenic color print with wooden shelf 24 x 28 x 4" (61 x 71.1 x 10.2 cm)
Collection Drew Katz
© 2010 Amanda Ross-Ho