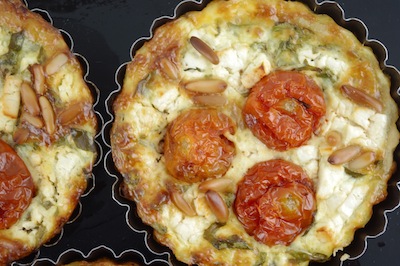 It has been raining relentlessly across Europe and the summer has been no summer at all. We step outside, jackets thrown over our sweaters, umbrella unfurled, and walk into centreville, head bowed against the chill wind. We watch in dismay as the few tourists brave enough to face the inclement weather straggle through town looking for something to do. Anything. Expecting a hot, sunny summer and activities befitting a vacation, they instead find themselves confronted by rain, cold and not really a lot to do.
Summer seems to have skipped by us in France in record time and here we are already experiencing autumn. The rainy days are intermingled with cool, sunny days and it is hard to tell where we are. Yet, as any July in France, the true signs of summer are there and nothing ever changes: the streets are deserted, the cities abandoned as the French hit the autoroute and head for the mountains, the beach or the camping sites, come hell or high water. More than half the market stalls are empty, shrouded in tarp, the darkness spilling over into neighboring stands, dimming the entire indoor space. Restaurants close for one month, shops reduce their hours and even the newly-opened hot dog stand, my husband's newest passion, is shuttered. Woe to the odd tourist who finds him or herself in any city other than Paris: all activity comes to a screeching halt.
For those of us living in France and sticking around, spending the soothing summer months in our own apartments, a kind of Zen-like sensation settles upon the city and it is a true pleasure to take walks through the streets, window shop and stop for an ice cream without having to push our way through crowds of students, parents with small children and strollers, gaggles of teens oblivious to the world around them. No traffic slows down our occasional excursion outside the city for a walk in the vineyards or forest on the rare sunny day. No noise breaks the calming silence as we sit in our livingroom and read, windows thrown open to catch the soft breeze, weather permitting. The vacation spirit descends on our city and even those of us left behind find serenity and peace from the madness of the rest of the year.
The month of July, the 14th aside, is a month when exactly nothing happens. Yes, the campaigning for the next French presidential election goes on, albeit in flowered shirts and on the beaches of France for our contenders; the news programs continue to cover the world's happenings, although a bit more space is, as usual, devoted to the Tour de France, the World Cup swimming competition, the French Open and other sporting events and great blocks of time are filled with interviews of camp site directors, half-naked French families on the beach or sitting in their cars on the autoroute, stuck in traffic, or, worse, stuck inside tents in the pouring rain. After a week spent discovering the Canal de Nantes à Brest and a day visiting La Grande Brière, the marshland on the outskirts of Nantes, on one of those rare gorgeous days, including a spectacular lunch at La Mare aux Oiseaux and an afternoon at Le Jardin du Marais, we are back home and thoroughly enjoying the calm of an empty city. And cooking.
Yes, happily, there are some things that never change. We know that French summers are calm and quiet; we know that our favorite restaurants will be closing. We know that we must buy our fruits and vegetables at a stand other than the one we are used to and where we are known. Yet we are confident that, summer after summer, we will find the same local tomatoes, plump, deep red and sweet, the same fragrant peaches, plums and apricots, the same huge crispy heads of lettuce gritty with dirt, adorned with the occasional slug, the same dense, jade-green aromatic bouquets of fresh herbs. And we turn to our favorites, the recipes that burst with the colors and flavors of summer, updating them each year and adapting them to the latest seasonal market specials.
What is better than a quiche to highlight the freshest vegetables, the most flavorful ingredients? What better than a quiche for allowing the twists and turns of our own whims, our own tastes? A simple egg and cream backdrop and our own creativity and imagination to flavor as we choose, add vegetables or fruit, a favorite cheese, bacon, herbs, spices, almost anything works. I have made a larger, deeper quiche with caramelized onions, sautéed mushrooms and gruyère, I have made mini cocktail quiches filled three different ways: gorgonzola + apple, cherry tomatoes + goat cheese, bacon + gruyere. Hot from the oven with a cool, crisp salad, these quiches make the perfect light meal, room temperature or even cool from the refrigerator they are great brunch or picnic fare. They are absolutely delicious baked in a traditional savory piecrust; delightfully elegant and oh-so luscious in a delicate, buttery puff pastry shell.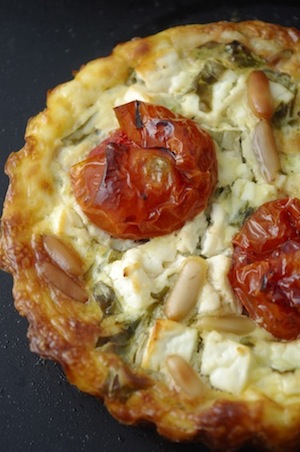 ROASTED CHERRY TOMATO, FETA AND ROCKET (ARUGULA) QUICHE

Follow the basic indications and my links to the recipes for the choice of crusts and create your own. Make the 3-egg version of the batter, use half to make 6 individual quiches, and save half in the refrigerator for a second meal, swapping the added vegetables and cheeses for others.

One savory (unsweetened) piecrust recipe (recipe and directions here)

-OR-

¼ (for 6 individual) to ½ (for 12 or 1 large pie) recipe puff pastry (recipe and directions here)

Basic Quiche Filling: for 12 x 4 ½-inch quiches or one 8 - 9-inch large quiche
(make 6 then refrigerate the rest of the batter for a day or two for a new batch with different flavors)

3 large eggs *
1 cup heavy cream, light cream or part cream/part milk *
Salt
Freshly ground black pepper
Dash nutmeg

* for only 6 quiche use 2 large eggs + ½ cup cream

Cherry tomatoes (2 or 3 per quiche)
3 ½ oz (100 g) feta cheese, coarsely crumbled or chopped (for 6 quiches)
Handful of rocket (arugula, rucola, roquette), coarsely chopped
Handful pine nuts

Preheat the oven to 375°F (190°C). Place the individual quiche tins on a baking sheet.

Start by roasting the cherry tomatoes:

Stir together 2 tablespoons olive oil with 1 teaspoon balsamic vinegar in a glass baking dish or pie plate. Season with a little salt and pepper and add 2 peeled and crushed (not chopped or minced, just pressed to crush) garlic cloves. Toss the cherry tomatoes into the flavored oil and roast for about 20 minutes or until the skins are split and shriveled and the tomatoes start to show signs of roasting (a bit golden). Remove from the oven and allow to cool while preparing the rest.

Prepare the quiches:

Roll out the dough to a thickness of 1/8 to 1/4-inch on a floured work surface and line the tins, gently lifting in and pressing down the dough. Trim the edges. Place the dough-lined individual quiche tins on a baking sheet and refrigerate until ready to fill and bake. This can also be done ahead of time.

Measure out the cream or cream/milk in a large measuring cup then whisk in the eggs until well blended. Season with salt, pepper and a dash of nutmeg; if you want to add other spices, do so here. Doing this in a measuring cup or glass with a spout or pouring lip is ideal for pouring into individual or mini quiche/tartlet tins to avoid a mess.

Sprinkle a sparse layer of chopped rocket (arugula, rucola, roquette) then chopped or crumbled feta into each of the tartlet shells. Not too much as each is an overpowering flavor. Snuggle 2 or 3 roasted cherry tomatoes into the rocket and feta in each shell. Now whisk the quiche batter so it is blended and pour carefully into the shells on top of the rocket and feta, pouring around the cherry tomatoes to keep the tops of the tomatoes batter free. Fill up each shell no more than ¾ full as it puffs up and rises as it bakes. Sprinkle each quiche with pine nuts.

Slide the whole baking tray with the filled quiche tins into the oven and bake for about 40 minutes or until the filling is puffed up and set. The top - or at least the edges - should be a deep golden color.
Jamie Schler lives, eats and writes in France. To read more of her work visit Life's a Feast.