How can one not take notice of a show called Suicide Bombers in Love? Arien Valizadeh's first gallery show in San Francisco is a daring and provocative exploration of politics, sexuality, and subversion of stereotypes in the Iranian culture--all recontextualized within the western iconographic vocabulary. Valizadeh transposes the visual language of American Romance Comics and pop art in a Middle Eastern context. Think Roy Lichtenstein's Ben-day dots and dramatic declarations. Now think of those fictionalized characters in veils and heavily bearded, and declarations that come straight from pre-islamic ancient Persian poetry. This is a compelling mix of ideas that stimulates dialogue and new reactions. "I was very intrigued by switching the role of the antagonist with the protagonist, which opens us up to more questions," says Valizadeh.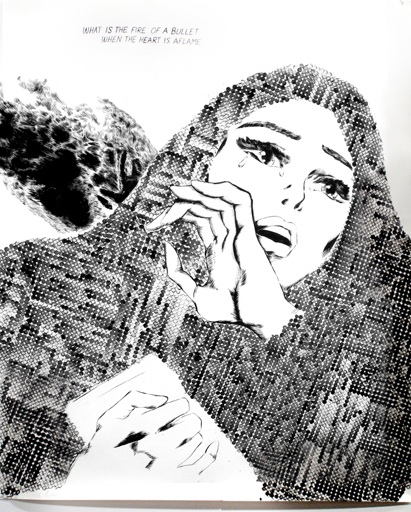 "What is the fire of a bullet when the heart is aflame"
Valizadeh, who is a graduate of Otis College of Arts and Design, appears to be exploring his own identity and feelings about being Iranian in America: "I was born in America and raised in an Iranian family. I have a deep affinity with Iran and its culture, yet I am also American. This show and my art is my way of synthesizing the two cultures." And this seems to be the means by which most Iranian artists abroad seem to be working out their identity questions.
This past summer, The Chelsea Art Museum had an exhibition of Iranian Artists, both in the Diaspora and in Iran, aptly called, "Iran Inside Out". Till Fellrath, the Managing Director of the Chelsea Art Museum, made an insightful observation regarding the influence of the Diaspora on the artistic language of contemporary Iranian artist: "The artists living abroad often draw more from their cultural heritage, while those inside focus more on issues of everyday life without much regard to specifically Iranian references."
"Give up your body and you won't desire a shirt"
Surely, Valizadeh is not glorifying suicide bombers but is attempting to provide a new, ambivalent context for the subject matter. The result of this synthesis of the east and the west is a potent cocktail of imagery that engages the viewer in a new way and is sure to stir up conversation.
Suicide Bombers in Love is showing at RVCA / VASF Gallery until May 1st.