Golden State's Stephen Curry has 48 more minutes to break Ray Allen's NBA record for most 3-pointers made in a single season. But teammate and Warriors point guard Jarrett Jack doesn't think he will need a full game to break the mark.
"He should be done with that by the end of the first quarter," Jack said, via the Associated Press.
The sharpshooter out of Davidson has made 268 3-pointers so far this season, one away from Allen's record of 269. Curry is shooting 45.5 percent from long range this season, better than any of Allen's single-season percentages during his 16-year career.
To dig deeper into how amazing Curry's season from beyond the arc has been, here's a shot chart of all his 3s throughout the season, provided by NBA.com/Stats.
UPDATE: Stephen Curry broke Ray Allen's record with 6:48 left in the first half on Wednesday night against the Trail Blazers.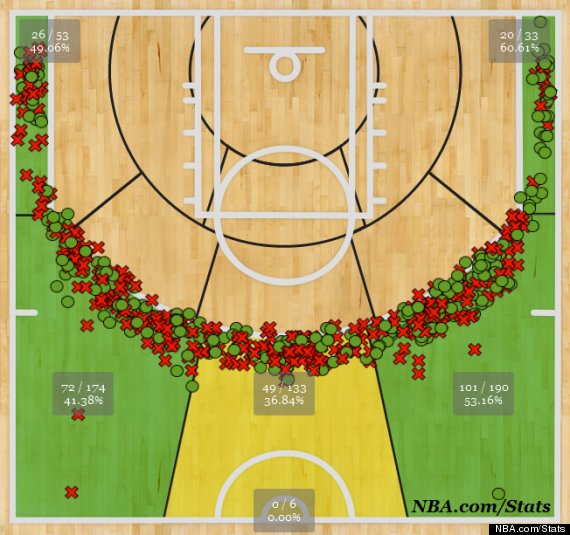 More from the Associated Press:
OAKLAND, Calif. (AP) — Stephen Curry is two shots shy of setting a new NBA standard, and the question circulating around the Golden State Warriors locker room ahead of the season finale at Portland on Wednesday night is when — not if — he will break Ray Allen's single-season record of 269 3-pointers.

"He should be done with that by the end of the first quarter," guard Jarrett Jack said.

With the way Curry has shot the ball this season, there are plenty of reasons to be optimistic.

The rejuvenated Warriors point guard, with his twice surgically repaired right ankle no longer an issue, has shown just what he can do in a season of near-perfect health. He is shooting 45.5 percent from beyond the arc and is averaging almost 3½ baskets from long range over the 77 games he has played.

"I don't know who second place is for the best shooter in the world," Warriors coach Mark Jackson said. "But he certainly has first place tied up."

The diminutive guard with the smooth shooting stroke who dazzled at Davidson is carrying the Warriors to the playoffs for the first time since 2007 and just the second time in 19 years.

Golden State (46-35) is a game ahead of Houston for sixth place in the Western Conference and can seal the spot — and a first-round matchup at Denver — with a win against the Trail Blazers in the regular-season finale. The Rockets, who hold the tiebreaker over the Warriors after winning the season series 3-1, finish at the Lakers.

Curry admits he wants Allen's record. The biggest challenge at Portland, he said, might be just trying not to think about the mark every time he shoots.

"You just hope it happens. Obviously, I know about it," Curry said. "You just try to play your game, and obviously shooting the ball is a part of it. I'm not going to force it. But it'd be nice to do it."

Seemingly far from contending for the 3-point mark a week ago, Curry has ramped up his output during the postseason push to easily bring Allen's record within reach.

Curry has shot 16 of 28 from beyond the arc the past two games to close within one of the benchmark Allen set in the 2005-06 season with Seattle. Allen shot 41.2 percent when he eclipsed the previous record of 267 by Dennis Scott, who made 42.5 percent from long range in 1995-96 with Orlando.

Curry has been clutch, too. During the fourth quarter of Monday's 116-106 home win against San Antonio, he sparked a 19-0 run with three 3s and a reverse layup.

Warriors general manager Bob Myers watched the game from a luxury suite with other team executives. At this point, he's often more amazed by Curry's misses than makes, including a difficult 3-pointer in the first quarter that everybody figured would go in — but didn't.

"I looked at one of my counterparts and said, 'You know what I'm kind of realizing? I don't know that there is a bad shot from Steph Curry,'" Myers said.

Curry said he never knew what Allen's record was until he started approaching the number in recent weeks.

His dad, Dell Curry, was a teammate of Allen's in Milwaukee during the 1998-99 season — when the elder Curry shot a career-best 47.6 percent from 3-point range while making 69 from beyond the arc. The younger Curry, who just turned 25 last month, has been part of an even more prolific shooting backcourt.

Second-year shooting guard Klay Thompson has hit 206 3-pointers. Together, Curry and Thompson (474) have shattered the previous record of 435 by Scott and Nick Anderson for the most by any tandem in league history.

"I've always been the best shooter on my team, from middle school on, I would say," Thompson said. "To have a guy on my team who is just as good if not better than me, it's really challenging."

When healthy, Curry has been everything Golden State has hoped and more.

The Warriors drafted Curry seventh overall in 2009. After a sensational rookie season, Curry was hit hard by injuries, spending the past two summers recovering from surgery on that troublesome right ankle instead of working on his craft.

Myers, a former sports agent in his first year as the general manager, still took the risk of signing Curry to a $44 million, four-year contract extension through the 2016-17 season hours before the season opener at Phoenix. It was the final day Golden State could sign Curry to an extension or he could become a restricted free agent this summer.

Myers credits Curry's character and work ethic as reasons he knew the point guard would come back stronger.

"He's been able to take a skill that was maybe given to him and honed it into something that's very special to watch," Myers said. "I don't think he's reached his ceiling. I don't know where his ceiling is. And that's the beauty of a guy like that."

Curry has given glimpses of how special he can be.

The crafty point guard has been at his best on some of the NBA's biggest stages, scoring a career-high 54 points in a loss to the Knicks at Madison Square Garden on Feb. 27. He also had 47 points in a loss at the Lakers last Friday.

"I wish we could rewind to those All-Star votes," Jackson said of Curry, left off the roster for the All-Star game Feb. 17. "Some of those people should raise their hand and apologize to the guy."

The biggest challenge for the Warriors might be maximizing Curry's elite skill.

Opponents have started to chase him off the perimeter and play more physical. That has forced Jackson to often go to a three-guard lineup, especially at the end of games, with Jack at point guard and Curry and Thompson on the wings.

With Curry on the cusp of history, his shots for the record might be his most difficult this season. Not to mention what he'll face in the playoffs.

"It's a challenge, man," Curry said. "You just want to be playing your best basketball at that time and make the right plays and it will be even more rewarding if you're successful, if that's the case. I'm up for it. The team's up for it. And this is why you play the game — to step up big in big moments, in big games that mean more than just you. It's a great opportunity."

___

Antonio Gonzalez can be reached at: www.twitter.com/agonzalezAP