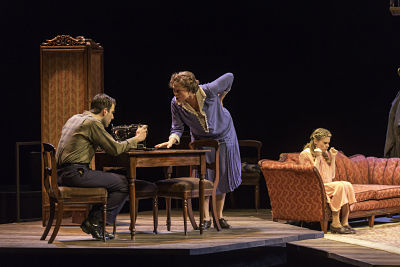 Tennessee Williams turned his life into art. The blueprint for his family travails, The Glass Menagerie, put him on the theatrical map in 1944, creating indelible characters. His "memory play," in its latest Broadway revival at the Booth Theater, is stunning.
"Life calls for Spartan endurance," says Amanda Wingfield, the indomitable mother turned suitor crusader in The Glass Menagerie, Williams' exquisite tale of heartbreak and faded dreams. Tony-winner Cherry Jones as Amanda, the Southern belle who mixes maniacal charm and ferocity in equal measure, captains the landmark work. A former Delta queen, she is reduced to meager circumstances, consoled only by dreams of a cotillion past and gentlemen callers.
Left by a husband who "fell in love with long distance," Amanda enacts her own memory play. Humbled by her former passion for a feckless husband, she is desperate to ensure her children's happiness. Amanda's endless chatter is a cover for her reigning obsession: finding a mate for daughter Laura (Celia Kennan-Bolger), the fragile beauty that hides from the world, lit up only by her tiny glass figurines.
The narrator of the tale is Tom (Zachary Quinto), Amanda's sensitive, tormented son, bored by a soulless factory job. The Wingfields eke out lives of not-so-quiet desperation; fear, worry and paralysis haunt their waking moments. They are choking on their own inadequacies.
Their hopes rest on Jim (a wonderful Brian J. Smith), a friend Tom brings to dinner. In the achingly moving second act, Jim draws Laura out of her shell. The redemptive power of connection will flicker, for a brief moment, in candlelight -- only to be extinguished by reality.
Glass Menagerie director John Tiffany has staged a memorable production, boasting an extraordinary cast: Jones delusional theatricality is powerful and bewitching, while Quinto makes an impressive Broadway debut. He captures the biographical Williams with raw honesty; his slightly gay manner sets him apart, but his despair defines the void that consumes his family.
Keenan-Bolger's silences, like her limp, are rendered with a quiet sadness that is haunting. All are aided by Bob Crowley's striking set -- housed between a sea of reflecting black, as befits a memory play, and a towering tenement fire escape that reaches to the sky. Natasha Katz's lighting has a perfect dream-like quality.
Even as Tom recalls the past, guilt and relief commingle. He cannot forget the beloved sister he left behind, aware that his act of self-preservation carries a terrible price. Audiences will be unable to forget this stirring production, which reminds us why Tennessee Williams' legacy endures.
At the Public Theater, Arguendo focuses on freedom of expression. The current work of the Elevator Repair Service, famed for Gatz, is inventively staging the word-for-word oral arguments in a major First Amendment case, Barnes v. Glen Theatre, Inc., heard by the United States Supreme Court in 1991.
It's rare to see a comic take on the court that combines reality with theatricality.
Arguendo, meaning "for the sake of argument," raised key constitutional issues, such as what is considered free speech and free expression. Two Indiana businesses, The Kitty Kat Lounge, and Glen Theatre, wanted to include nude dancers in their adult entertainment. The state demanded the dancers wear pasties and g-strings, since total nudity violated an Indiana statute regulating "indecent behavior."
Glen Theatre's exotic dancers challenged that ban. After a series of decision turnovers, the case was brought to the Supreme Court, which must decide: Does a state prohibition against complete nudity in public places violate the First Amendment's freedom of expression?
Arguendo illustrates how the arguments are both compelling and hypocritical, while the nine justices, who veer between didactic and petulant, busily grill counsel: Mr. Uhl (Ben Williams) and Mr. Ennis (Mike Iveson). If all genres of music are protected, why not dance? Why is it permissible to dance nude in an opera, but not a private club?
While the Supremes slice and dice their questions, case text is neatly projected on a back wall. This isn't a traditional production, but its irreverence doesn't negate its seriousness. Arguendo gets mileage from its remaining cast (Maggie Hoffman, Susie Sokol and Vin Knight) and a unique riff on the contradictions and ironies behind public morals laws. As the entertaining show makes clear, legislating taste is a tricky business.