Spring has sprung in the stores, not the streets. It may be cold outside but the fashion magazines have already paraded an endless list of trends to help us make sense of what we need to buy to update our wardrobe this spring. My strategy is to choose one trend that best suits my style, find pieces in my wardrobe that complement the look and update as my budget allows. The following is a cheat sheet for the top trends of the season. My pick: Military.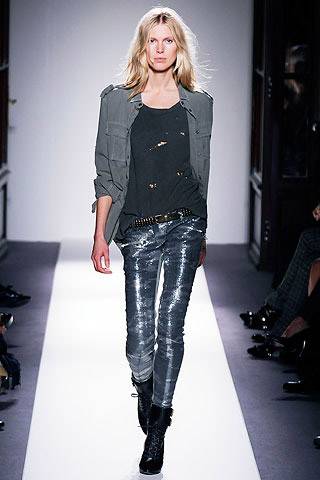 Military: Uniform dressing took the spring runways by storm with Balmain, Burberry, Chloe, DSquared2, Stella McCartney, Rag & Bone and Marc Jacobs featuring khaki, cargo and camouflage in their collections. The easiest entry into this trend is with an army jacket. The army jacket replaces the little leather bomber this season and instantly updates a narrow skirt, stovepipe jeans and even a sundress. Also on trend: fitted cargo pants (J Brand at Intermix), a sleeveless military vest (Rag & Bone at Intermix) and a classic trench. If you are on a super budget, Etsy has a great selection of authentic army jackets and boots. Shown here: Balmain.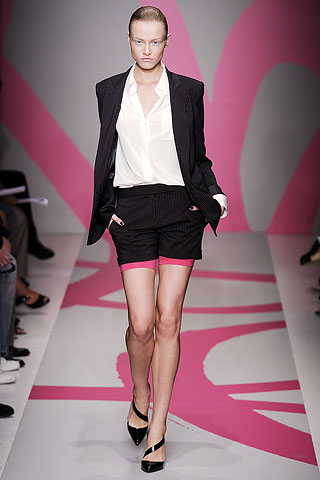 Shorts: Derek Lam, Miu Miu, Prada, Stella McCartney, Philip Lim, and Jil Sander are just a handful of designers who included shorts in their collections. They come in all varieties: hot pants, loose fitting boy shorts, Bermuda and frilly tap pants. Before you recoil, tailored shorts are surprisingly easy to wear with a crisp white shirt, blazer and low-heeled sandals. Shown here: DKNY.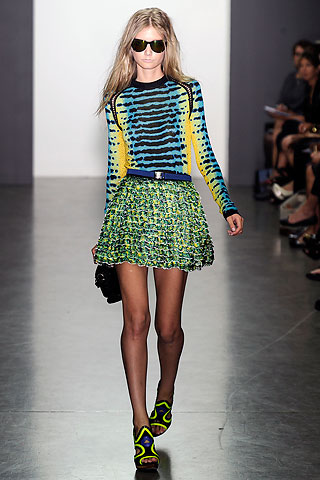 Athletic: Only Alexander Wang could make tube socks look cool. His American football collection was athletic overload with grey jersey sweatshirts, corseted tops, slouchy sweat pants, cropped tops and mini sweatshirt dresses with cutouts. Chanel, Marc by Marc Jacobs, Versace and Louis Vuitton all offered variations of the trend including mesh, terry cloth, hoodies, tanks, visors and tube socks in their collections. Unless you are actually on the high school football team, athletic works best by working one or two items into your wardrobe. My favorite take on the trend is the surf and scuba-inspired looks seen at Pucci and Proenza Schouler.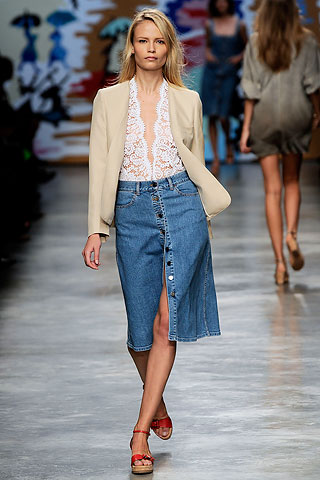 Boudoir: Lingerie as outwear looks abound this season. Chanel, Chloe, Dior, Dolce Gabbana, Givenchy and Stella McCartney all turned out little lacey numbers in the form of camisoles, skirts, tap pants and little bed jackets. These pieces look best when worn with something more moderate like a tailored jacket, for example. I love 3.1 Philip Lim's little lace skirt (at: Neiman Marcus). It will look perfect paired with a white tank and boyfriend jacket. Shown here: Stella McCartney.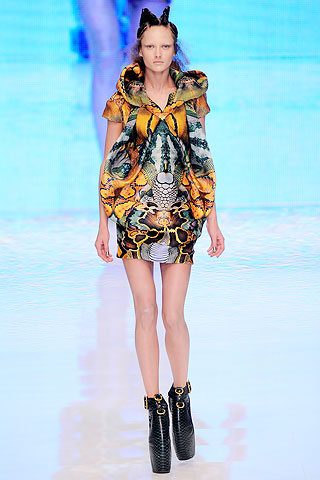 Prints that Pop: Powerful prints with intense color dominated the runaways the form of flashy florals (Stella McCartney, Anna Sui), geometrics, space age prints, and ikat (Gucci). Designers like Dries Van Noten, Donatella Versace and Dolce Gabbana paired contrasting florals together - these prints are not for shrinking violets. I love a bright print with an edgy, black platform shoe. Shown here: Alexander McQueen.
All images are from style.com.