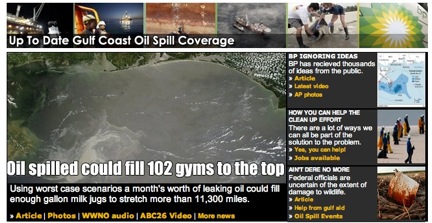 Maybe it's a byproduct of watching live BP oil footage streamed from the ocean floor for too long, but it feels like desperate times call for desperate measures as the leak rolls on.
"Louisiana Fishermen Contemplate Suicide, Need Mental Health Services" is a heartbreaking headline to come across. There are so many human and environmental casualties of the ongoing disaster, the NewOrleans.com oil leak page (above) has been hard pressed to keep up, but we're trying.
In New Orleans there have been candlelight vigils decrying the month-long oil geyser. Down the shore some are spelling out their grievances on the beach. Matt Peterson of Global Green has shared photos from residents of Grand Isle spelling out human text messages of Never Again, Paradise Lost and WTF?! that were taken last weekend with local residents. I got the initial press release, and the photos have even more impact now that the Grand Isle beaches have been closed due to the Leak.
Peterson wrote here on the Huffington Post: "Gulf Coast community members -- including fishermen, shrimpers, grandmothers and families who have been directly impacted by the massive Deepwater Horizon oil spill -- sent a human text message." Aerial artist John Quigley and Margaret Curole of Commercial Fisherman of America got the project on track despite the weather. Curole told Peterson, "This was the first time these fishermen were ever involved in an action of any kind ... yesterday they said to me 'I get it, we did something.'"
We also have HuffPo Eat the Press founder and New Orleans resident Harry Shearer writing about the new Kentucky senatorial candidate Rand Paul attacking the President for taking BP to task for the month-long (and counting) leak. Paul, allied with Tea Party free market views, is a big fan of the founders unless it regards leaked British petroleum. The irony of a founder-phile attacking an American president for taking a British company to task for fouling American waters is not lost on Shearer, an investigative satirist. Paul said, "I think it's part of this sort of blame game society in the sense that it's always got to be someone's fault instead of the fact that sometimes accidents happen."
Shearer responds to Accidents Happen with: "The reason this quote isn't inflaming debate the way Paul's Libertarian dance around the Civil Rights Act has is simple: on this issue, Paul is not fringe-y or extremist or unusual; he's spouting a line we've heard incessantly, from defenders of BP, from apologists for the US Army Corps of Engineers (in the case of the flooding of New Orleans), from architects of the Iraq War." He concludes that, "Paul is channeling Donald Rumsfeld: 'Stuff happens.' Nothing to see here, move on ... The political spin on Paul is that he's worrisome because he's not within the standard lines of the modern political debate. I'd suggest he's worrisome because he is."
The candidate has doubled down on those views on Good Morning America decrying Obama's boot on the throat of BP statement that would almost make you feel sorry for BP if it weren't for that live feed showing millions of gallons of crude oil every day. Paul has canceled tomorrow's Meet the Press interview, pleading exhaustion.
Fishermen are losing their livelihoods, Grand Isle is closed and marine life is turning up dead on our beaches. It has been a month since the Deepwater Horizon rig failed and 11 men died. Our endangered wetlands may never recover. On a day where you can play Ms. Pac Man at Google.com or watch the BP live leak, 945 people were watching the leak when I checked in.
We are officially exhausted.