There are a million ways to lose your childhood. It's happening everywhere, all the time, without your foreknowledge or consent. You know how it goes: you have a bar mitzvah or Confirmation, you get your first MetroCard, you find first love, you move away from home.
I couldn't tell you when it started for me, or even if it's over yet (the process has the vaguest lines, doesn't it?), but there's a milestone in there that I'll never forget: learning to make a burger.
My mother's got a simple method, which I still follow to the letter: You need ground beef shaped into a plump disk, spangled with Lawry's seasoned salt and black pepper, and too much butter in your pan. Once the pan's hot and the butter fragrant and clear, you throw in the patty with the heat on medium. (Medium-high to start if you want to establish a crunchy, red-black crust.) Throw in mushrooms or bacon at the beginning, or hunks of sharp cheddar at the end, but that's all up to you.
***
I remember my first burger -- and so do you, probably -- because the burger is the perfect food. It is as knit into the American fabric as Monday Night Football, or freedom. And it's made greater by the fact that you can make it out of anything -- my mom's formula is just a beginning, a jumping-off point.
So when I heard that North End Grill, a new Danny Meyer restaurant in Battery Park City -- about four weeks old as of this writing -- was offering a bacon-shrimp burger, it was my reasonable patriotic duty to check it out.
The impeccable tablecloths, slow jazz, and black-and-white tiled floors at North End Grill bring Don Draper to mind. The impressive scotch list doesn't hurt, either. I recommend skipping the dining room in favor of the counter running adjacent to Executive Chef Floyd Cardoz's open kitchen. (The kitchen in a good new restaurant is always fun to sit near: everyone's still moving too fast; the air buzzes with a nervous, giddy intensity; the line cooks, happy for the new job, are willing to share recipes.)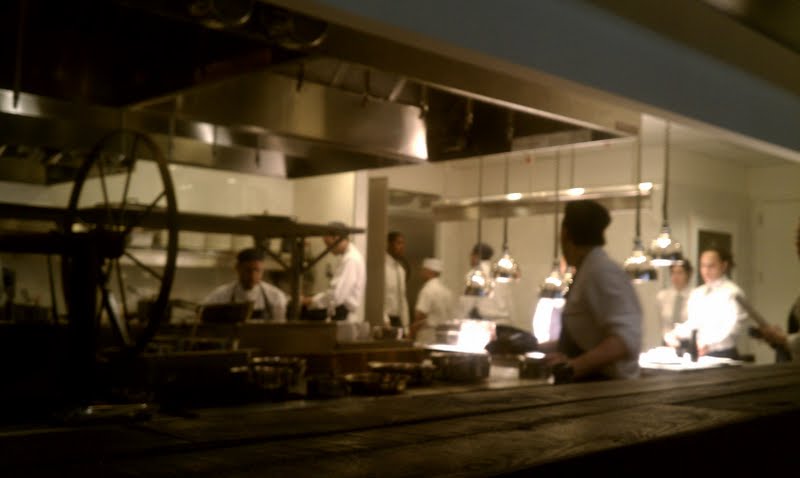 The first thing you'll notice is that the word "Grill" in the restaurant's name is absolutely literal -- cooks feed wood to a huge flame in the middle of the kitchen, and everything smells like hickory smoke.
The bacon-shrimp burger -- thanks to the wood, the smoke, the flame -- tastes like a campground. There's a salty crust, and the creamy interior is sprinkled with red pepper flakes, giving every bite a low hum of heat. A spare salad of fennel -- tasting sprayed by a cumin-soaked mist -- tops it off.
It comes with a savory tartar sauce (from one of the aforementioned happy cooks: mayo, parsley, chives, cornichons, chopped capers, extra pickle juice) and spicy fries, helped along, as Cardoz (formerly of Tabla and Top Chef Masters) told the Times, by chili powder and chaat masala.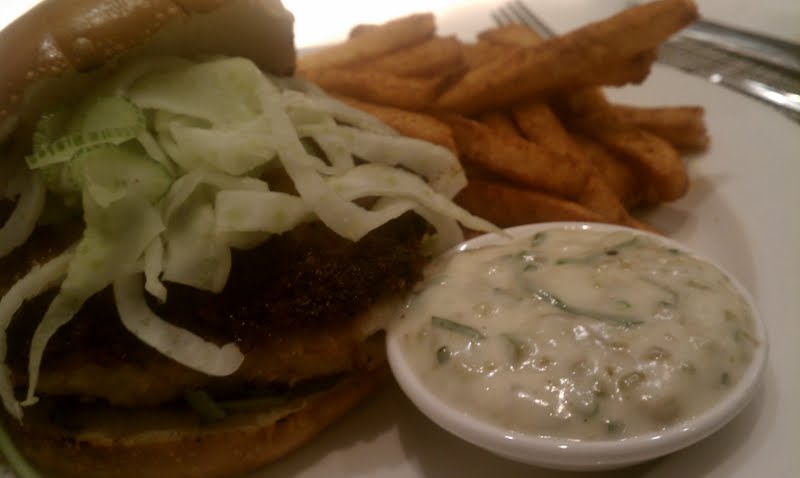 Together with a nip of whatever scotch you're fond of, this is an excellent burger -- every element impeccably seasoned, every bite an advanced study in the contrast between textures and temperatures.
But don't just take it from me: if you're hopelessly far below Houston, and in need of an old-school boozy lunch, head west and get ready for North End Grill's fresh take on the great American meal.
North End Grill
104 North End Avenue.
New York, NY 10282

646.747.1600
Bacon-Shrimp Burger with Spice-Dusted Fries: $18