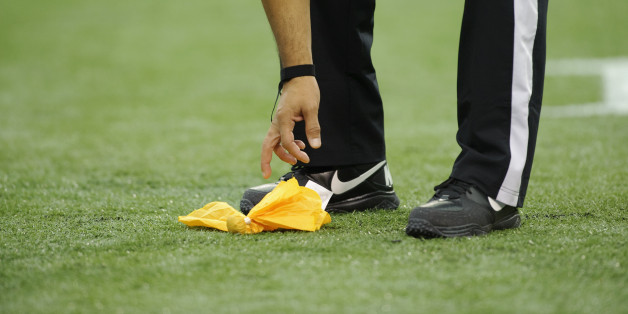 Every week of the NFL season brings its share of incredible catches, touchdown celebrations, cringeworthy injuries and press conference cliches. To the likely disappointment of the NFL brass in New York City, each week of the season also seems increasingly likely to include at least one admission by the league that its officials blundered.
NFL Vice President of Officiating Dean Blandino confirmed what many already believed during an appearance on NFL Network on Tuesday: Referee Jeff Triplette improperly awarded the Cincinnati Bengals a touchdown during Week 14 when he overturned what appeared to be a fourth-and-goal stop by the Indianapolis Colts.
"No, it wasn't a correct call. I'll start with that," Blandino said on Tuesday, via National Football Post. "There was not enough evidence to overturn the ruling on the field."
This blown call was just the latest the league has had to in recent weeks. It also wasn't the first involving Triplette. Whether it's blown calls or missed calls, these NFL officiating errors seem to be increasingly common this season. A week earlier, the NFL admitted that he improperly handled a key play in the fourth quarter of a Week 13 game between the New York Giants and Washington Redskins. With Washington driving for a potential game-tying touchdown late in the fourth quarter, the officials moving the chains and sideline down marker improperly credited the offense with a first down although it failed to reach the required distance with a second-down catch. Rather than stop the action to correct the mistake, Triplette allowed play to continue with the Redskins believing they had secured a fresh set of downs. After an incomplete pass on the ensuing play, the down marker was then corrected.
"They couldn't have screwed this up anymore," NBC broadcaster Al Michael said of the ensuing confusion. "That is brutal."
Washington Redskins wide receiver Santana Moss agreed with Michaels. After his team's final drive came up short, Moss addressed what he sees as a season-long officiating problem.
"It's probably been worse this whole year as a total," Redskins receiver Santana Moss said last week, per the Associated Press. "Not just this team, but I've watched a lot of football this year, it's been the worst that I've ever seen."
Moss won't likely retract his comments if he takes a look at this roundup of notable officiating problems that the NFL has admitted to this season.