Miley Cyrus was photographed smoking a suspicious-looking cigarette as she relaxed on the balcony of her Miami hotel with friends yesterday (April 6).
The 20-year-old singer and actress looked as if she just woke up, puffing on the rolled up cig while showing off her legs in a teeny bikini bottom. Cyrus tied her blonde cropped 'do up in a ponytail as she squinted before taking a drag with her ringless finger. That's right, Cyrus' engagement rock from fiance Liam Hemsworth was not present for the smoke session. After possibly noticing the paparazzi snapping shots, Cyrus went "incognito" and slipped on a black beanie and sunglasses.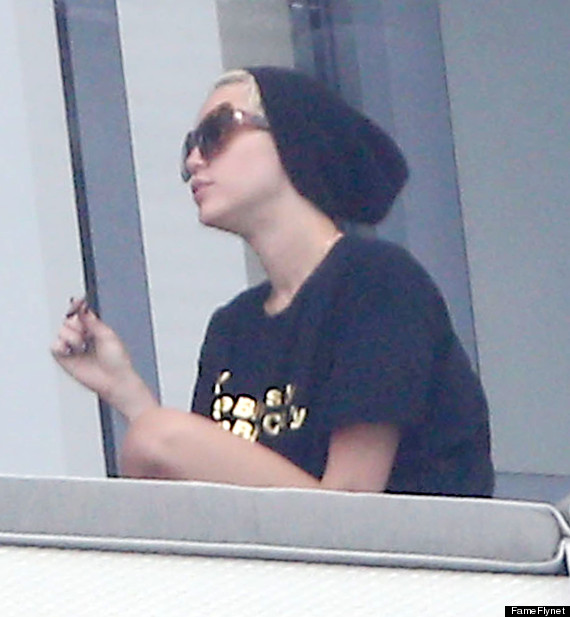 And oddly enough, Cyrus just released her new drug reference-infused song with Snoop Lion, "Ashtrays And Heartbreaks," which is a track off his new album Reincarnated.
Back in February, a photo of the former teen star was uploaded to Instagram showing what looked to be Cyrus smoking another suspicious-looking cigarette, with the caption, "High as f**k." Still, Cyrus denied it was her in the picture, simply tweeting, "I don't have an Instagram." And back in 2010, a video was leaked in which Cyrus was seen inhaling from a bong at her 18th birthday party. Her rep later claimed that she was smoking the herb salvia.
The Huffington Post has reached out to Cyrus' rep for a comment.