Among the devastation and rubble in Port au Prince where so many lives were lost and homes, schools, hospitals and businesses destroyed, signs of hope are emerging. Street vendors are selling food and clothing and shops are beginning to open in buildings that were not destroyed. People are literally building their lives back out of the rubble and trying to return to some sense of normalcy.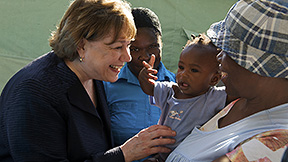 At a makeshift shelter I visited, where UNICEF and our partners are delivering food, safe water and basic health services, the vast scale of damage to Haiti's already fragile infrastructure was very clear. It looks like a war zone with so many buildings destroyed, making relief work still extremely difficult. But the results achieved thus far, particularly in reaching quake-affected children and families with life-saving assistance, is truly remarkable. That's a testament to all the relief agencies, volunteers and workers who are working tirelessly to ensure that humanitarian supplies are getting to those who need them the most, especially women and children, in what are extremely difficult circumstances.
One of UNICEF's top priorities has been getting essential aid to displaced families living in camps, as well as orphaned and unaccompanied children. Delivering aid for children is critical because the crisis in Haiti is a children's emergency. An estimated 38 percent of all Haitians are under the age of 15, and many of them remain at risk. This is a key reason why a massive children's immunization campaign has been launched to prevent a second wave of illness and deaths.
Beyond the physical destruction, deaths and injuries, the quake has taken a terrible toll on Haiti's families. Thousands of children are either orphaned or separated from their loved ones. Having seen friends and relatives killed and injured, many of them are still severely traumatized. At a damaged residential child care center I visited, there were an alarming number of children already without parental care prior to the earthquake. Now, there are so many more separated from their families. It is a travesty and truly heartbreaking.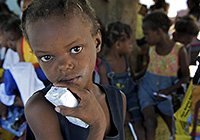 UNICEF is supporting these facilities, as well as safe centers, where children can be registered, identified and eventually reunited with their families, a critical function to protect children from potential trafficking and ensure their protection. These centers are also providing emotional support to these children and helping restore some sense of normalcy in their lives through social activity and learning.
Providing children the opportunity to go to school is critical at this stage of recovery. Nearly ninety percent of the schools in Port au Prince were destroyed or severely damaged in the earthquake, a tragedy in itself. Education must be a top priority, an issue I discussed with Prime Minister Jean-Max Bellerive.
Many do not realize that only about half of primary school-age Haitian children were in school before the disaster, making reconstruction of the education system essential. The children are the future of Haiti and as the people rebuild, the children must not only be protected, but be given the opportunity to receive a quality education.
Haiti, the most impoverished country in the Americas, has suffered a catastrophic tragedy. It is simply a horrific situation and so many have experienced a pain and loss few could imagine. With relief operations continuing, Haitians are beginning to look to the future.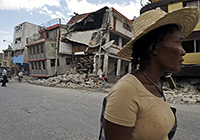 During my visit, I saw first-hand many signs of hope. Amidst the countless stories of heartache, there were heroic stories of compassion. While so many people lost their lives, many were saved thanks to the bravery of others. Tragedies like this can be a reminder of the resilience, strength and character of the human spirit. The people of Haiti will need a great deal of hope, optimism and perseverance to rebuild their lives and their futures. They will also need a continued, long-term commitment from the international community.
Ann Veneman is Executive Director of UNICEF. She just returned from a four day visit to the region to see first-hand the recovery efforts and visit with survivors, particularly children, and ensure programs are being established to ensure their protection. To learn more about Haiti relief efforts visit unicef.org.