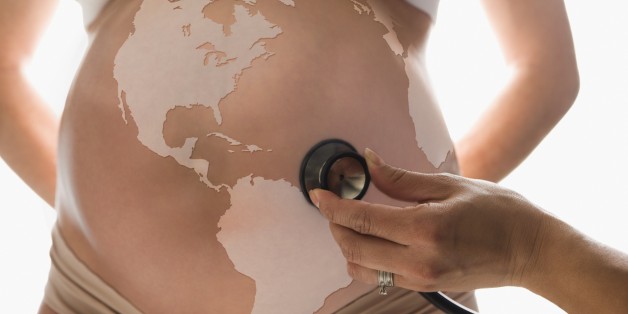 Do you ever feel like over the years, your work duties have greatly expanded?
Be glad you're not Santa Claus.
Consider the workload of poor old Saint Nick. The mission: Deliver toys to all good girls and boys around the world in one night. The method: A little red sleigh, and eight tiny reindeer.
Back when St. Nicholas began his gig -- around the year 270 A.D. near modern-day Turkey -- there were around 200 million people on the planet. A big job, to be sure, but doable.
During the Renaissance, old Nick was the most popular saint in Europe -- no surprise given his propensity for present-giving. By the year 1500, world population had slowly grown to around 500 million.
The first recorded appearance of Santa Claus in the United States was before the states were united -- in New York in 1773. Not too long after that, the planet reached its first billion. And Santa's workload has only increased. In 1881, Santa was first depicted as the fat guy in a red suit (1.6 billion). In the 1920s, Santa first appeared in ads for Coca-Cola (2.1 billion). In 1949, Johnny Marks wrote "Rudolph the Red-Nosed Reindeer", lighting the way for Santa to deliver gifts to 2.5 billion people.
In 1975, rocker Bruce Springsteen recorded a live version of "Santa Claus is Coming to Town" (4 billion). The fears of Y2K computer effects didn't seem to slow Santa down in 2000 (6 billion). And just 11 years later, we surpassed 7 billion people -- Santa's biggest workload yet.
It's enough to make this jolly old elf want to take a nap.
Luckily enough for humanity, Santa seems to have adapted -- developing the tricks of the trade he needs to ensure good girls and boys get the gifts they're looking for on Christmas morning. And while humanity has tried to adapt to our expanded numbers, such rapid growth is not without serious drawbacks.
The cost to our planet is significant. The cost to people is just as high.
As we head into 2014, one in every eight people struggles to find enough to eat. Thanks to climate change, food prices are expected to double by 2050 -- making adequate nutrition that much harder to procure.
Water resources are also under strain. Already, around 1.2 billion people -- a fifth of the planet's population -- live in areas where water is scarce. By 2025, half of humanity is expected to live in areas of water stress.
And don't forget the other inhabitants of our planet. When human populations expand, they can crowd out plants and animals. In fact, Santa's little helpers - reindeer -- are already endangered, and climate change is expected to further reduce their habitat.
If our population keeps growing, we don't just risk Santa getting burned out. We risk greater levels of human suffering. And nobody wants that -- on Christmas or any other day.
Universal access to voluntary family planning programs -- that's our holiday wish. It's estimated that 222 million women in the developing world want to avoid or delay pregnancy, but they simply don't have access to affordable, effective contraception. Can you imagine how lives would change if they did?
Women would be able to plan their futures. Maternal and child mortality would plummet. Family incomes would rise. Girls could stay in school. Local natural resources would be protected. Even entire economies would be boosted -- thanks to birth control.
Santa's got a lot on his plate -- population growth has ensured that. We're doing our part to lessen the load by advocating for increased investments in family planning programs. That way every child could have a little more to celebrate now -- and for their entire lives.
John Seager is President of Population Connection, the nation's largest grassroots population organization, and the Population Connection Action Fund. The organizations' websites are populationconnection.org and popconnectaction.org.