David Frum, a Republican, thinks the McCain campaign shouldn't put Palin in a box and hide her from the press. Good, he's right about that, and his piece is a must-read. But like most Republicans his disdain for "elites" is itself the height of elite arrogance.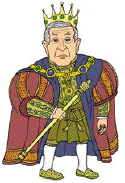 Only Kings and Queens, royalty, are entitled to that kind of arrogance, and we overthrew our King in the Revolution, 232 years ago. We don't believe in that in the United States. That's how far off course we've gotten, we've put up with this nonsense long enough.
To paraphrase Obama, Frum doesn't Get It. The reason you discuss your ideas publicly is that your ideas will get better. He assumes, like royalty, that Republicans always know what's right, but he didn't learn anything from the last eight years and this is why the Republicans have to sit on the sidelines and mull it over until they figure it out. You don't have all the answers. Some days (like today) I don't think you have any.
Frum, it isn't about winning a debate -- it's about doing what's right and smart and competitive, for America. Remember your slogan -- Country First. It's a great idea. Now practice it.
PS: He's right, Quayle is smart. I found out by surprise. I was listening to an interview on NPR, and had no idea who it was but the guy was smart. Imagine my shock when I found out it was Dan Quayle. Same thing happened with Hillary Clinton.
PPS: What struck me about Palin was her cowardice. Before letting us know anything about her intelligence or knowledge, or the quality of her ideas, she was sarcastically trashing a man we've gotten to know and respect over the last X months, a man who had to keep his cool as the press went after his church and his family, and kept his grace even humor at every step. Palin, in contrast, not only hasn't been even slightly vetted, has absolutely no basis for her arrogance, no foundation. Giuliani, sheez, we know him, we don't expect much from him, and we're rarely surprised. But he's not running to be a 72-year-old heartbeat from the presidency. She needs to slow down and sober up, she's asking for a big job.