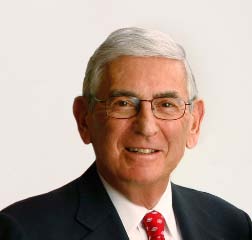 Eli Broad
What would you say if I told you that I was about to build a new art museum with gallery walls that could not be hung with art and a skylit exhibition space that would be used to display light-sensitive works?
You'd probably call me (to put it nicely) irrational.
Yet that's exactly what Eli Broad recently announced he would do in creating a Los Angeles museum, dubbed "The Broad," designed by architects Diller Scofidio & Renfro to display and store his 2,000-work contemporary art collection. These include many paintings that will need to be somehow hung on walls and many works on paper that must not be exposed to sunlight.
Here's the Broad Art Foundation's fly-through video of the 120,000-square-foot facility, which will consist of "almost an acre of column-free gallery space, a lecture hall for up to 200 people, a ground floor multimedia gallery,...state-of-the-art archive, study and art storage space," according to the foundation's announcement:
As depicted in the video, the huge, columnless gallery is devoid of art. What's more, its mesh-like walls don't appear to be at all hospitable to hammers and nails.
To show what an installation of art in the gallery will look like, the foundation provided this surprising image: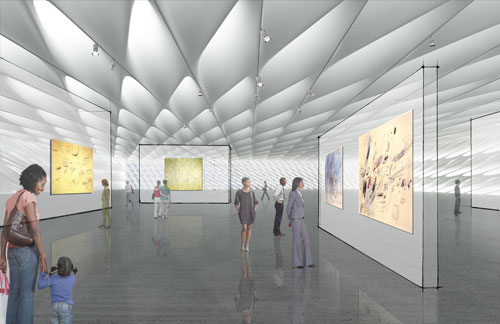 Considering that mega-collector/philanthropist Eli Broad had insisted that the Broad Contemporary Art Museum at the Los Angeles County Museum be streamlined to provide as much space for the art as possible, why are outer walls around the perimeter of his personal museum designed to be useless for hanging art, with paintings relegated instead to temporary, freestanding slabs? And how will light-sensitive works be shown under a ceiling that's one vast skylight?
Here's the explanation I received from Karen Denne, chief communications officer for the Broad Foundations:
The free-span third-floor gallery can be shaped and divided into a variety of configurations, according to the curatorial needs of each installation or exhibition.

Part of the design process for the skylights in the coming months will be to devise the right system for closing or filtering some of the individual skylights to darken certain areas. Another option is to include opaque or light-filtering ceilings or scrims in those galleries where light-sensitive works are being displayed.
It appears, then, the museum will devise workarounds to overcome the challenges imposed by the architecture. Perhaps these upside-down priorities should be rethought before groundbreaking occurs. There's something off-kilter when the urge for a "wow" building trumps basic functionality.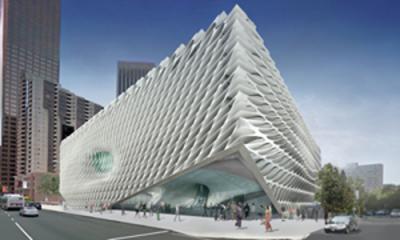 Exterior rendering of The Broad
While we wait for the physical Broad to materialize, let's return to the ethereal renderings and (as graffiti artist Banksy might say) "exit through the giftshop" (in the lobby) to peruse the offerings: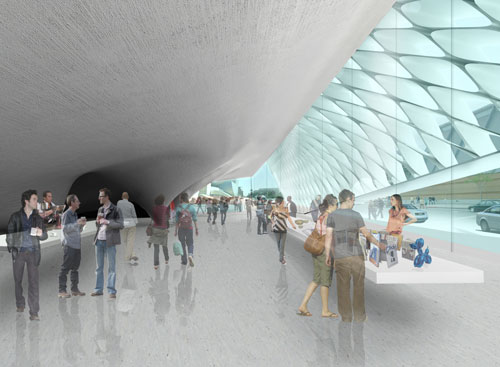 It appears that Broad (or more accurately, "The Broad") will be marketing miniature reproductions of Jeff Koons balloon-dog miniatures (the only recognizable object on the sales counter).
Watch out, Eli! Jeff might just send you a cease-and-desist letter!