When I was in New York in mid November and told friends I was staying at the Setai, everyone said the same thing.
Where?
The opening had been covered in the New York Times and the building is hardly hidden: the hotel prominently occupies a brand-new 60-story Gwathmey Siegel & Associates tower on a busy stretch of Fifth Avenue. Granted, a new high-rise is hardly breaking news in New York but still -- not one of my savvy friends seemed to know anything about it. And no cabbies had heard of it either: Each time I jumped into one and said "Setai Hotel, please," the driver replied with some version of huh? A few people recognized the name because of the Setai in Miami Beach, a stunning hotel which always elicits oohs and ahhs. This Setai has nothing to do with that Setai -- different owners, different management -- but I guarantee that once New Yorkers and other travelers experience it, they'll be oohing and ahh-ing as well.
Granted, the Setai had been open just a week or two when I was there but you would never have known it. The smart-looking international staff was not only warm and eager but supremely efficient and professional. As it turns out, many of them have worked for the management company, Capella Hotels and Resorts, in other cities and Capella is known for indoctrinating its people into the art of discreet, personalized service. If another hotel company wasn't already using it, the slogan "whatever, whenever" would perfectly sum up the Capella approach.
Capella is the brainchild of Horst Schulze, the former president and COO of Ritz-Carlton Hotels and Residences. It was Horst who grew that legendary company from three to 54 hotels and, when he resigned in 2002 after 19 years, he was responsible for their $2 billion operations worldwide. Schulze is a legend in hotel circles, known for reshaping and improving hospitality standards throughout the industry. He's not just respected -- he also seems to be universally liked.
I know the Setai in Miami well and I know Capella well and I know Horst Schulze well enough to know that any hotel he runs is going to be pure class. So when I got the chance to stay at the Setai Fifth Avenue, as it's officially known, I grabbed it. I had barely hit send on my confirmation email before I received a reply from my "personal assistant" Kimberly inquiring about any special requests I might have for my upcoming stay. Woo-hoo, I thought! We're not at the Days Inn anymore!
The hotel sits on a non-descript block of Fifth, four blocks south of the New York Public Library, just north of the Empire State Building, three blocks from Macy's. The lovely Bryant Park is five or ten minutes way on foot. But unlike the Plaza for example (which commands an important uptown corner), or The Four Seasons (whose 57th Street neighbors include Prada, Dior and Yves St. Laurent), the Setai is saddled with a less-than-lovely location next to a "discount" camera store and a neon-lit souvenir shop. (I can only imagine how the Setai folks wish they could make those two shops disappear.) A Burger King beckons across the way.
But step inside and the gritty city just vaporizes. Good afternoon!, the GQ-handsome doormen croon in friendly, low-key voices. How did everything go? If they sense you're up for a chat, they'll ask where you ate, what you thought, what you plan to do this evening. The door is held for you, you slip through the small marble lobby and up you go to your room. If you like ostentatious and flashy, this is not your place; the Setai is about understated elegance and quiet refinement. On my second day in the hotel, I noticed a very subtle and appealing scent in the elevators and hallways. Maybe, the publicist suggested, it's the hotel's Italian-made soap, shampoo and lotion that I was smelling -- on the guests themselves. Maybe, but to me it smelled more like money.
Speaking of amenities, the Setai has all the amenities that you'd expect at this level: the state-of-the-art spa with all the newest treatments (Color-therapy showers? Who knew?), the pristine fitness center with row upon row of the newest machines, the free WiFi, the large-screen, high-def TV, the deep soaking tubs and powerful rain showers, the vast bathroom counters with twin sinks. I loved the mini-bar filled with free soda and water and, I must admit, went a little nuts with the espresso machine. (Remember those lab mice that kept pushing the bar, faster and faster, to get the cocaine? That was me with the espresso.) I loved the electric drapes and the cleverly slanted windows, designed to allow guests on higher floors to see directly down to the street below. Plus, they glide open effortlessly and block out the street noise completely.
In fact, the whole hotel has a wonderful, hushed air. Not a "you better behave" air but rather a soothing, cocooning air. Not once did I hear a peep from the rooms on either side of us. Maids pop out from discreet doorways and scurry quietly about their business; not once did I see or hear one pushing a cart of towels and toilet paper down the hall. Anything you need you call for and a smiling, uniformed staffer knocks discreetly at your door within moments.
The pleasures of a hotel room are not always immediately apparent and that was true here as well. Upon first glance, I found our room, while huge and expensive looking, also a bit austere. No color, no pattern, no flowers. Within a day or two however, I was basking in the serenity of it. The Duxiana beds with Pratesi linens turned out to be the most comfortable beds ever. Our huge T-shaped desk was the perfect space for two people who wanted to work, eat and read comfortably together. The tranquility of the cream-and-chocolate colored room was the perfect antidote to chaotic, noisy Manhattan streets. And the high ceilings, big closets, oversized furniture and separate dressing area were a blessing in a city where personal space is at such a premium. The hotel boasts 157 rooms that are among the largest in the city, the majority of them 700 square feet or more.
There are also 57 suites including three penthouses. Suites have separate bedroom and living areas, furnished kitchens and appliances by Miele. Condominiums occupy the upper floors.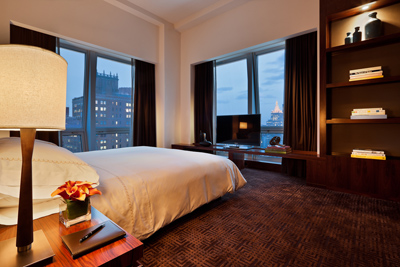 The hotel car, a sleek, silver Maserati, is made discretely available to certain guests. (If you're not sure if you're one of them, you're probably not.) Knowing without a doubt that I wasn't, I declined politely when the car was offered but Floyd, one of the charming doormen, wasn't going to let up until I said yes. Turns out, riding around Manhattan in a chauffeur-driven Maserati is even more addictive than free espresso.
But of all the thoughtful amenities and exquisite details, the one that most clearly illustrates the Capella "personalized service" philosophy is the check in and check-out policy. If at all possible, guests may do both at whatever time they like. It's surprising how much travel-day stress that eliminates.
To create the hotel restaurant Ai Fiori, Capella turned to chef/owner Michael White, who earned three stars from the Times at Fiamma and runs some of the city's most highly regarded restaurants. As his day-to-day chef, White, in turn, chose Chris Jaeckle, who's a bit of a rock star in foodie circles thanks to his work at Morimoto and Eleven Madison Park. The cuisine, White tells me, is an ode to Liguria and the French Riviera, a part of the world he adores and returns to whenever he can. What to order? White suggests foie gras torchons with spiced figs and sweet/spicy ormeasco mostarda; the Ligurian pasta called Trofie with shellfish ragout; pan-roasted cod with littleneck clams and watercress pesto; and a warm liquid-center chocolate coulant with stracciatelli gelato.

Ai Fiori received its own three-star review from the Times on February 23, critic Sam Sifton calling it "a soulful amalgamation of French technique and Italian passion, executed with great skill" and "one of the best restaurants to open in New York in the last 12 months."
"I feel so fortunate to be cooking the cuisine of a place that I absolutely love, in this gorgeous hotel," White says. "This neighborhood was a hub in the 1920s, '30s and '40s and now it's starting to see a resurgence. I'm so excited to be part of it."
Another alternative for dining is the lobby-level Bar on Fifth, which serves light food throughout the day, has live piano on weekends and seemed to be attracting a steady clientele of guests and non guests alike.
Guenter Richter, the hotel's managing director, came not from another Capella property but from the Regent Bal Harbour in Florida, a gorgeous oceanfront hotel on the Gold Coast north of Miami. Before that, he led two legendary Manhattan hotels, the St. Regis and the Swissôtel New York, The Drake. He was also, at one time, a vp with Rosewood, running the prestigious Mansion on Turtle Creek (Dallas), Bel-Air (Beverly Hills) and others of that rarified ilk. Not too shabby, as resumés go.
Okay, now here's the "but" graph (as it's known in the newsroom). Rates begin at $595, putting the Setai well beyond the reach of many travelers. I can't tell you whether it's worth it or not--that's up to you. But I can tell you that, as someone who's been lucky enough to experience many high-end hotels, the Setai does a sensational job. If I had a special occasion to celebrate, I'd return for sure. In six days at the hotel, I never once detected even the slightest bit of New York attitude and that's worth a lot to me.
Opening a luxury hotel in New York during the recession must have been quite scary to everyone involved. It will be fascinating to watch, in the months and years to come, how this gracious hotel settles in, finds its place in the ultra-competitive New York market and develops a loyal following. And once more people know the Setai name, bragging that I've stayed there will definitely be a lot more fun.

The Setai Hotel
400 Fifth Avenue
(Between 36th and 37th Streets)
New York, NY 10018
SetaiFifthAvenue.com
info@setaififthavenue.com
capellahotels.com
212-695-4005
877-247-6688