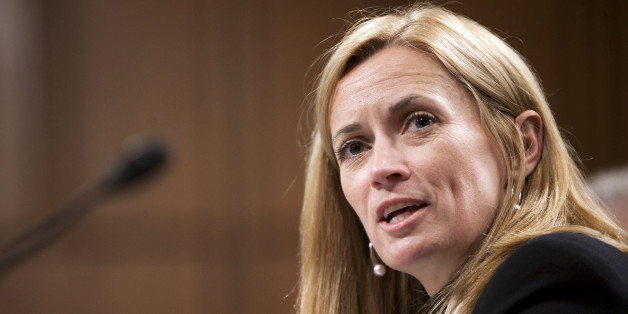 In a testament to the power of Twitter, or the speed of the revolving door between government and the private sector, or both, one banking legend's controversial effort to dabble in regulation has ended less than 24 hours after it was announced.
Blythe Masters, head of JPMorgan Chase's commodities unit, will not be advising the Commodity Futures Trading Commission on market regulation after all, Bloomberg reported on Friday -- less than a day after Bloomberg reported that Masters would get the job.
Masters would have been on a committee helping the CFTC figure out how to regulate the derivatives market. This was an eye-opening development for a couple of reasons. For one thing, Masters basically invented the credit default swap, the derivative at the heart of the financial crisis. This would have been a bit like asking Frankenstein for advice on regulating monster-building (which arguably makes sense, if you think about it).
For another thing -- and probably a better reason to question her appointment -- as head of JPMorgan's commodities division, Masters was embroiled in the bank's recent trouble over alleged energy-market manipulation. The Financial Energy Regulatory Commission, another market watchdog like the CFTC, at one point accused Masters of approving manipulative trading schemes and making "false and misleading statements" under oath.
JPMorgan has "strongly disputed" that Masters lied or did anything wrong. She was barely mentioned in the eventual settlement between FERC and the bank. A JPMorgan spokesman declined to comment on the latest news about Masters.
Anyway, the news of her appointment led to a Twitter eruption. Here's a small sampling:
Um, what?!?! RT @sabrush: JPMorgan's Blythe Masters to Join @CFTC advisory committee on global markets http://t.co/gFukKzZk2o

— Jesse Eisinger (@eisingerj) February 6, 2014
Give up everybody. They put the fox in charge. "@zerohedge: The Farce Is Complete: Blythe Masters Joining CFTC http://t.co/tWlnSb6lb4

— Cate Long (@cate_long) February 6, 2014
The Farce Is Complete: Blythe Masters Joining CFTC http://t.co/ctu6bCX2hC

— zerohedge (@zerohedge) February 6, 2014
Even the fake Blythe Masters weighed in:
Imagine the growth we'd see in baseball performance if Jose Canseco became the @MLB commissioner. That's what I bring to @CFTC.

— Blythe Masters (@FakeBlythe) February 7, 2014
Bloomberg cited this outrage in its story on Friday, though it didn't explicitly say it was the reason for Masters' withdrawal. The official reason, according to one person familiar with the matter, is that Masters will need to spend time helping JPMorgan sell its commodities unit.
But not to worry: Even if JPMorgan isn't represented on the regulatory panel (and it may still be), other banks including Goldman Sachs and Citigroup will.