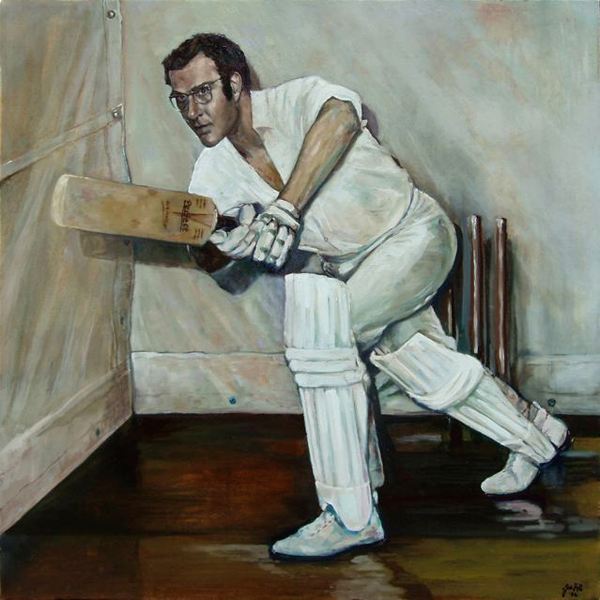 Harold Pinter, portrait by Joe Hill (2006), via haroldpinter.org
The new revival of Harold Pinter's great late play Betrayal (1978), currently in previews at the Ethel Barrymore theater in New York, has received much attention and sold many tickets already because of its cast and director: Daniel Craig, a fine stage actor better known to audiences as the current James Bond on film; his real-life wife Rachel Weisz, also better known for her work in movies than onstage; Rafe Spall, making his Broadway debut after earning a name for himself in London's West End and on film; and, directing, Mike Nichols. Craig and Weisz are Pinter's married couple, Robert and Emma, and Spall plays Jerry, Robert's best friend -- and Emma's lover for seven years.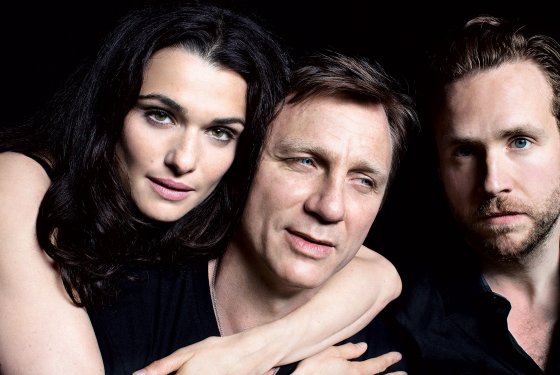 Rachel Weisz, Daniel Craig, and Rafe Spall, © Brigitte Lacombe for Betrayal on Broadway
Betrayal begins in 1977 and mostly goes backward for a decade, apart from some forward motion through the critical year 1973. If you section Betrayal into scenes and place them in chronological order from 1968 to 1977, it's still an excellent play -- but to begin after the end of an affair and then watch it reversing through stages of tiring, frustration, regret, passion, anticipation, seduction, and realization is how it is intended. This makes us pay attention to what causes things, to the ways people change, and forget. Emma and Jerry married in 1963, and have two children. Jerry and his wife Judith -- never onstage -- have two children also. The children are spoken of, but, like Judith, never appear. Betrayal is about Robert and Jerry, and Emma as the woman who's less the object of their affection than the catalyst, and complicator, for the deep bonds between them.
Betrayal is about dishonesty and power, coldness and apathy, but also integrally art and profit. Robert is a publisher who hates books, or "to be more precise, prose. Or to be even more precise, modern prose." Jerry is a literary agent whose principal find seems to be Casey, or Spinks, a bad writer who writes popular autobiographical fiction about the portion of his life that's just ended (badly). Both he and Robert are living off Casey's non-art by the end -- or, rather, the beginning -- of the play, just as Emma is living off the artists of her gallery, about whose painting you don't hear, and whose work you never see. Perhaps it's worth noting that Judith, Jerry's unseen wife, is a doctor, an admirable profession to be sure, but couched in this play so as to sound as if she is making her living off damaged people. Jerry and Robert have known each other since their college days, when both were editing poetry journals at Oxford and Cambridge; one never knows who went where. The schools are fungible, the poetry is fungible, children and families are fungible -- very much in Betrayal is fungible.
I'd like to say that the central action of this play is the adultery between Emma and Jerry, but it really isn't. Pinter is hard on actors: It's dangerous to try to play him with passion, or at least any passions other than fear, or cruelty. The affair between Emma and Jerry is more depressing than sympathetic or titillating; Robert's reaction is to it sometimes angry, sometimes formal, but always essentially cold and detached -- the affair is his way to control both his wife and the man Robert admits, in the last line of the play, is his oldest friend and best man.
This plot doesn't sound like a laugh riot. However, Betrayal -- like all Pinter -- surprises you my making you laugh when you least expect to, and don't want to. Mike Nichols has been good for decades at extracting laughter from bleakness, and on this front he is the ideal Pinter director. That the audience packing every seat in the little red-and-gold Barrymore theater last Saturday night giggled and guffawed was a pleasant surprise. Sometimes the laughs were unrelated to the text, most memorably at the very end of the play. Throughout, Spall mugs a lot as Jerry, with rolls of the eyes when Robert mentions his wife. But one did indeed have to laugh when Jerry, in the last scene, is belaboring Emma with waste-land, modern-literature words of clichéd love, and asks her, "Have you ever been to the Sahara Desert?" Weisz's fans from her days in the Mummy movies just couldn't help themselves, and the theater rang with laughter at a most unPinterly place.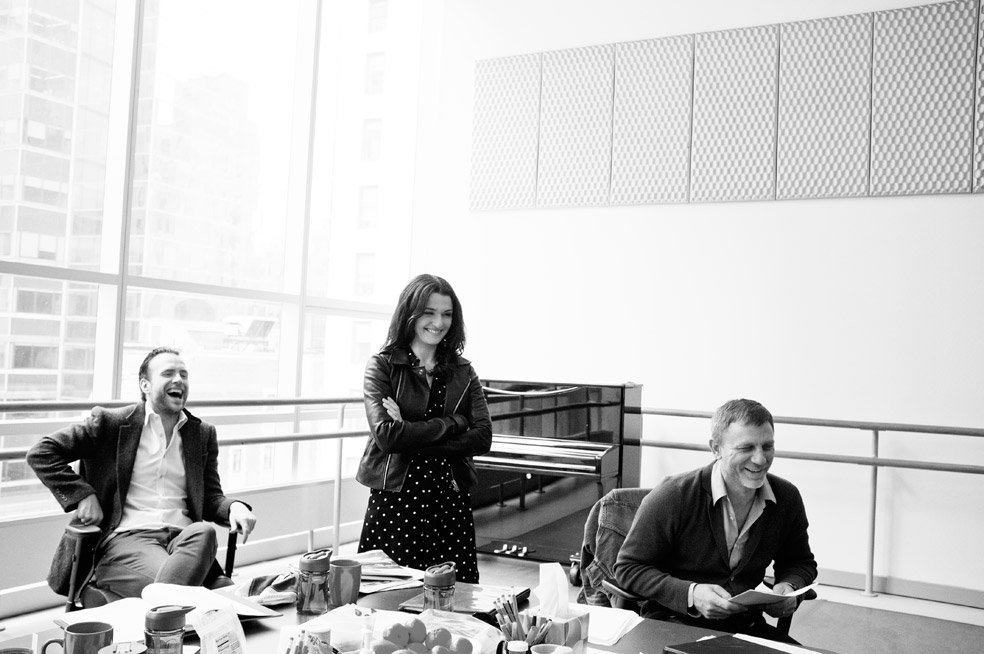 Spall, Weisz, and Craig in rehearsal for Betrayal, © Brigitte Lacombe via Betrayal on Broadway
Not so humorous, alas, is the speed of the production. Betrayal is being performed without an intermission, and begins far too soon to gallop toward its conclusion. After the first scene, between Weisz and Spall, which was paced beautifully, I wanted everything to slow down. It's Pinter, for heaven's sake. The PAUSE is all. Pause, oh please, pause, I kept saying to myself. Slow down, stop, let those pauses marinate and suffocate and intensify. The director has removed, or abbreviated, almost all of them. Betrayal on Broadway comes too quickly. All three actors, at points, hurried through their lines. You shouldn't do that in Pinter, and especially in Scene Five of Betrayal. The scene begins gorgeously, in Venice, with the dome of San Marco and gondolas bobbing on the scrim above Emma and Robert's huge, ornate hotel bed. Here, in 1973, a letter from Jerry to Emma leads Robert to find out about their affair. He torments the truth out of his wife, slowly, with "pause" and "silence" written repeatedly into Pinter's stage directions. Daniel Craig is just angry, and occasionally wittily snide, but he races through his lines -- as he does again in Scene Seven, Robert's best scene by far. When he drops the mad energy at the end, it's a breathtaking difference. Here's Robert, cold controlling bastard Robert, remembering reading W. B. Yeats: "I was happy, such a rare thing, not in Venice, I don't mean that. I mean on Torcello, where I walked about Torcello in the early morning, alone, I was happy, I wanted to stay there forever." When Craig's Robert is icy and in the know, and viciously gradual, he is excellent. At such moments, where one feels he's setting his own pace, the play slows down and thinks and gleams. If Betrayal on Broadway gave Craig more latitude to truly be the character Pinter wrote, and consequently took half an hour longer, it would be a stone-cold smash.
From the start, the sets and costumes are perfect for the times: Eames chairs, blond Scandinavian wood everywhere, open-necked shirts in atrocious prints, peasant skirts, blocky espadrilles for the lady and flatter ones for the men. Craig particularly carries off the clothes with a highly entertained flair. He also uses the props scattered about, from the ubiquitous bottles of booze to, at one point, a child's stuffed toy with the most knowledge. When in Scene Four Robert flips that stuffed animal at Jerry, it makes him seem for a moment to be the only one of the adults who cares at all about any of their children -- just through the perfect timing of the gesture. The flat Jerry and Emma share on infrequent afternoons as "Mr. and Mrs. Green" is decorated with fine attention: two sets of mismatched his-and-hers dishes; fresh flowers that give way to a plant that eventually dies; postcards of Virginia Woolf and W.B. Yeats and James Joyce taped to the cupboards in the kitchen, fading in the sun like Emma's Venetian tablecloth as time wears out.
Weisz is almost too beautiful, too sympathetic, for Emma, a character who is more a pawn -- a squash ball being hit, if you will, between the men -- than the object of overwhelming attraction to either of them. Often, her lines are questions; and Emma routinely answers questions with questions: "Are you?" "No, really?" "Ever think of me?" Weisz turns these perfectly, never sounding whining -- or as if she cares about the answers to come. When, in Scene Five, she confesses her adultery to her husband, she covers her sexy white silk nightgown with a robe, gracefully detailing her embarrassment at being revealed in front of him.
Spall, likewise, is too likeable for the shallow and repellent Jerry, the man who's shagging his best friend's wife. However, he's doing so less because he loves Emma than because of his competitive, complementary relationship with Robert. When in the last scene the three characters sprawl drunkenly on a (Modernist, inevitably) divan, and Jerry, giggling, fake-humps Robert from behind, it's a ridiculously reductive moment putting Robert and Jerry both into supremely dumbed-down terms. It's a crude way to suggest the intensity of the largely unarticulated bond between the two men, and, also, Jerry's presumption here that he's not only "got the better of Robert" -- by the promise of now being able to "blacken" Emma -- but his childish pleasure at thinking he's done so.
This scene should be better all around, but it's not the fault of the actors. Here's Pinter's clear stage direction for Robert's entrance, as Jerry and Emma are together in a room one night in 1968:
He kisses her.
She breaks away.
He kisses her.
Laughter off.
She breaks away.
Door opens. ROBERT.
In this production of Betrayal, Emma and Jerry are kissing passionately as Robert walks in. What an easy, gimme aha! moment is thereby created: Robert knows about the attraction between them all along, and is immediately ready to sanction their affair, without question. Similarly, at the very end, here's Pinter:
Emma moves towards the door. Jerry grasps her arm. She stops still.
They stand still, looking at each other.
Instead, Jerry grapples with Emma, and as the theater goes dark they're snogging again. This moment -- like their brief bit of sex, almost fully clothed, in an earlier scene -- can't engender a passion where there simply isn't any.
Much about the new production is triumphant: the excellent casting and acting; the spot-on sets; the small evocative musical interludes between the scenes; the extraction and showcasing of Pinter's humor. The changes and omissions that jarred me -- the eradication of pauses and consequently swiftened dialogue; Robert as an angry, not-so-young man; interjections of explicit sex into a depressingly unsexy play -- make for a brighter and faster-moving evening in the theater, I admit. When you have the chance to see Pinter performed by first-rate actors, always go. The emphasis on lines and the small gestures makes all the difference. You want to cheer when, in the first scene, Weisz sneaks a sip of Spall's beer while he's gone to get her another glass of wine; when Spall refuses to pronounce "melone" or "limone" in an Italian accent; when Craig holds a too-rare pause, militantly, and then gracefully, bitingly silences his wife with, "Tell me, are you looking forward to our trip to Torcello?"
©Anne Margaret Daniel 2013