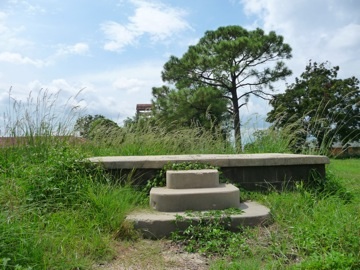 To talk about the last five years post-Katrina without mentioning what happened this summer would be to ignore the elephant in the room. The big, oily elephant in the room. Last year you couldn't pitch a New Orleans story nationally because we were told it was an off year.
This year you can't shake a stick without being interviewed about the 5-year anniversary of the catastrophic levee failure. Based on the Katrina aftermath's slow fade from the news spiral I fear for how soon the oil spill will fall off the radar. There's something about a man-made disaster that let us know that we are not protected, and we are not prepared. When you walk out of your home one day and never walk back into life as you knew it, there is a knowledge that you live with on a daily basis: the emperor has no plan.
We were on vacation the week Hurricane Katrina crumbled the levees and flooded New Orleans. My new job was to start the next week, but by then all the windows on the building had blown out. I was eventually offered an alternate job cleaning shattered glass out of file folders, but declined. By then we were halfway across the country and the New Orleans Musicians Relief Fund was up and running. That was my husband's mission, which I tried to talk him out of since we would have to found it with coffee shop internet connections instead of an office. But he was determined, and we did our best.
You remember the goofiest things, like bringing Steve Martin's "Pure Drivel" along for the evacuation and clinging to it for dear life. Jeff and I were arguing about trunk space instead of closet space, and staying in a FEMA room in which someone had apparently smoked himself or herself to death. The book seemed to fit the times.
This is a strange series to write, 2010 was going to be the triumphant 5-year. The Saints won the Superbowl. NOMRF is firing up a new concert series. We're moving home in a week. No one wants the coverage of resilience, rebirth and flat out miracles to turn into the Katroilspill, but how do you manage to leave out that particular elephant when it affects our air, water and way of life?
Tomorrow: In which we end up at Martha's Vineyard.
BEGIN AGAIN by Peter Holsapple and Chris Stamey with Branford Marsalis courtesy of Bar None Records. ReDefine 8/29 downloads at NOMRF.org.