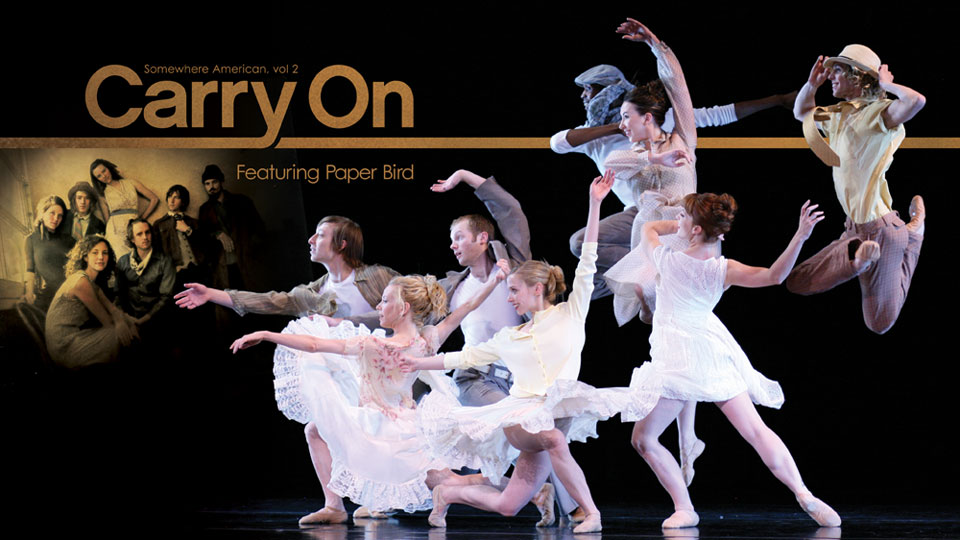 Ballet Nouveau Colorado plays well with others. Very well. BNC Artistic Director, Garrett Ammon, is a great collaborator, often pairing up with other artists to give his dance creations the breath of life. Last year's creative coupling of Ballet Nouveau and Paper Bird gave birth to something truly inspired.
Carry On premiered in February to a sold out, two-weekend run, the adoration of critics and audiences alike and I was fortunate to be among them. I will gift myself again as they return for an encore performance June 11th on the Arvada Center's outdoor stage.
The multi-media dance piece lifts us, transporting the viewer completely, to another time. Set to original and complex music by the homespun Paper Bird, sound, music, design and projected image are woven together beautifully, reminding us that there was a moment when we were truly connected. It is a monochromatic, prairie tale, a spare and soaring dream of love lost and found. The exquisite choreography plays with threads of longing and open spaces, loneliness and the sweet water of desire.
The nine band members of Paper Bird bring lilting sound and glorious harmonies from a wide array of instruments and other objects: banjo, guitar, drum, trombone, trumpet, clarinet, harmonica piano, thumb piano and a typewriter. Vocals provided by Sarah Anderson, Esme Patterson Collins and Genevieve Patterson are heavenly.
More than ballet, more than a concert, the Ballet Nouveau/Paper Bird experience entitled Carry On is not to be missed. Or not to be missed again.