"To stroll the streets of old Montréal, to be in the only French territory in North America, to enjoy a fabulous restaurant and top it off with a classical music concert of almost any kind played by a top notch ensemble in a fabulous hall, certainly should put Montréal on everybody's must see and hear list." -- Marianne Dugal, Associate Concertmaster Montréal Symphony
In Montréal, a city of music as Paris is a city of light, the Montréal Symphony has survived organizational scrapes to once again become one of the most exciting orchestras in the world. Since Kent Nagano became its music director in 2007, the OSM (for Orchestre Symphonique de Montréal) has re-emerged as a top-tier orchestra, in part by marshaling the forces of the classical music industry on a local, regional and international scope to its own and to Montréal's benefit.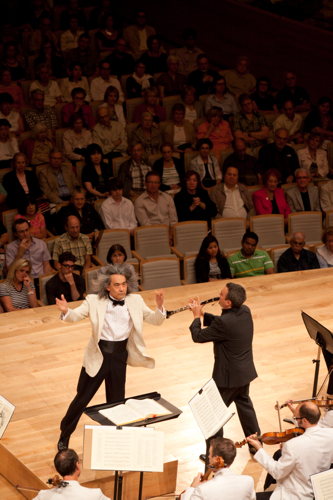 Jörg Widmann, Kent Nagano and the Montreal Symphony. Photo by Luce
It all came together on August 16 and 17 when Wolfgang Amadeus Mozart came to town for the OSM's summer festival, "A Cool Classical Journey." First of all, Mozart wrote the lion's share of the music. Second, music director Nagano, the OSM and their friends played it, which meant superlatively, stylishly and seductively. Third, there was lots of it, very reasonably priced. Best of all, it was played morning, noon and night.
The festival spanned two days and 30 concerts, each around 45 minutes, most of the music by Mozart; it drew more than 20,000 to Montréal's new Symphony Hall, as well as to three smaller performance spaces in the same Places des Arts complex. Free pops concerts in city parks drew 40,000; an outdoor event at Olympic Stadium featuring Rimsky-Korsakov, Gershwin, a cajun set, and local hero tenor Marc Hervieux, drew 30,000. All told, more than 100,000 Montréalers and tourists heard the OSM this summer, showcasing a consumer base for classical music that is visibly broad and young.
True to Montréal's unique blend of centuries-old culture with youthful, 21st century spirit, the performers ranged from teenagers George Hua and Daniel Clarke Bouchard to 90-year-old Menahem Pressler. Edgy composer/clarinetist Jorg Widmann brought Mozart's Concerto K. 622 to life with thrilling chops and style, often bunny hopping on the stage. Hyeyoon Park, only 21, electrified the Violin Concerto K. 218.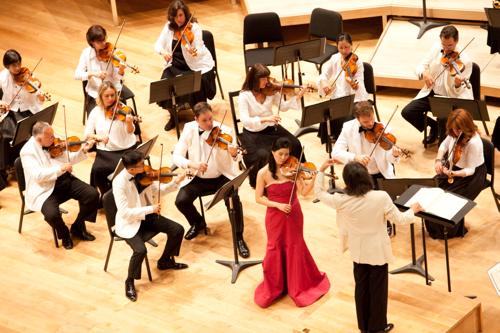 Hyeyoon Park, Kent Nagano and the Montreal Symphony. Photo by Luce.
After the last Mozartian notes had been sounded and put to bed, Montréal turned to other cultural pleasures and activities, flag-shipped that day by the annual Gay Pride Parade (honoring a tradition that began in 1979), set to run along one of the city's main thoroughfares.
Year round, there is always a lot of classical music going on in Montréal. In addition to the OSM, the Orchestre Métropolitain, which helped launch the career of Montréaler (and now DG superstar) Yannick Nézet-Séguin, is going strong, as is the Orchestre de la Francophonie, a career-path training orchestra. Smaller world-class groups include I Musici de Montréal and Les Violons du Roy; there is a healthy mix of baroque and new music ensembles, the world-acclaimed Montréal Chamber Music Festival, and the Montréal Opera.
Montréal's commitment to music and educated is eloquently symbolized by its close association with the growth and maintenance of the Jeunesses Musicales International (JMI) network which empowers more than 5 million young people in 80 countries around the world to use all styles of music to create platforms for intercultural dialogue. It added to the festival's Mozartian symbiosis that the visionary JMI, with its Foundation-like time scale, was holding its 68th Annual General Assembly at the same time in a hotel across the street.
You can hear classical music in venues all over Montréal, ranging from the audiophile Maison Symphonique to many excellent, smaller halls such as newly built Bourgie Hall, where the renowned Montréal Violin, Piano and Voice Competitions are held. At Montréal's Notre Dame Basilica, its superb Professional Choir sings Palestrina, Byrd, Mozart, Charpentier, and Bach Sunday mornings at high mass.
Since there are also smaller churches with even more exquisite acoustics, it stands to reason that award-winning classical record labels ATMA and Analekta are headquartered in Montréal.

On Sunday morning, before Mozart left for the airport and other festivals around the globe, the iconic Austrian composer had no reply when asked whether he would be writing a "Montréal Symphony," like the ones he had done in the course of his career and travels for Prague, Linz and Paris.
Considering the nature of the affair Mozart had in Montréal, I don't think there can be much doubt.