Even in the largest art fairs, all too often the work is confined to the tent's white walls, meaning that sculptures or installations that manage to shake things up cannot exceed the rigid boundaries of their gallery cells. This is not the case with "Art Basel Unlimited," the ambitious exhibition platform that caters to all things oversized.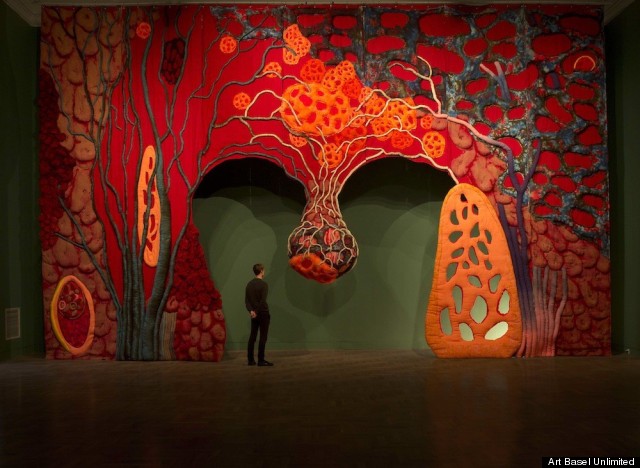 Oftentimes, art fairs are overwhelming, dispiriting events, as Jerry Saltz detailed in a recent piece for New York Magazine. But they don't have to be this way. By expanding its reach, "Art Basel Unlimited feels more like an exhibition than a merchandise mart," Linda Yablonsky wrote on ArtNet last year.
This year's fair -- Swiss Institute Director Gianni Jetzer's second curation effort -- features the largest number of participating works to date. Ai Weiwei, Martin Creed, Gina Pane and Thomas Demand are amongst the big name artists contributing work, along with exciting up-and-comers including Esther Kläs, Oscar Murillo and Emil Michael Klein. Expect to see a warped merry-go-round, a charred piano and an aluminum plate structure amongst the unwieldy items on display. We're particularly excited for Amalia Pica's performance piece "Strangers," in which two participants are slated to hold a string of bunting... for hours. (Napping Tilda Swinton, eat your heart out!)
"Art Basel Unlimited" runs from June 13 until June 16, 2013 in Switzerland.
For those of you contemplating a last-minute trip, we suggest perusing our preview of the exhibition below for inspiration: