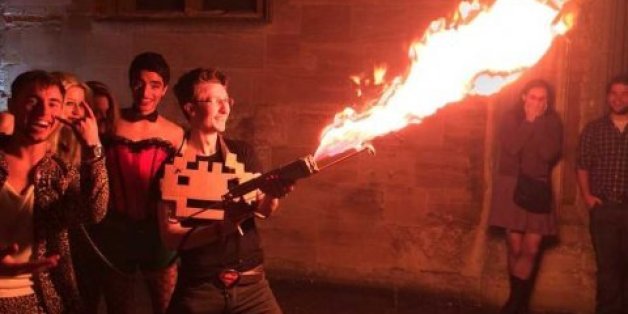 If you bring a flamethrower to a costume party, there's a good chance everything will get shut down. Just ask Inigo Lapwood.
Lapwood, a 20-year-old student at Oxford University in the United Kingdom, attended a "fancy dress" party dressed as "Arcade Fire." He didn't dress as one of the band members, though: He wore a small, 8-bit "Space Invader" alien and carried a flamethrower he built using a nail gun and a glow plug from a diesel engine, according to the Telegraph.
A photo circulating online shows Lapwood firing the flamethrower into the air in Tom Quad at Christ Church, Oxford.
Lapwood dismantled the flamethrower after about 10 minutes of use, he told ITV, but kept a "smoking is harmful" sign from a cigarette pack as a keepsake. Police later confiscated his illegal firearm.
The college is investigating and Lapwood will likely face some sort of penalty, ITV reports.
Lapwood insists no one was in danger.
"I thought about doing the pun 'Sex is on Fire,'" he told the Telegraph, "but I think that one would definitely be going too far."
[h/t Business Insider]