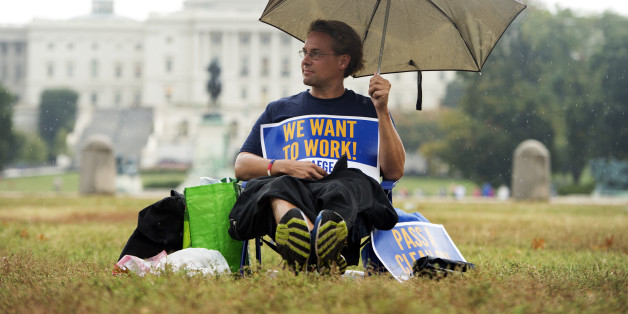 WASHINGTON -- Natalie Minas quit her job in Seattle last week in preparation for her upcoming 10-month stint with the AmeriCorps National Civilian Community Corps, a full-time community service program for young adults.
Minas, 22, hoped to provide mental health services in youth prisons in exchange for experience, housing, meals and a small stipend. Her training program in Sacramento, Calif., had been scheduled to start Wednesday.
Instead, the program is indefinitely delayed by the U.S. government shutdown. Minas, now jobless, is back at home with her parents, one of about 175 incoming AmeriCorps members awaiting news.
"Unless funds are appropriated and the government is operational, AmeriCorps NCCC will be required to delay your arrival on campus," program director Kate Raftery told members in an Oct. 1 email. A follow-up email to those scheduled to arrive in Sacramento advised them to cancel travel plans, investigate unemployment, and wait to hear whether their class is canceled or merely delayed.
The next training program doesn't start until February. If that's the case, Minas said, she'll no longer be able to attend.
"We're trained in first aid, disaster relief and public service and complete projects as varied as building houses for Habitat for Humanity to creating after-school programs for rural and urban youth," Minas said. "The 20th class of the AmeriCorps NCCC program is ready and waiting to make a difference in America. We ask only that we are allowed that chance."
For now, Minas and other incoming members are left in the lurch.
Dan Waxenberg, 23, said he turned down two temp job offers to keep his commitment to AmeriCorps. He said he's reluctant to look for other work until he knows how much longer the program will be delayed.
Allyson Loretz, 23, is waiting for her law school admission test results and pondering whether part-time jobs are available for a recent political science graduate who may have to quit at any moment. "Last time I checked, the Twitter feed, they forgot to take off the automatic posting" before the account went silent for shutdown, she said. "So we got a post right before today saying that we were supposed to leave, but it's not true."
The scuttled training is just one of the ways that members of AmeriCorps have been hit by the shutdown. Current NCCC members won't be deployed to any new projects, while members of AmeriCorps VISTA, an anti-poverty program, have been told they're expected to continue working during the shutdown, even though they won't be paid until the government is funded again. Since the program is designed to pay wages barely above poverty, most have little savings. Members who leave won't be eligible for the program's education award, which pays for college costs or student loans, and is among the program's biggest draws.
Some programs that rely on AmeriCorps workers, including a Habitat for Humanity home-building project in Iowa, and classes for underprivileged children in Nevada also face delays.
"You have two groups of people who are in really vulnerable places," said Zach Maurin, executive director of Service Nation, which advocates for national service programs. "Those who want to serve -- young people without a whole lot of savings and a whole lot of resources. Then, the people they're serving -- who aren't going to be on the receiving end of those services.
"You've got two groups of vulnerable populations who getting being crushed by this, who don't need a whole lot, but what little is provided to them gets a whole lot done for this country," Maurin said.