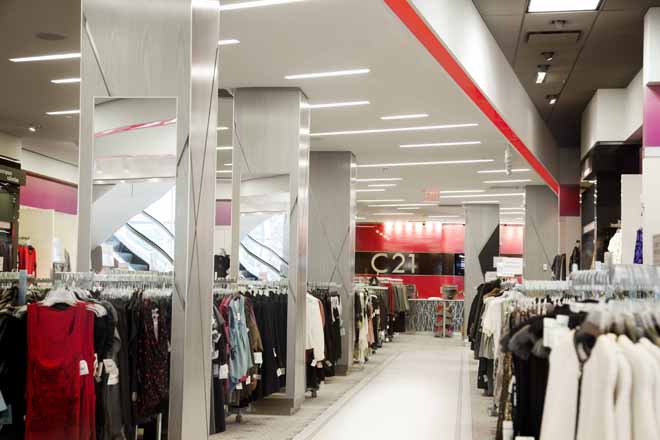 Downtown Manhattan denizens have been treated to Century 21's deeply discounted designer merch for decades. But now the bargain basement has expanded to a second NYC location, in the former Barnes & Noble space on the Upper West Side.
While the original store in the Financial District has a heavy tourist following, the new outpost aims for a more residential feel. The brand tapped Barteluce Architects to give the 61,000 square foot space a modern aesthetic, with softly backlit fixtures, plasma screens, less signage and a subdued gray color scheme with pops of red and teal. To streamline the experience, the home and fragrance sections have been eliminated, keeping the focus on the women's collections and accessories. Menswear and kids' clothing are also on the agenda. And happily, ample fitting rooms were a top priority.
When we visited the shop, we spotted an exhilarating array of labels, including Jason Wu, Rag & Bone, Marc by Marc Jacobs and Diane von Furstenberg. And the basement shoe department was well-stocked with brands such as Givenchy and Manolo Blahnik.
With its prominent new Lincoln Square facade -- and well-edited selection -- we're not sure how long the store can keep using its "New York's Best Kept Secret" slogan.