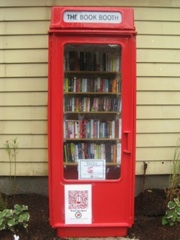 Library Journal recently reported on the opening of "America's Littlest Library" in the Town of Clinton. The town, an urban weekenders' retreat, is half way between New York City and Albany, NY. The library has taken up residence in a refurbished K8 model British Telephone Box but we Americans usually call it an English phone booth.
The idea for the Book Booth was that of The Clinton Community Library. They consider it a library branch where people can come and exchange books. The transformation of the telephone booth into The Book Booth was a community effort. Many local townspeople lent their skills to the effort which included painting, artwork and carpentry. Matt's Auto Body of Salt Point, NY came and moved the booth and repainted it the traditional bright red.
The Book Booth may be red in color but is green in nature. It does not have plumbing or electricity but is lit for evening use via a solar light. Its motto is Readcycling that gives life to used books.
The Book Booth is open 24 hours a day 7 days a week and you do not need a library card but it encourages that you leave a book for each book that you take.