I'm at the IFA consumer electronics and home appliances trade show in Berlin where I got some hands-on time with Sony's Tablet P and Samsung's Galaxy Note; both run Android and both are small enough to fit into a jacket pocket.
Sony's clamshell design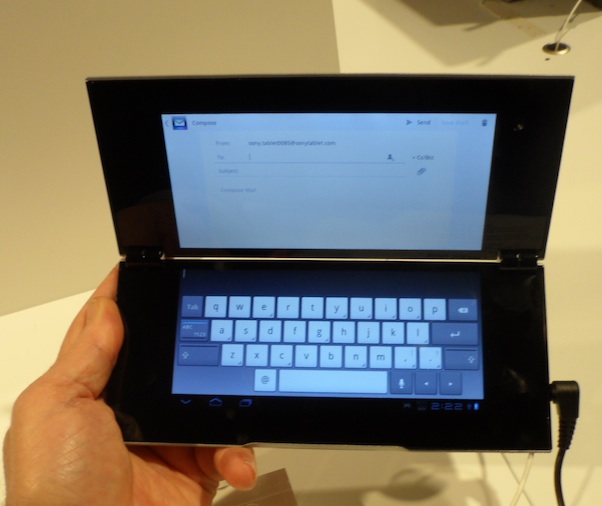 Sony Tablet P in typing mode (Photo by Larry Magid)
The Sony P Tablet is a clamshell-like folding device that opens up to display a pair of equal-size screens that add up to 5.3 inches. When doing full screen applications like web browsing the two screens work together as one, only with a crack in the middle where the hinge is. But when doing email or other text intensive tasks, the bottom screen turns into a reasonably large touch-screen keyboard. The phone runs Honeycomb (Android 3.0).
The tablet was reasonably easy to use though dragging across the hinged crack required a bit of learning time. Once I got the hang of it, it was fine.
Typing on the keyboard is just like any other Android phone or tablet but having a dedicated screen for typing did make it feel a little more like a real keyboard.
Like its larger sibling the Sony S (also announced at IFA), the P is "Playstation Certified" which means it can run older PlayStation games. Both new Sony tablets come with Pinball Heroes and Crash Bandicoot.
Sony has announced European pricing at 599 euros which is about $840 which strikes me a way overpriced, especially compared to an iPad.
Samsung Note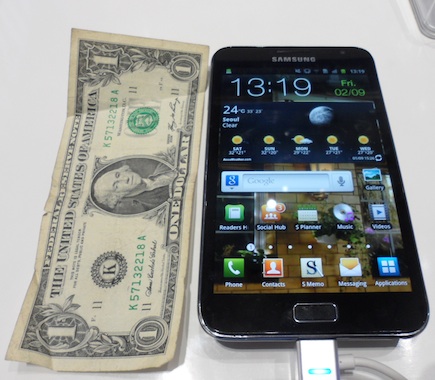 Samsung Note next to $1 bill for size comparison (Photo by Larry Magid)
The Samsung Note is actually a phone but at 5.3 inches, it's also kind of a hybrid device that could also be classified as a tablet. It's considerably larger than most Android phones but it's quite thin and fits easily into a jacket pocket. The phone has a beautiful and very high resolution Super AMOLED screen and is equipped with a 1.4 GHz dual-core processor and 1GB RAM. It runs Android 2.3 (Gingerbread). Although you can use your fingers to launch programs or even write on the screen, the phone comes with a stylus, which slides into a slot on the phone, that makes it easier to sketch or write.
The stylus and size of the Note prompted Technologizer's Harry McCracken to title his first look "The Return of the PDA."
The phone slash tablet will be sold via cellular carriers at a to-be-determined price.
Larry Magid blogs at LarrysWorld.com and SafeKids.com