Two movies set in high school and filled with great actors are out now on BluRay. One I love; one has never really done it for me. Can you guess which is which?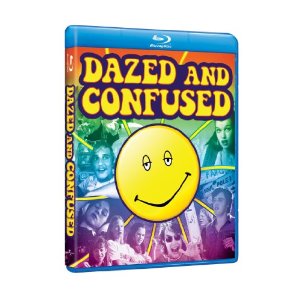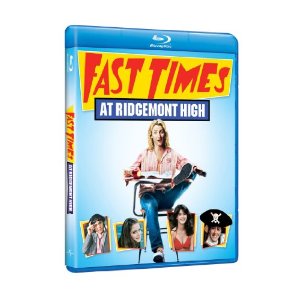 Dazed and Confused/Fast Times at Ridgemont High ($26.98 each on BluRay; UnIversal) -- I love Dazed and Confused for the remarkable group of actors they found -- full credit to casting director Don Phillips for a Hall of Fame job on this one -- its very specific sense of place and time (the last day of school in 1976), and its ability to show the high school experience as it is, rather than the heightened sense of importance that a teenage perspective gives those years or high school as a commentary on society. It is easily the high point in director Richard Linklater's career. Fast Times attempted a similar tone and to most people's minds succeeded. It's an "expose" showing what high school is really like; I love the scene of a girl losing her virginity in the dugout by a baseball diamond. It's raw and dull and unromantic enough to have probably convinced a generation of girls to maybe wait a year or two. But the broad comedy of the hilarious Sean Penn seems at odds with that. For that and many other reasons, Fast Times does not make my list.
THE BEST HIGH SCHOOL FILMS OF ALL TIME -- REVISED
After reading through all the comments posted so far, I've revised the list to include some movies I had forgotten or that you made me reconsider. But I'm still keeping "Breaking Away" -- even if it DOES take place during the summer after high school!
1. The Last Picture Show
2. Dazed and Confused
3. Rebel Without A Cause
4. Rushmore
5. The Class/Entre Les Murs
6. Risky Business
7. Donnie Darko
8. Clueless
9. High School (Frederick Wiseman documentary)
10. The Breakfast Club
11. The Belles Of St. Trinians
12. Friday Night Lights
13. Election
14. Brick
15. Heathers
16. Breaking Away
Now remember, I've updated the list so don't wonder why people are complaining that I skipped, say, Heathers when it's on the list. It's on the list now because I listened to them. As for all the movies I didn't list, I might have loved the movie but felt it was "really" about sports (Hoop Dreams, Hoosiers) or the arts (Fame) or being gay (Another Country, Get Real) or being bullied (My Bodyguard) or an evil mother (Carrie, The Virgin Suicides) or adults (Grease just doesn't feel like high school to me) and so on. Or maybe I just didn't like it. So what's your favorite high school movie of all time?
ALSO OUT THIS WEEK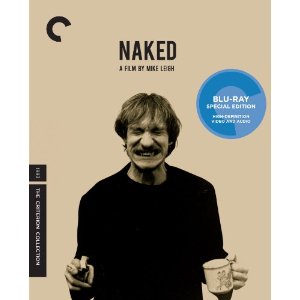 NAKED ON BLURAY ($39.95; Criterion) -- I am NOT suggesting people start doing remakes of great movies. Usually, there's no point. But it does seem a bit unfair that only David Thewlis gets to tackle the role of the relentlessly verbal Johnny, one of the most corrosive and fascinating characters in film. Director Mike Leigh gave Thewlis full rein in this 1993 drama and of course Criterion presents it nicely -- extras include a BBC interview of Leigh by authot Will Self and an interview with Neil LaBute (he's a fan, what a shock!), as well as an earlier short that Leigh did with Thewlis. But if Naked were a play, actor after actor would get to dig into those monologues and get a chance to put their own spin on this likably unlikable character. Surely at the very least actors must use these monologues for auditions and just to stretch their muscles. Great stuff.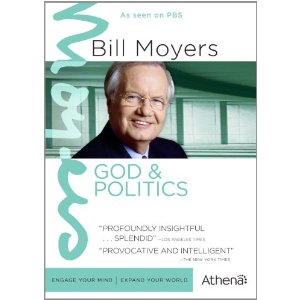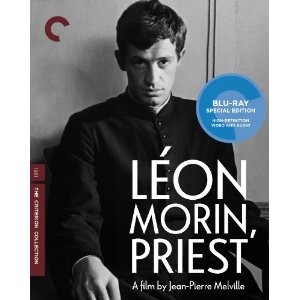 BILL MOYERS: GOD AND POLITICS ($49.99; Athena)
LEON MORIN, PRIEST ($39.95 BluRay; Criterion) -- With the Republican field of Presidential candidates crowded by people who avidly appeal to the Religious Right, insist their faith trumps scientific fact and promise to enshrine their religious beliefs into law, it's high time to listen to the calm and reasoned insights of Bill Moyers as he discusses the mixing of religion and higher office with his three episodes of God and Politics. Originally broadcast in the 1980s, it's a welcome reminder that religion and politics have been mixing since our nation's founding and that listening can still provide some insight as to what is truly motivating someone. Substantial bonuses include a 2006 Moyers documentary about evangelicals embracing Bible-based environmentalism, and related segments from his much-missed TV series Now with Bill Moyers. An unexpected look at faith comes from French director Jean-Pierre Melville, who delivers one of the sexiest and yet respectful looks at Christianity in Leon Morin, Priest. Jean-Paul Belmondo is the seriously attractive priest in a small town in Nazi-occupied France. His confessional is bursting at the seams with local women who want some quality time, none more so than Emmanuelle Riva, a widow who doesn't even really believe. The Thorn Birds this isn't, but the movie clearly savors the sexual tension as the widow is slowly drawn into embracing her faith. Presented with the usual care by Criterion.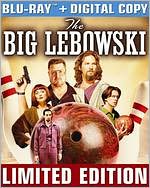 THE BIG LEBOWSKI LIMITED EDITION ($29.98 on BluRay; Focus Features) -- The Coen Brothers' much-loved cult comedy comes to BluRay. It has been packaged and repackaged so many times that the handful of new extras are nice but not essential. If you already own the movie, they're no reason to fork out more money. On the other hand, the movie has never looked great on DVD. The BluRay is definitely an improvement if not definitive. This surely is the role that Jeff Bridges should have won his first Oscar for (if not earlier). Of course, the Academy Awards look down on comedy. But Bridges would have been a much better winner than Roberto Benigni for Life Is Beautiful. Bridges wasn't even nominated that year, with the Oscars dominated by the usual brooding performances, in this case Tom Hanks for Saving Private Ryan, Ian McKellen for Gods and Monsters, Nick Nolte in Affliction and Edward Norton in American History X.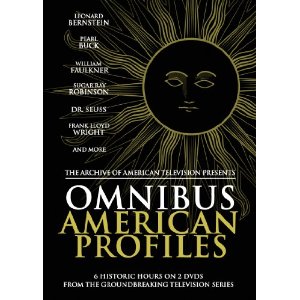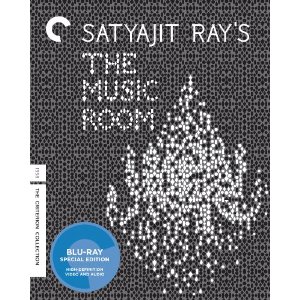 OMNIBUS: AMERICAN PROFILES ($39.98; EOne/Archive Of American Television)
THE MUSIC ROOM ($39.95 BluRay; Criterion) -- How many segments shown on 20/20 or the current Nightline would be insightful and interesting to watch decades from now? Precious few I imagine. Perhaps only 60 Minutes in the US still does substantial profiles of artists and other pieces that will stand the test of time. And even those are usually only 20 minutes long at best. So what a treat it is to dive into this collection from Omnibus, the cultural program that aired mostly on CBS in the 1950s. High brow? It didn't even have commercials most of the time. Hosted by Alistair Cooke (and a training ground for Don Hewitt of 60 Minutes), this show encompassed everything from excerpts from operas and musicals to adaptations of short stories and documentaries. This all too short set contains two DVDs and more than 6 hours of programming, including everything from profiles and chats with Frank Lloyd Wright and William Faulkner to pieces with Pearl Buck, James Thurber and Leonard Bernstein to looks at the New York Times, Grand Central and "Doctor Seuss Explores The Museum That Ought To Be." Great stuff. Satyajit Ray's The Music Room is not merely a time capsule. It's a moving drama about an aristocrat desperately trying to keep up appearances and a vanishing way of life. The heart of his world is the music room and like with Omnibus, fans can savor glimpses of some of the top musicians of India when this movie was made in 1958. Copious extras include a feature length documentary about Ray, video from a roundtable interview including Ray, a chat with his biographer and more.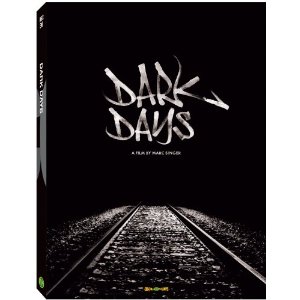 DARK DAYS ($34.99; Oscilloscope) -- Omnibus would have been proud to devote an entire episode to this 84 minute documentary. Director Marc Singer reveals the bizarre, unexpected society of homeless people who have carved out a life for themselves inside abandoned train tunnels deep beneath New York City. Shot in black and white by the homeless people themselves along with Singer (who spent six years working on the film), it's a true original. Extras include Singer returning to the tunnels 10 years later to see what has happened to the residents of this parallel world.
HIGH AND LOW ($39.95 on BluRay; Criterion) -- This corker of a thriller is one of director Akira Kurosawa's best non-samurai movies. Toshiro Mifune is the wealthy businessman who just wants to make high quality shoes for women. When his child is kidnapped, everything in his world is threatened -- he'll either lose control of his company and throw his family into eternal debt or lose his child. Based on an Ed McBain novel, half the film focuses on Mifune and half on the seedy underworld. Highlights include a stunning train sequence, many fascinating glimpses of the Japanese police force and a tone of righteous anger about kidnapping that even reportedly convinced Japan to strengthen its too-lenient laws for abducting people. The BluRay looks smashing and duplicates all the fine extras from the DVD, including a substantial documentary about the making of this film and a rare video chat with Mifune.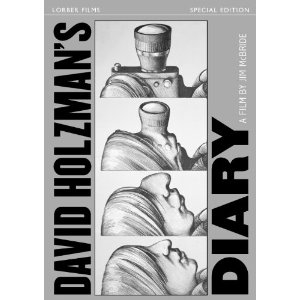 DAVID HOLZMAN'S DIARY ($29.95; Lorber) -- True, it's not like reality TV was invented with The Real World -- it's been around since TV began. And navel-gazing books and films have been around since pen was put to paper and film loaded in a camera. Still, this oddball 1967 mockumentary by Jim McBride feels awfully prescient as it shows David collapsing in on himself as his girlfriend gets bored with him and he's soon reduced to peeking at neighbors and staring at the TV. Dead-on satire, this DVD release also contains three bonus shorts by McBride, who went on to make the fun drama The Big Easy, but also made a horrific remake of Breathless and a TV biopic of Meat Loaf and must have said to himself, "What the heck happened here?"
Thanks for reading. Michael Giltz is the co-host of Showbiz Sandbox, a weekly pop culture podcast that reveals the industry take on entertainment news of the day and features top journalists and opinion makers as guests. It's available free on iTunes. Visit Michael Giltz at his website and his daily blog. Download his podcast of celebrity interviews and his radio show, also called Popsurfing and also available for free on iTunes. Link to him on Netflix and gain access to thousands of ratings and reviews.
NOTE: Michael Giltz is provided with free copies of DVDs to consider for review. He typically does not guarantee coverage and invariably receives far more screeners and DVDs than he can cover each week.