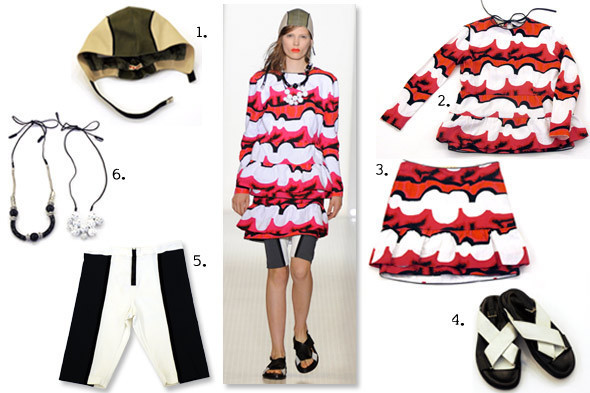 Though it may be hard to spot on the runways, there is a method to Marni's madness. While the eye-catching looks Marni puts out each season tend to skew a bit toward the off-beat, when broken down to their individual parts are perfectly punctuated pieces that add a pop of life to any ensemble:
1. The perfect topper for any occa- ok, maybe this one is best left to runway & editorial.
2 & 3. A gorgeous print and hint of peplum? Yes, please. Breaking up the top & skirt is a prime example of how to find accessibility in what may have started out as an intimidating look.
4. A stylish alternative to the sporty sandal.
5. Bike shorts - they're all over the runways. Just sayin.
6. Marni is famous for its crafty accessories. These layered necklaces are versatile pieces that can go from your plain white tee to LBD.
Lesson learned - don't judge a Marni look by the cover. There's a lot more to it than meets the eye.