My alternate titles for this episode:
Rumpelstiltskin Is My Name
The Return of Bertzilla
Off Grain
Swatch vs. the Pinking Shears
Okay, it needs to be said. Maybe it's because last year was such a bountiful basket of cray-cray, but I am still not really taken with any of the designers in Season 9. And I'm finding this season so far to be a tedious bore. I would give just about anything for a devious Micheal Costello grin, a brilliant Mondo design, a Peachy moment, even a bitchy Gretchenism to mix it up a little bit. The fact that I still remember the names of the contestants from Season 8 better than the current season is a dead giveaway that all is not right. In writing about this week's show on the official show website, Laura Bennett (Season 3) actually called this "the worst runway show ever." And to make matters worse, it was also the first runway show ever staged in front of actual people (guest judge Kim Kardashian not included because I'm not at all sure she is a real person).
This week's challenge is delivered to the group by Heidi on stilts. "For the next challenge we want you to think big," she smiles. "Really big." The models traipse out to join her, all on stilts. "We want you to create a look that is eye-catching, imaginative, and truly larger than life." La Klum informs the contestants that they are to work in teams of two and she'll choose those teams with the 'button bag.' "Hi, bag," everyone weakly chimes as they all look like they're about to run from the room to go worship the porcelain god (Button bag? I thought that thing was the black velvet bag of doom. Would have loved to hear them all chime, "Hi black velvet bag of doom").
The first team is revealed to be Bert and Viktor. Viktor looks like he just swallowed a bug. "Viktor, you look funny," says Heidi cheerfully. "My heart dropped," Viktor returns while everyone else breathes a sigh of relief that they aren't paired with Bert. Anthony and Laura, Josh and Julie (Josh is nervous about this: "I've seen her last two garments and it seems as though she's a little bit lost"), Danielle and Cecilia, Anya and Olivier (let's put the two comeliest people together -- why not?), Kimberly and Becky (Kimberly looks like something smells bad when she hears this news), and Bryce and Fallene round out the teams. Bryce is less than thrilled, noting "there's a big bulls eye on the two of us" after they were both in the bottom last week.
The teams are to design an outfit for a model who will be walking the runway on stilts and for the first time ever on the program, the runway show will be outside, in front of a live audience and the press. La Klum leads the models offstage, waving, "Bye guys, have fun, think big!"
Bert and Viktor are already at each other's throats when they get to the workroom. Bert is the quintessential cantankerous old man, a know-it-all with a chip on his shoulder the size of an AARP Magazine cover. Becky and Kimberly have never even talked to each other before but they come to an understanding that Kimberly makes good pants and Becky makes good tailored jackets so that's what they're going to do. Bryce and Fallene decide they want to go for a 'dark ballerina' look. Anya and Olivier are just so happy to be teamed together they're nearly incoherent.
Tim, ever the cheerful schoolteacher, comes in to take them to their first shopping trip at Mood. First they meet with their models to get measurements and brainstorm their designs, then they get a $500 budget and 30 minutes to shop, and they'll have until 9pm that night to complete their garment. At Mood, they're all dashing around looking at fabrics and complaining about each other. Josh is concerned that Julie has no couture training and says she's rocking his nerves. Tim tells Anya and Olivier, "you're kind of a dream team -- we have high expectations" (hey -- no pressure). They head back to the Parsons workroom after we a quick glimpse of Swatch who looks a little bewildered. Maybe he's been watching the show.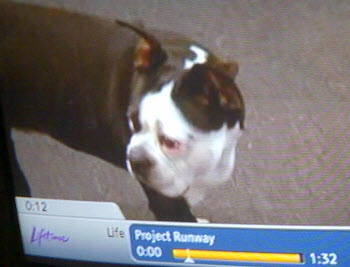 As the day wears on, Bert is defensive and argumentative with everything Viktor says to him and finally at one point Viktor just up and leaves the room, fuming, "he's like a 57-year-old kid." To make matters worse, Viktor thinks the fabric Bert chose is ugly -- Bert thinks it's beautiful. In Josh and Julie Land, Julie decides on the theme of romantic matador stiltwalker. Josh thinks he and Julie could easily "flop genders" and calls her a "rough chick" (sort of) playfully. Anthony and Laura seem to be on the same page, Anya and Olivier certainly are. Olivier sagely notes that a team challenge is about the collaboration between the two people.
Danielle and Cecilia have decided they will work with chiffon for their outfit, which everyone else thinks is batshit crazy. "Most designers consider chiffon difficult," says Cecilia. "Danielle and I are very comfortable working with those fabrics and we love how it flows and how it moves." Meanwhile, Anthony and Laura decide to get rid of the cage idea he's been working on for hours and try something else. Becky shows Kimberly her one shoulder jacket, "I think it's not too Star Trekky." Kimberly doesn't look all that convinced, especially after Bert tosses out that it's 'Jetsony' and "cool" (odds are no one there has a clue what the Jetsons reference means except for Bert). Kimberly wants to add a big gold lame bow to the bare shoulder which Becky rejects completely ("it's gross"). Another match made in heaven.
Bryce and Fallene are in major trouble. Since they were both in the bottom last week, they know the stakes are higher than usual for both of them. They seem to be channeling April from Season 8 with their gothic ballerina idea, only April would have done it much better. There's a big sinister lump of black tulle on their worktable. Fallene is completely lost, she doesn't know how to cut fabric on grain, which horrifies Bryce (he informs us that he is just out of fashion school). She seems to be incapable of doing anything at all, then complains that Bryce is taking all the control.
Entrez Tim Gunn for his drive-bys, first with Josh and Julie. Tim likes where they're going with the matador theme. Cecilia and Danielle are next, and they seem to be playing well together. Next is Team Viktor/Bert and it's obvious to Tim that they're at loggerheads every step of the way. He attempts to remind them that it is a team challenge, and they need to be a team. Laura and Anthony are Tim's next stop, and he's quite taken with their design, "These shoulder pads are very on trend for fall. If you can pull this off, I think it's a wow moment." Team Becky/Kimberly pass muster also. Bryce and Fallene are next. Fallene straight off tells Tim she feels like she has a black cloud over her (and it's not made out of tulle). Tim attempts some tough love, "Fallene, you need to own this look." Anya and Olivier are his final stop. Tim is a little confused by their aesthetic, "I'm being blunt, I think it's a little unexpected" which I take to mean he's surprised by the fact that their team isn't leading the pack at this point. In fact far from it.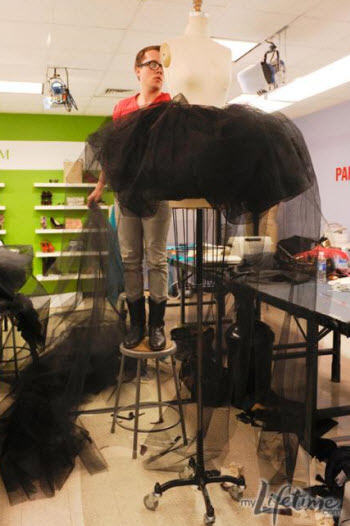 Is that a black cloud over your head or are you just happy to see me?
As the day wears on, other things of interest happen. First of all when Josh instructs Julie it's quite obvious that he really knows his shit. Cecilia and Danielle start sniping at each other, then hug. Bryce and Fallene are doomed; she cuts the bodice off grain and he nearly loses it. Fallene ends up crying in his arms and apologizing because she knows they're going to end up in the bottom again. And Viktor comes up with an inspired new nickname for Bert, who has revealed himself to be truly insufferable -- "Bertzilla."
The next morning they're shown getting up at 4:30am for the big show day. Fallene bemoans the fact that "some people" can whip shit up really fast, "I'm just not at that level." She sulks, "I wish I had my soul right now" (by the way is it me or don't you expect this kind of talk in week 7 or 8, or 10, not week 3 -- seriously!). Becky says, "maybe you'll find it in the workroom today, maybe it's sitting under a table waiting for you." How Jean-Paul Sartre!
At the workroom doing last minute finishes, Viktor and Bert seem to have come to some sort of peace as their garment (unlike most of the others) is complete. Bryce decides to make a tube top after Fallene's disastrous attempt at making the bodice. Josh gripes that Julie's jacket took her over twelve hours to do. Olivier is worried that his and Anya's garment might fall apart since he didn't have time to sew it all perfectly (aha! is this a hint that Anya's sewing skills are totally not up to par?).
The models come in for their final fitting and to go to hair and makeup. Julie asks Josh if he wants to oversee the styling, "I think you're going to be better at that than I will" to which Josh returns, "I'll wager you that." Fallene makes a Gibson Girls type of feathery headpiece and is totally bummed out that Bryce made the entire outfit since her bodice had to be trashed. And they leave the workroom for the show, which turns out to be outdoors in Battery Park.
Backstage as everyone's getting ready Fallene falls apart because she didn't make anything except the headpiece. Tim attempts to soothe her and tells her she's going to be fine. I guess he has to say these things but, if ever a designer was being set up by the show's editors to go home, she would be it. Hints have been dropped since the opening scene when Josh wonders why she wasn't ejected last week instead of Josh C. Meanwhile, La Klum welcomes the live audience to their first outdoor, public runway show and introduces the judges. The guest judge this week is that everlasting arbiter of good taste, Kim Kardashian, whose chryon reads "Fashion Entrepreneur."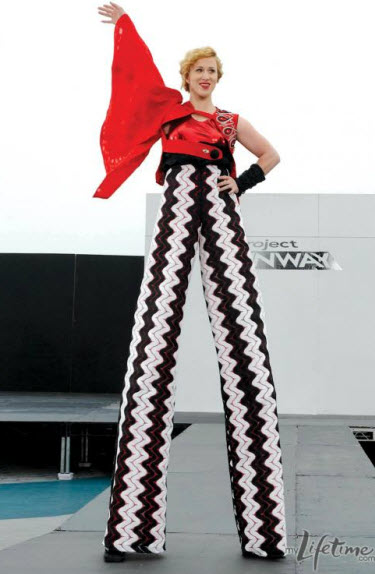 Josh/Julie
I'm sure it's not easy to walk around on stilts, but their model was waving her arms around in a peculiar way that made it look like she was either conducting an orchestra or signaling trains.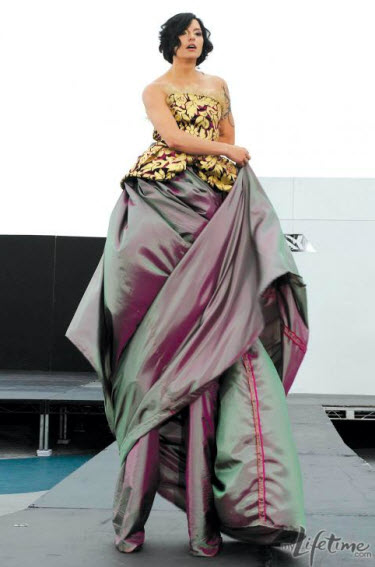 Bert/Viktor
Oh boy. This is so many kinds of wrong.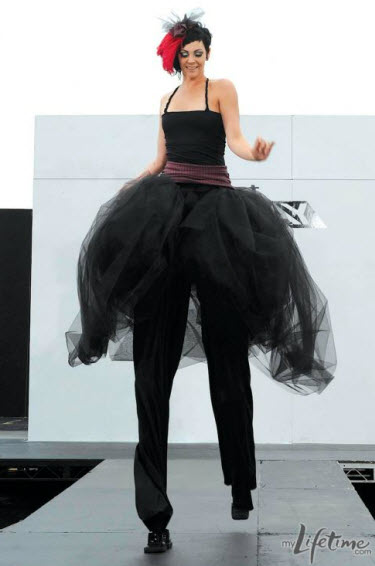 Bryce/Fallene
Fallene: "I'm thinking it's amateur hour. We both feel that we are going to be on the chopping block.'' (Me: "Ya think?")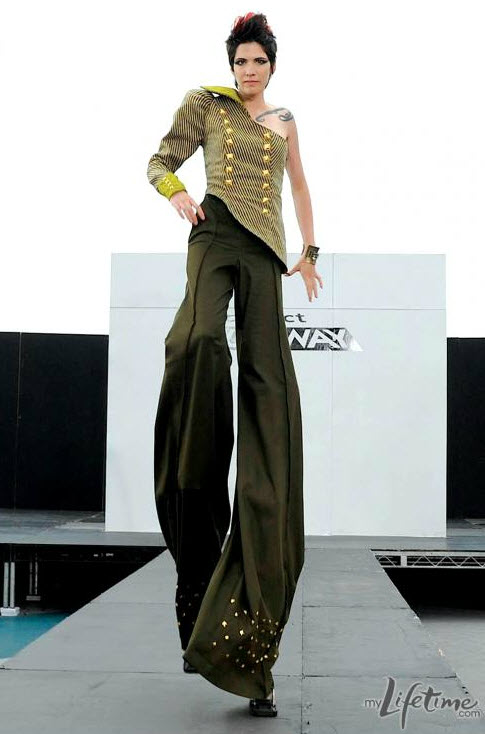 Becky/Kimberly
The model's hair recalls David Bowie in his Ziggy Stardust period, n'est-ce pas? Kimberly still thinks the one shoulder jacket looks too Star Trek.
Anya/Olivier
Boring. Yawn.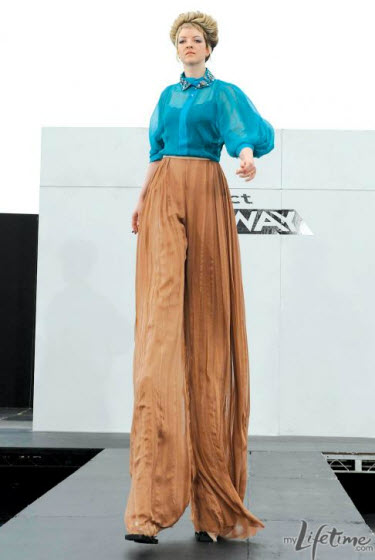 Cecilia/Danielle
Weird color combo... and oh, that hair.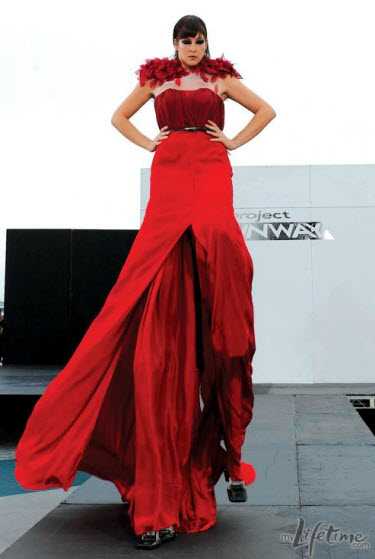 Laura/Anthony
Anthony: "Ours is definitely the wow dress."
The judging commences back at the usual indoors space. First off, Olivier and Anya are dismissed as they have neither the highest nor the lowest score, and he has immunity from last week. If he didn't I kinda sorta think the judges might see past their Olivier-crush and realize how sub-par their design actually was. The teams with the highest scores turn out to be Laura/Anthony, Cecilia/Danielle, and Becky/Kimberly. The lowest scores belong to Josh/Julie, Bert/Viktor, and Bryce/Fallene. Those with the lowest scores are sent off to the green room while the judges talk to the others. Josh points out that their outfits all have one thing in common -- they're all costumes -- whereas the highest score teams produced ready to wear garments. Ah ha! Interesting that this nugget didn't come up when the challenge was presented.
Back on the runway, Anthony and Laura explain the modus operandi behind their garment. Laura takes the lion's share of credit as it was pretty much her idea. Heidi thinks it's dramatic, Kim K. loves the look and finds it elegant rather than costume-y, MK says it's good, and Nina loves it but her worry is that she feels it's something she's seen before and she points out Anthony keeps having this problem.
Danielle and Cecilia are next under the microscope. The judges like this even though the color palette seems to me more than strange. However, the model's hairstyle is a sticking point since it's butt ugly. "That hair is crazy!!" exclaims MK. He's very impressed, as are they all, by D&C's skillful handling of the chiffon. Kim K. thinks it's chic and loves the detailing in the collar because she "loves bling."
Becky and Kimberly's garment is up next. Heidi is impressed, she found this one a showstopper, "almost perfect." Nina loves the pants but feels the one shoulder jacket looks a little circus-y. MK dubs them "kick-ass tailors."
Next, the designers with the lowest scores are called back up to face the music. Bert and Viktor are first. MK lets loose, "To me it's like the wallpaper and curtains at a really tacky catering hall. I hate that dust ruffle of gold on top of it. It's just really old." Kim K. says it reminds her of the part in The Sound of Music where they made clothes out of drapes -- "or like Marie Antoinette days." Nina thinks it looks like a bad costume. B&V are sniping at each other the whole time, each trying to blame the other.
Heidi tells Fallene and Bryce, "literally you gave her Black Swan, I don't get it." Kim K. says it looks like they made the outfit in fifteen minutes and the tank top looks like something she'd wear to bed. Nina hates it utterly and completely. The only saving grace is that MK thinks the headpiece is da bomb, which Fallene sadly and tragically jumps up to take full credit for. When asked who should go home, both team members agree Fallene should be the one to go. I'm not really liking Bryce, he behaved like a little shit on this episode.
Josh and Julie are told by MK that their garment looks like a Halloween costume. The judges completely missed Julie's concept, thinking they were going for a circus look instead of the deranged matador idea. "You know drama doesn't mean tacky," warns MK. Julie steps up way too easily to accept the blame for the look, and they both agree she should be the one to leave should they lose.
The teams are sent away while the judges deliberate. They're impressed by Team Laura/Anthony. MK says the garment looked modern, dramatic, exciting. Nina loved the choice of color. They also think Team Cecilia/Danielle's look was outstanding, proved both women really know how to sew, and the whole chiffon thing frankly knocked their socks off. Team Becky/Kimberly gets high marks for its "cohesive look," and because it is "impeccably tailored." The judges feel that this outfit, more than any of the others, looks like it was done by one person.
Time to shred the teams with the lowest scores. They found Team Josh/Julie to be an odd pairing. "Julie is Rocky Mountain Woman and Josh is like Bedazzle and Glamorous," says MK. Team Bryce/Fallene's garment, says Kim K., looked like it was from two different eras -- showgirl and ballerina. MK maintains the only bit of charm was the hat, to which La Klum points out that it was the only thing that Fallene contributed, ergo....? Team Bert/Viktor is another horror. Heidi says Viktor threw Bert under the bus and they all seem to distrust Viktor. Next time, check the videotape and see what a pain in the ass Bertzilla really is, is my advice to you folks.
Both groups are called back to the runway. The winner is Laura for the garment she created with Anthony, and she has immunity for the next challenge. This is a safe choice, as theirs was really the only thing that looked at all like it belonged in a fashion show. Becky and Kimberly are 2nd runner up, followed by Cecilia and Danielle.
Sneaking under the wire to safety are Josh and Julie and Bert. As the bottom three (Viktor, Bryce, Fallene) stand there on the runway I suddenly realize Viktor is dressed like a British schoolboy. It kind of frightens me that I didn't notice this earlier. Viktor is dismissed to design another day. The dramatic metallic broom music rises up and sweeps to indicate the final decision is about to be rendered. Fallene, to no one's surprise, is out. Auf Weidersehen and all that.
Fallene packs her bag and her t-square and goes back to the real world, and sew it goes!
Next Week: Designing for Nina Garcia. Holy Marie Claire.
Project Runway airs on Lifetime TV Thursday nights at 9pm