As I sit here recounting an extraordinary salon I just hosted discussing the relationship between social intimacy & social media, and how it affects our lives, I struggle to find the words that capsulize what it feels like to finally meet 10 women I have not just connected with via new media, but have grown to genuinely like and care for.
Along with our professional content, we have also shared with each other personal messages of hope, encouragement, support, laughter and even tears -- yet until this event had never met. My question was, are these 'friends' the real deal? Is your online community capable of the same level of intimacy as your best mate -- the one you lean on, confide in, turn to for support -- share a good laugh with? After all it's pretty darn easy to be 'there' in the comfort of your own home, in your pajamas, feet up on the desk while you gnaw on your midnight snack ... but what happens when you're face-to-face, and are no longer limited to conversations of 140 characters?
Are these bonds that can, despite being made in a virtual world, forge deeper more meaningful connections? Or are they as fabricated and cold as the devices we use to access them? Last but not least, how do these women -- who are primarily lifestyle, food and entertaining gurus -- build such tremendous followings in a world that is best reserved for the senses ... touch, feel, smell, sound?
These select women -- my friends, my guests -- combined, have tens upon thousands of followers on social media. They are looked to for everything from advice, guidance, direction and opinions down to what they're eating for dinner that night. They are called upon by major Fortune 500 companies to help shape and counsel product research and development, are responsible for shifts in trends, and can influence consumers like wind to a weather vane.
What took place on this sunny afternoon in Malibu -- just around cocktail hour -- will be forever ingrained in my mind as it unfolded so organically -- the messages, crystal clear, are still ringing in my ears:
The key to relationship building in the online community is to collaborate not compete -- there is power in numbers. By joining the other leaders in your field, you can move mountains. The collaborative efforts of the online entrepreneurs are counter intuitive in the dog-eat-dog world of bricks and mortar, or traditional businesses. By joining forces, these pioneers are able to see their message come to life more quickly, powerfully, profitably and in the process build each other up.
Bringing forth your authentic self is necessary in order to build trust -- People want to know you in order to trust you. To build a sustainable following it is required to be 'real' -- in this sense you are at risk by taking a stand or saying something that people may not agree with, but it pays off in the long run -- and people know who you are.
The difference between online friends and in-person friends is the investment of showing up for each other. Clearing your calendar, finding someone to pick up the kids, getting dressed, getting in the car, on a plane -- these are all investments of time and energy. One of the biggest surprises to these seasoned pros is the commitment and loyalty to the relationship of their followers. Through tragedy and triumphs, followers have offered homes, flyer mileage, support and heart felt good deeds beyond all wildest expectations.
Social media is a tool, but does not take the place of face time. Creating events where followers meet and interact is a crucial building block in nurturing and solidifying the status of your relationship with followers. It provides more than just an opportunity to put a face with a name; it is a way for the community to verify that you are who you say you are.
Having a clear positive message helps you stay connected to your values and reinforces integrity. All of the participants emphasized that not falling into the traps of mud-slinging, negative messaging and sensationalism keeps you above the fray and helps solidify presence over the long run ... followers are intelligent and see through superficial tactics quickly.
Finding your voice in the online community is a process and takes time. A large part of establishing yourself in the online community is having something to say that resonates with followers. This is an organic process that requires patience and even self discovery. Since being authentic is vital in establishing trust and credibility -- it is important to relate to followers in a meaningful and natural way. This is something that can't be forced or imitated, but developed over time.
Your life's triumphs and struggles keep you connected with your audience. Followers want to know, identify with and relate to who they're following on all levels. Sharing vulnerabilities give the reader a chance to engage on an emotional level. Sharing personal experiences creates intimacy and fortifies an otherwise seemingly superficial relationship.
In order to be authentic, positive and intimate on a daily basis you need to be passionate about what you are doing. Each one of these women has dug deeply to find her passion, her message, her purpose. In doing so they are in touch with their authentic selves and therefore are energized by what they do for a living. The conviction and genuine love for what they do is apparent as their eyes light up the room when they speak!
As to the question what are these women really like in 'real' life? Do they look like they sound, sound like they look? Were there any surprises? Are they who I imagined they would be ... and most of all, would I pick them to be my friends if I were to meet them at a party?
What I can say is this: With each one of these women, I had come to know their likes, dislikes, opinions, humor, vulnerabilities, wisdom and spirit long before I ever laid eyes on them. What I didn't realize is that they were beautiful long before I had ever met them. When I finally met them face-to-face I already deeply cared for and admired them. They are each beautiful and unique in their message as well as who they are ... I now call them all dear friends.
Here is a closer look at the incredible women present at the Liza America's Host "Social Intimacy & Social Media" event: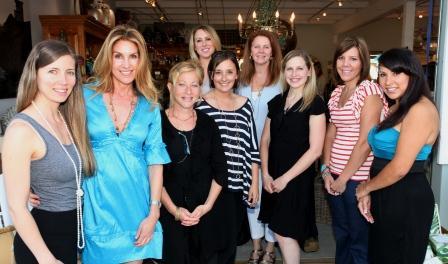 From left to right: Lauren Lobley, Liza Utter, Heidi Rae Weinstein, Gaby Dalkin, Tori Springer, Elizabeth Lamont, Rachael Hutchings, Andrea Fellman and Michelle Rivera.
Liza Utter is an award winning celebrity restaurateur and beloved host. Her unique gift for making people feel welcome and bringing life to any party has earned her an expert reputation as being one of America's most sought after hosts. Liza is dedicated to bringing her unique brand of "celebrating every day" to aspiring hosts across the country. Guiding followers on the art of hosting and how to be the life of their own parties is her passion. Visit Liza America's Host for all of your hosting, entertaining and lifestyle needs or follow her on Twitter @LizaUtter and Facebook for her favorite tips, insider secrets and inspirations that help turn everyday into a celebration!