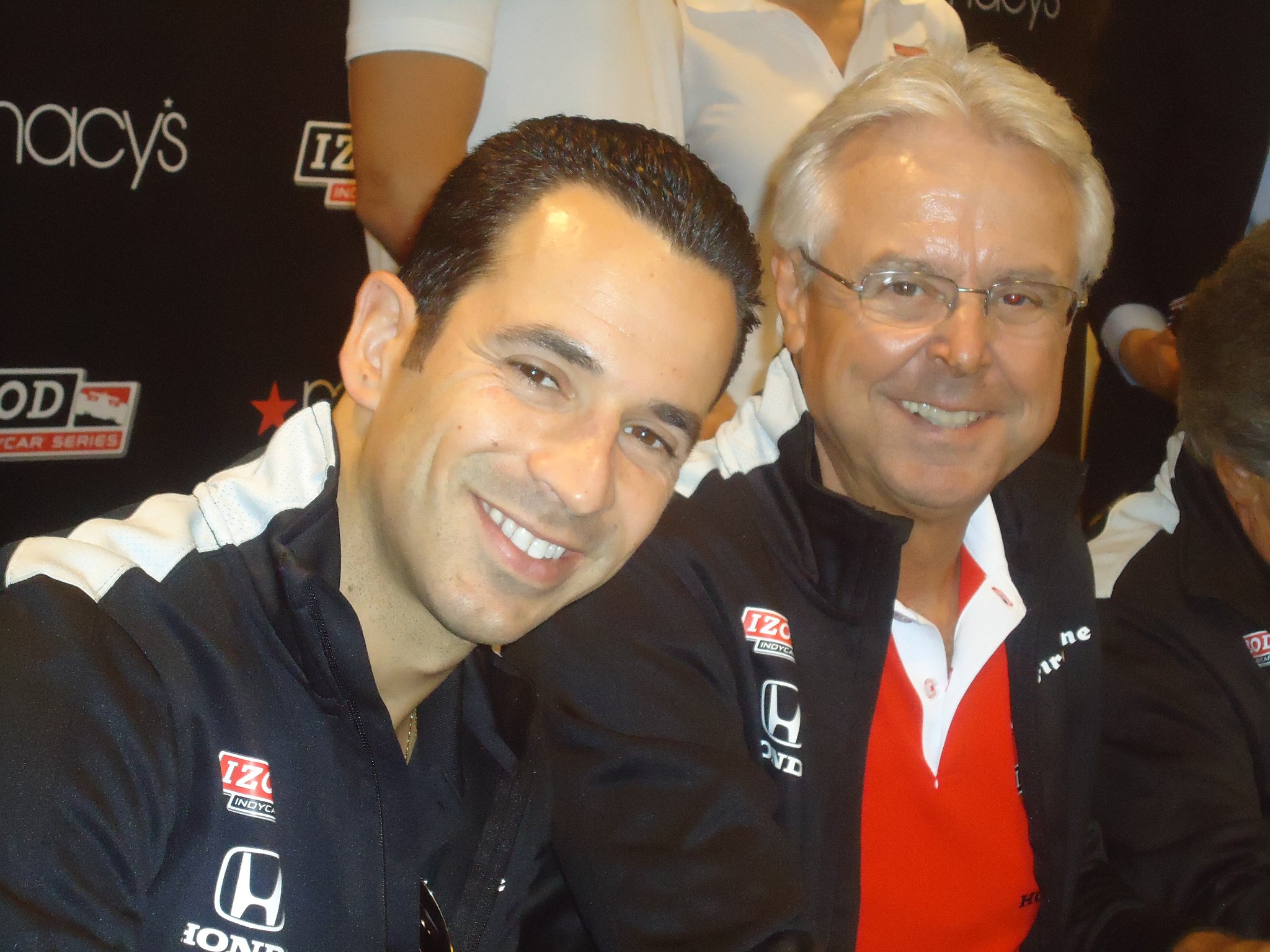 Helio Castroneves (left) with Rick Mears. Photo: Christine Dennison
This year is special at the Indianapolis Motor Speedway: It is the 100th anniversary of the first running of the annual 500-mile race there. It is also special because Helio Castroneves, with three Indy 500 wins (2001, 2002, 2009), has a good chance of becoming the race's youngest four-time champ. That four-time club is elite, by the way, with only three current members: A.J. Foyt, Al Unser Sr. and Rick Mears.
But here's where it gets interesting. Mears, Castroneves' driver coach for Team Penske, will "spot" (give radio advice) for Castroneves May 29 during the big race. In other words, he will be a significant factor in whether Castroneves can get that fourth win. And, if Castroneves gets it, he replaces Mears as the youngest to do so (Mears retired in 1992 at age 41).
I had a chance to chat with both drivers recently about their unique situation. Mears, in his usual understated style, joked a little at first ("No more help, Helio," he dead-panned) but you can tell he would like to see Castroneves pull off not only a fourth victory, but possibly even a fifth. Castroneves, who just turned 36, is young enough to do it. "Nobody's ever won more than four, but records are made to be broken," said Mears. "He's got a legitimate shot."
Mears, if anyone, knows that just because Castroneves has three wins doesn't guarantee he will ever get another, though. "Of my four wins, the first will always have its place," said Mears, 59. "But you may never win another. You get a little older and wiser and realize few people have ever won it once, period -- let alone twice. Then, after the third, only a very few guys have ever won four, so what are the odds?"
Indeed. Indianapolis has been cruel to some of its most talented drivers. Michael Andretti, who's led more laps at Indy than Mears (431 to 429) has never won. Castroneves' boyhood friend from Brazil, Tony Kanaan, has started in the first two rows (the top six of 33 qualifiers) eight of the nine Indy 500s in which he has driven, and has never won. Even the great Mario Andretti (Michael's father) won just once at Indy -- in 1969 -- despite competing in 29 separate races.
For his part, Castroneves downplays any drama. "From one to ten, you've got to count three and four first, so that's what I'm focusing on now," he said. "The greatest spectacle in racing is Indy, and I have a very privileged opportunity. With Rick as my spotter, I couldn't have a better guy riding my ear. Hopefully we can make it happen."
In addition to three Indy 500 victories, Castroneves also has won Dancing with the Stars (2007), and told me more people know him for that than for his Indy performances. But it is clear where his heart lies. "It was definitely a great way to put the name IndyCar out there, having 20 to 25 million people watching the show," he said. "But when you do something for a living -- racing for me -- and have an incredible achievement, it's difficult to compare the two."
Life is not all roses for Castroneves. In 2008, he was brought up on tax evasion charges to the tune of $5 million. But he was acquitted just before the 2009 race, and went on to win. This year, Castroneves ranks a disappointing 17th in IndyCar points for miscues and crashes during the season's first four races.
But he still has plenty of time to win a fourth Indy 500, if it's not this year. Only he knows how being a new father will affect his risk tolerance on the track, and passion for racing, though. "I sold the Lamborghini to pay my attorneys' fees," he laughed. "Now I drive an SUV." He's also spokesperson for Shell's V-Power "Fuel My Passion" sweepstakes. "Winners can get up to five years of free gasoline," he said enthusiastically.
As for Mears, he said Castroneves does take his advice on the track, but very seldom needs any. "He's been talented since day one, which has gotten him to where he is," said Mears. "The best way I can help is if I see somebody running a different pattern on the track -- a lower or higher line -- then I might make the suggestion over the radio that he try it. I'm really more of a safety backup. If there's a car off the pace the field is catching fast, I'll say, 'Car running slow, turn 2,' whatever. But when Helio's focused, he doesn't need a lot of chatter. I do it only when necessary."
What is the last piece of advice Mears will give Castroneves as the Brazilian belts into his No. 3 Shell V-Power Pennzoil-Ultra car Sunday, May 29, to start the 95th Indianapolis 500? "You've got to run all day before anything else can happen," Mears said. "Run all day and get the checkered flag. You'll be amazed where you are."