As many of you know, I love Chinese food and am always looking for good expressions of it. Originally, when I came to Sarasota the graciousness and outpouring of good will of the residents convinced me that I should move here; however, when I asked about a good Chinese restaurant there was staggering silence.
For many years I kept saying that I was going to learn how to cook Chinese dishes, but somehow never found the time. However, this year, "poet laureate of the wok" and 2011 James Beard Award Winner, Grace Young has a new book, Stir Fry From the Sky's edge. The time has finally come for me to learn from the master (or in this case the mistress).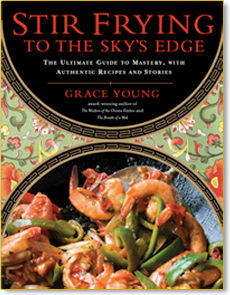 Grace Young's elegant and easily readable books make accessible the most complex ingredients and unfamiliar tools. Her books are recipe collections and beautiful travel guides for the novice, as well as a tasty reminder for those who have previously made the journey into the complex flavor palette of Asian cuisine. In Stir Fry from the Sky's Edge, Young explains that the book is about a "universal longing for home" and shows how a cooking technique traveled the globe. Throughout the work she catalogues recipes that use the wok with indigenous regional ingredients from Chinese immigrants in India to Cuba and recounts how using the wok eased the émigré experience for them.
Obviously a wok is essential to try the recipes in this book. The book is replete with helpful notes full of information on stir-frying at the proper heat, which oil to use and basic steps. Unfortunately, I don't have a wok anymore. However, I love Chinese broccoli and thought I'd try to give her pork and broccoli recipe a try. I must admit that when I tried the recipe in my "almost wok," it didn't come out as well as I had hoped. However, it wasn't the cookbook author's fault. Rather, I have two small "helpers" ages 7 and 12 who needed to add the ingredients that they had personally measured. Even with their assistance, the flavors were wonderful but a bit intense and I look forward to finding a method of distraction for them and, with the help of Grace Young's book, a well broken in wok. It is time for me to go shopping.
If you are afraid of a wok this is the book for you. There is even a marvelous tip and recipe for making popcorn in a wok. Not only do you get the popcorn, the heated kernels evenly disperse a light coat of oil throughout the wok when popping, thereby adding to the wok's patina.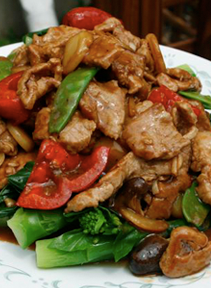 Cantonese-Style Stir-Fried Pork with Chinese Broccoli
Used by permission by Grace Young, Stir Fry to the Sky's Edge
•12 ounces lean pork shoulder or butt, cut into ¼-inch-thick bite-sized slices
•2½ teaspoons cornstarch
•4 teaspoons soy sauce (my children added to much here)
•1 teaspoon Shao Hsing rice wine or dry sherry
•1 teaspoon minced plus 1 teaspoon sliced garlic
•1 teaspoon plus 2 tablespoons peanut or vegetable oil
•2 teaspoons oyster sauce (this was where we also used to much)
•1¼ teaspoon sesame oil
•1/8 teaspoon freshly ground pepper
•4 tablespoons chicken broth
•1½ teaspoons dark soy sauce (we didn't have a different one)
•6 medium stalks Chinese broccoli (8 ounces)
•2 teaspoons finely shredded ginger
•4 medium fresh water chestnuts, peeled and sliced (about ½ cup)
•½ cup canned straw mushrooms
•½ cup red bell pepper cut into 1-inch squares
•8 snow peas, strings removed
•In a medium bowl combine the pork, 2 teaspoons of the cornstarch, 2 teaspoons of the soy sauce, rice wine, 1 teaspoon minced garlic, 1 teaspoon of the peanut oil, 1 teaspoon of the oyster sauce, ¼ teaspoon of the sesame oil, and pepper. In a small bowl combine 3 tablespoons of the chicken broth, dark soy sauce, and the remaining 2 teaspoons soy sauce and 1 teaspoon oyster sauce. In a separate small bowl combine the remaining 1 tablespoon chicken broth, 1 teaspoon sesame oil, and ½ teaspoon cornstarch.
•In a 3-quart saucepan bring 1 ½ quarts water to a boil over high heat. Add the broccoli stalks and cook, stirring 2 minutes or until the broccoli is just crisp-tender. Drain the broccoli in a colander, shaking well to remove excess water.
1.Heat a 14-inch flat-bottomed wok or 12-inch skillet over high heat until a bead of water vaporizes within 1 to 2 seconds of contact. Swirl in the remaining 2 tablespoons peanut oil, add the ginger and the remaining 1 teaspoon sliced garlic, then, using a metal spatula, stir-fry 10 seconds or until the aromatics are fragrant. Push the aromatics o the sides of the wok, then carefully add the pork and spread it evenly in one layer in the wok. Cook undisturbed 1 minute, letting the pork begin to sear. Then, stir-fry 1 minute, or until the pork is lightly browned but not cooked through. Add the water chestnuts, mushrooms, peppers, and snow peas, and stir-fry 1 minute or until the snow peas are bright green. Swirl the dark soy sauce mixture into the wok and stir-fry 30 seconds or until well combined. Restir the cornstarch mixture, swirl it into the wok, and stir-fry 15 to 30 seconds or until the pork is just cooked. Put the broccoli on a serving platter and spoon the pork mixture over the broccoli. Serves 2 as a main dish with rice or 4 as part of a multi-course meal.
Lael Hazan also writes with her husband, Giuliano Hazan, on their blog: The Educated Palate