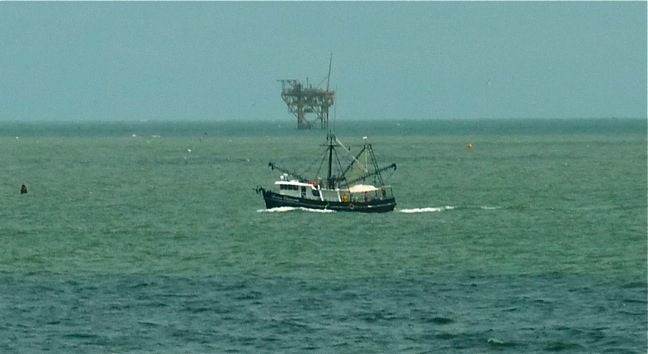 Our South Louisiana seasons are now Mardi Gras, BP Oil Spill, Jazzfest, Katrina and Christmas if today's headlines are anything to go by.
And after this week, many reporters will go back to not covering sick fishermen and dead dolphins because it's time for someone else's terrible anniversary. But here are seven tips for those looking to invest in the area for more than a day:
Share. Residents living along the affected area of the Gulf are caught between blaming the media for covering their disaster and killing tourism, and needing the money that those tourists are no longer bringing down. Beat reporters are rolling out their one year anniversary articles today. It's unorthodox, but imagine memorializing the 11 workers who died on the rig one year and one month after the BP oil spill. On a day when much of the press has moved on again. A scoop.
Stay. Oil did not spill in New Orleans, as nice as it is for a press junket. BP oil is still intermittantly hitting the edge of Bay Jimmy and Grand Isle. There are hotels and restaurants in the most sorely affected areas that reporters could help out by booking rooms and eating meals. Stay awhile, fishing camps are covered with For Sale signs and many are also For Rent. You can help by not only telling their stories, but also by keeping their local economy on life support.
Study. Shadows on the Gulf: A Journey through Our Last Great Wetland by Rowan Jacobsen is a must-read for anyone who cares about the richest estuary on earth, or one of the most endangered land masses. They're the same place, with saltwater intrusion from oil barge canals steadily killing the cypress trees and washing the land away. The book is available for pre-order, it's out in a week at your local indie bookstore or here. And *plug* I have an Earth Island Journal article coming out in the summer issue.
Sustain. Plant a cypress tree with Coastal Heritage Society of Louisiana or donate to get your tree planted and located on GPS, along with a photo. The cypress trees are our crucial defense against hurricanes. How? (Deferring to professor):
"Constructing canals and channels -- anything that basically connects freshwater ecosystems to the gulf -- will result in saltwater intrusion. Cypress trees don't tolerate salt well, so they suffer. Canals and levees may also deprive them of dry spells they need in order to germinate. Cypress trees and other types of large, rooted vegetation are important to wetland structure and stability (that goes for any type of soil, really -- if we use unsustainable agricultural practices on dry topsoil, we end up unable to grow things, unable to hold soil in place ... combine it with severe drought and wind, the next thing you know, Tom Joad is taking his Okies to California to escape the Dust Bowl). Without them, you end up with erosion and loss of wetland ecosystems (and an important hurricane buffer). Planting cypress trees along canals is a way of improving structure and/or restoring wetlands." -- Dr. Jeffrey M. Sigler, Professor of Practice, Tulane University Department of Earth & Environmental Sciences
Network. If you're a Twitter person, a good start is following @whodat35. She's a fierce advocate of the fishermen she spends her days documenting. The @NRDC is updating readers on the state of the Gulf in real time, and has been tireless in gathering the stories of Gulf fishermen and their families. Many, many grass roots efforts are still springing up in the Gulf.
Advocate. If anything in the government's Natural Resources Damage Assessment case against BP could help Gulf residents, it would be unconscionable if that data were not released. The Exxon Valdez case settled decades later, when many residents had already died of health complications. And speaking of expediting, only $3.6 of the $20 billion BP settlement fund has been distributed. Instead of letting the same playbook run out, wouldn't it be something if we as citizens demanded a sane timetable for settlements while they could still make a difference to the Gulf families affected by the oil?
Attend. Josh Tickell's Fuel Film has a sequel that premeires tonight at the House of Blues in New Orleans, and Dr. John (aka Mac Rebennack), Rev. Goat Carson and Drew Landry are playing a "Solution to Pollution" concert in honor of the late Bobby Charles. That's also in the French Quarter. Check out events in your city or stay home and reflect on our planet and just how badly we're fucking it up. It's easy to feel powerless, but grass roots support does make a difference.
And it does not have to be the same time, next year.
WATCH: Jason Mraz, Peter Fonda, Amy Smart, Tickell and crowd in Jackson Square, New Orleans, singing "All we are Saying is Give Green a Chance"
"There are plenty of grand strategies, including replanting native trees, getting rid of certain canals, allowing the Mississippi to take its natural course, building barrier islands etc. But as long as we continue to need oil, we will continue to run a constant risk of accidents like this. I am hopeful, but we face an uphill battle. We are currently losing wetlands, not gaining. We need good science, but we need a lot more than that. One of the reasons I am hopeful is because so many Americans far beyond the state lines were horrified by the Deepwater Horizon disaster as they learned about the possible ecological ramifications. If it stays in the national consciousness, there is a better chance of effectively cutting our losses." -- Dr. Jeff Sigler
Photo by Jeff Beninato