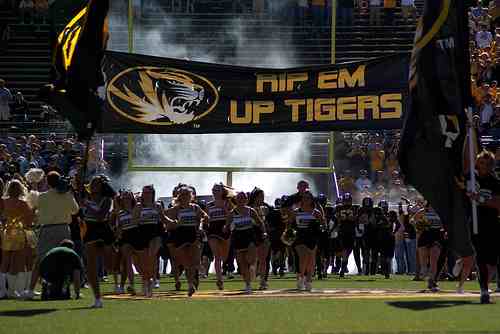 The University of Missouri Athletics Department is one of only 14 athletic programs in the Football Bowl Subdivision (with 120 teams) to turn a profit last year. The Mizzou athletic department just hired Basketball Head Coach Frank Haith for $1.5 million per year, and Football Head Coach Gary Pinkel earns $2.35 million per year.
But the athletic department doesn't want to share any of its profits with a lowly intern to help run its website WeAreMizzou.Blogspot.com, which apparently is different from WeAreMizzou.com. The department is looking for unpaid interns in the Missouri School of Journalism "to gain experience" managing the website.
The email looking for potential interns was forwarded out over the Missouri School of Journalism's listserv earlier this afternoon, which is how it came to our attention.
I'll spare you the unpaid-internships-are-unfair rant, but seriously. Mizzou's athletics department can throw millions at head coaches and their assistants, but it can't shell out eight bucks an hour to some intern to help operate its website?
We tried to interview the person behind this email, and we were in the process of doing so until she realized I wasn't interested in applying for this scam, ahem, I mean unpaid internship.
Get lost, Mizzou Athletics. Let us know if you're willing to fairly compensate your interns and not reduce them to indentured servitude. We'll even promote the internship on our Twitter if you pay up.