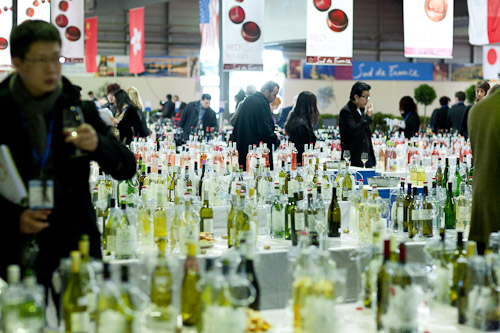 The Languedoc is the largest wine growing region in the world, the oldest wine-making area in France, a mecca for organic wine growers and birthplace of the first sparkling wine. Every year wine buyers from around the world gather here for the Forum International d'Affaires; five days of tastings, meetings and events that showcase the region and promote their wines for international markets.
Organized by Sud de France, a public-private partnership, this year's event was held from January 25-29 in Montpellier, bringing together 1556 wines from 349 producers with buyers from about forty countries. While many importers were from Europe and North America, there were an equal number representing the exploding Asian market for wines, including China, Japan, South Korea and Hong Kong. One American importer remarked that because of the surge of wine demand in China, he had come to Languedoc to make sure he would still have French wines to import a few years from now.
Interest in Languedoc wines has grown as the region has switched focus from quantity production to quality. They've been actively reducing their output, going from an average of 29 million hectolitres per year (around 321 million cases) twenty years ago to roughly half that amount currently. What hasn't been reduced is variety. The region maintains strong production in Red, White, Rosé, Sparkling and Dessert wines.
Participants in the Forum International d'Affaires were given two days of tastings without the winemakers presents, allowing them to sample and compare wines without any sales pressure. They then submitted a list of wineries they were interested in, at which point the winery either agreed to or declined a meeting. This ensured each sit-down was mutually beneficial, and this system was overwhelmingly supported by the importers participating.
With hot and dry Mediterranean summers, low rainfalls and temperate springs the Languedoc is also perfect for organic wine growing conditions and has the largest amount of organic vineyards in France, with 798 producers accounting for a third of all French organic wines.