Atlantic City, New Jersey -- At the very beginning, Beijing Punk asks: "What happens when 1.3 billion Chinese discover punk?" Then it proceeds to answer the question -- well, not exactly. But that doesn't matter. This is a fascinating and insightful journey into China's punk culture, a world few people know about, including the 1.3 billion Chinese. We are taken into their underground clubs, hang with several bands that fuel the Beijing punk spirit, visit their crash pads as they unwind and get ripped and stoned. We witness their anger, their alienation, their hostility, their rebellion.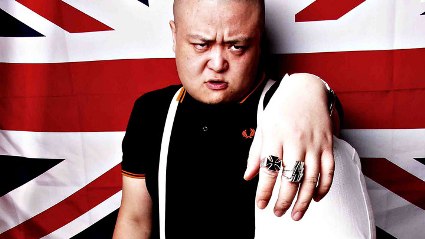 This intimate and raw film screened at the Atlantic City International Film and Music Festival, which is the festival's inaugural year. With venues scattered among four boardwalk hotels -- Bally's, Caesars, Showboat, and Harrahs -- it makes for an unusual atmosphere for a film and music festival. The competition with the casinos is never easy in Atlantic City, but the festival's founder and director, John Paxton, is determined to turn Atlantic City into a major festival stop.
As for Beijing Punk, which is quickly achieving cult status among a growing number of independent film goers, the film was received enthusiastically in Atlantic City. At the Q&A after the screening it was clear that the film took a few American former-punkers down memory lane.
But are Chinese punks different from other punks? The Chinese variety have the same spiked hair and leather jackets and tattoos, engage in heavy if not constant drinking and drug taking -- codeine and hash seem to be their favorites -- and violence is more than tolerated. It appears there is nothing really different about Chinese punks, except they are punks in China.
Yet, didn't punkdom have a quick death back in the 1970s? And isn't China tightly controlled by a ruthless authoritarian government? And doesn't a famous Chinese saying go, "Any nail left standing up must be hammered down"? China may be embracing the capitalistic -- "getting rich is glorious," as they also say in China -- yet causing trouble certainly isn't. So how are punks in China possible? They tip-toe on a razor-sharp line.
The punk bands' lyrics do not directly challenge the government and it's closed political system. That would be one fast and brutal no-no and the end of punks in China. Instead, their words attack the amorphous "society" and "culture." The words are ambiguous and allow hidden meanings to be understood among the faithful punkers, yet allow the authorities to claim the punkers are not saying what they are actually saying. This vagueness allow punk bands in punk clubs with punk fans to exist in modern China.
Growing up in a society where the government is watchful and nervous about popular culture, about anything and anybody that could develop into a challenge to its authority, Chinese punkers are ballerinas on the line between the acceptable and the unacceptable. If they dance too close to the forbidden, the authorities clamp down; seldom is the line explicitly crossed, so they are allowed to exist as an underground entity. Their rage in public, even in their underground clubs, exists without specific targets. Diffused rage is seldom a political threat.
The visuals and audio of Beijing Punk reflect the rawness and roughness of the subject matter. Australian director Shaun Jefford has produced an intimate, at times hilarious, riveting portrait of a group of young Chinese struggling to survive in a society increasingly infatuated with materialism While most of the Western media, even some independent films, focus on the "economic machine" of the East, Jeffords slips us into the lives of those who hate this "getting rich is glorious" machine.

Beijing Punk, then, is not so much about a bygone subculture that today lives in Beijing, but about the arrival of what Chinese authorities will have to adjust to in the future: citizens refusing to follow the official program. This will mean rebellion from the mainstream -- nails that refuse to be hammered down! This will mean more Chinese individualism in all its strange and weird forms.
Beijing Punk gives us the Western punk of our past that lives today in in Beijing, and a glimpse into the future of China, a future its authorities would rather not see. And that is another reason to see this very good film.