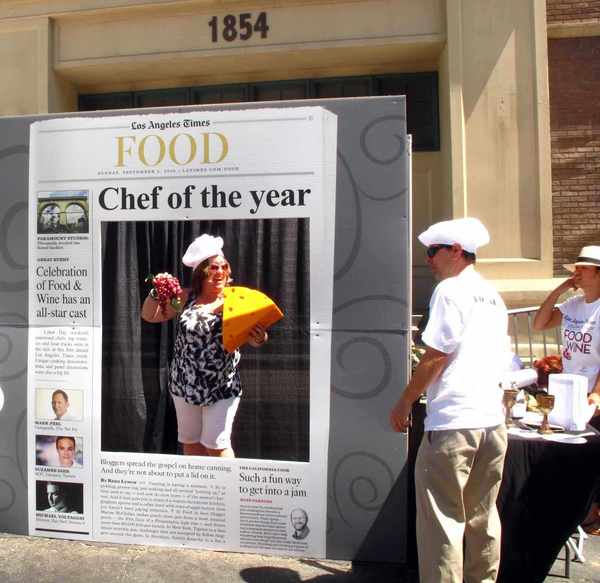 Carpe Chef - seizing the chance to be on the front page.
After overindulging two nights at The Taste of Beverly Hills, my general admission passage into the Los Angeles Times Celebration of Food & Wine on Sept. 5 forced me to limit my intake. My general admission ticket came with eight wine tasting tickets, but the majority of food trucks and exhibitors sold food rather than dispensing free samples, at least for those of us with general admission-only tickets.
The Los Angeles Times Celebration of Food & Wine highlighted Los Angeles as a unique culinary destination. Los Angelenos can spend an evening dining fine at an upscale venue or grabbing "to-go" from an innovative food truck serving cuisine ranging from tacos and tamales to dumplings and pancakes. Participating exhibitors included The Border Grill Food Truck, the Buttermilk Truck (their strawberry pancakes looked great, but they weren't sampling and I wasn't buying), Don Chow Tacos, the NomNom Truck (which was sampling a paltry spoonful of banana pudding -- most people were buying NomNom's Vietnamese sandwiches) and The Ragin Cajun (which was sampling a tiny cup of tasty beef brisket with gravy). Wahoo's Tacos and Hoy Cantina both let people use a wine ticket for some food. The most generous exhibitors were the Cooking Channel Ice Cream Truck which was serving a generous scoop of Carmela ice cream (either Salted Caramel or Strawberry Buttermilk) and Delicious Wishes of Beverly Hills (offering scrumptious cupcake balls).
Unlike the Beverly Hills event, many of the lines to obtain food and beverages at the Los Angeles Times event at Paramount Studios were long and slow moving. At $65 ($55 if bought in advance), the general admission price was more egalitarian than the $160 all-inclusive ticket charged by The Taste of Beverly Hills. Both the $55 advance general admission tickets and the $125 VIP admission (that included unlimited free samples) sold out well in advance of Sunday's Los Angeles Times event.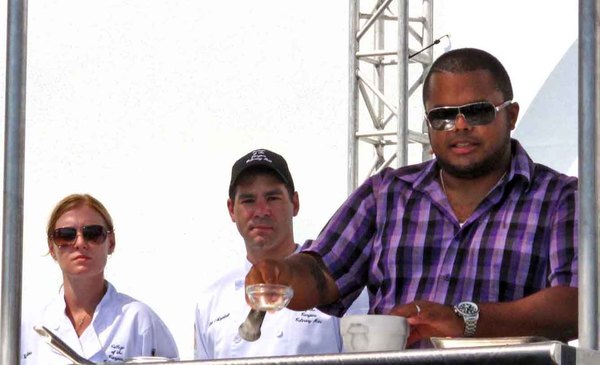 Chef Roger Mooking mixing ingredients.
Since most of the food required reaching into my wallet, I concentrated on my culinary education and attended several panels and Q&As rather than stuffing my face. Two Cooking Channel chefs, Roger Mooking of Everyday Exotic and Aida Mollenkamp of Ask Aida and FoodCrafters, made cooking look easy peasy.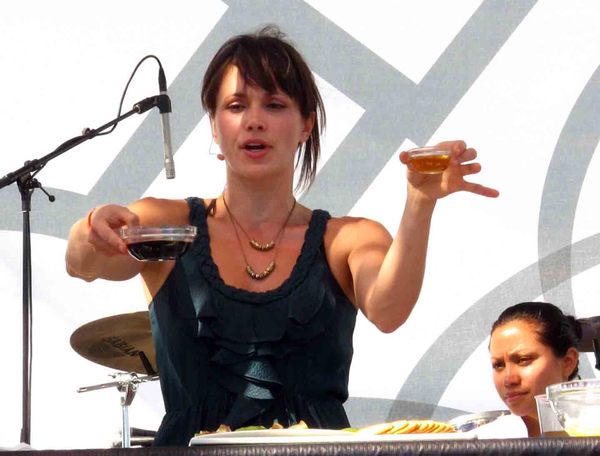 Chef Aida Mollenkamp demonstrating an "easy-to-make" balsamic and honey drizzle for crackers.
The panel discussions with chefs, food bloggers and Los Angeles Times Food section staff were first rate. With four stages plus a venue for wine chats, the event's focus on education reminded me of the great panels offered yearly at the Los Angeles Times Festival of Books.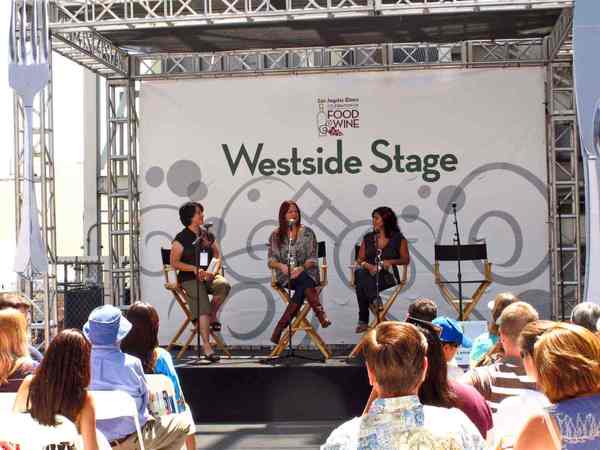 Food Blogging Panel featuring Ree Drummond (center), Aarti Sequerira (right) and Rene Lynch (left, moderator and assistant food editor Los Angeles Times).
I learned several things and now have a list of restaurants I must try.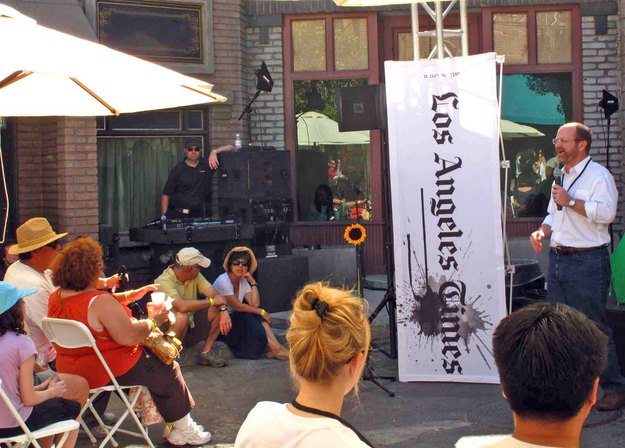 Russ Parsons, Food Editor Q&A.
If you've ever wondered "How many times does a Los Angeles Times food critic visit a restaurant before writing a review?" Russ Parsons said food critics go in anonymously, pay for their meals and make at least three visits -- more if the food is bad -- if the review is going to be negative, they want to ensure the restaurant wasn't just having an "off" day [3 times in a row].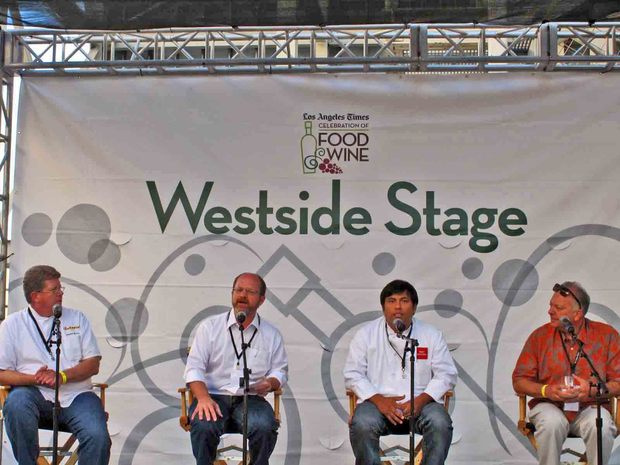 Latin Cuisine Panel (L to R: Jimmy Shaw, Russ Parsons, Ricardo Zarate and John Sedlar).
From the "Reinventing Latin Cuisine" panel featuring John Sedlar (Rivera), Jimmy Shaw (Loteria Grill) and Ricardo Zarate (Mo-Chica), I learned that creative chefs can and will literally cook anything -- and make it tasty. Ricardo has been introducing Los Angelenos to Peruvian food at Mo-Chica. He's also the force behind Test Kitchen where chefs and mixologists rotate to introduce diners to a variety of cooking styles. John Sedlar's restaurant Rivera was described as a Latin fusion restaurant that blends cuisines from Spain to Argentina. When Sedlar designs a menu for Rivera, he focuses on: "what's challenging; what's new; and what's fresh."
I still am trying to wrap my brain around the fact that Ricardo says that ant larvae can be delicious. Jimmy Shaw says people enjoy beef tongue tacos at Loteria Grill. I would require a margarita before nibbling on a tongue taco. The inventiveness of these three chefs made me want to visit all three restaurants. Rivera is famous for serving dishes with a stenciled philosophic message (created from spice, cayenne, cinnamon and cacao).
When asked which dish they would most highly recommend for a first visit to their respective restaurants, here were their responses:
Jimmy Shaw, Loteria Grill: "The Mole Poblano, Shredded beef or Chilaquiles (a breakfast dish)."
Ricardo Zarate, Mo-Chica: "Ceviche, lamb shank and Causa (a Peruvian potato salad)."
John Sedlar, Rivera: "Tortillas Florales and Heirloom Corn Posole."
Many people lined up, including myself, for the opportunity to be photographed on the cover of the Los Angeles Times Food Section. And lastly, the new Los Angeles Times Wine club was launched at the event.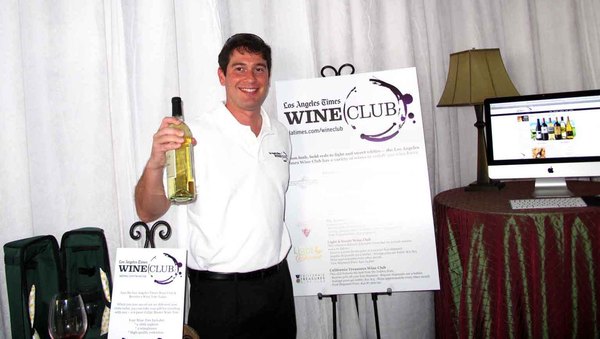 A handy wine tote is a gift to new members.
And for those who had too many wine tastings, there was an exhibitor on hand that could be paid to get them home -- Y Drive LA, a service that will speed over on a moped to a bar or venue where one or more people have had too much too drink. Y Drive LA's driver puts his collapsible moped in your trunk and then drives you home in your own car. You get home safe and sound; the driver gets back on the moped to help the next customer who's had one too many.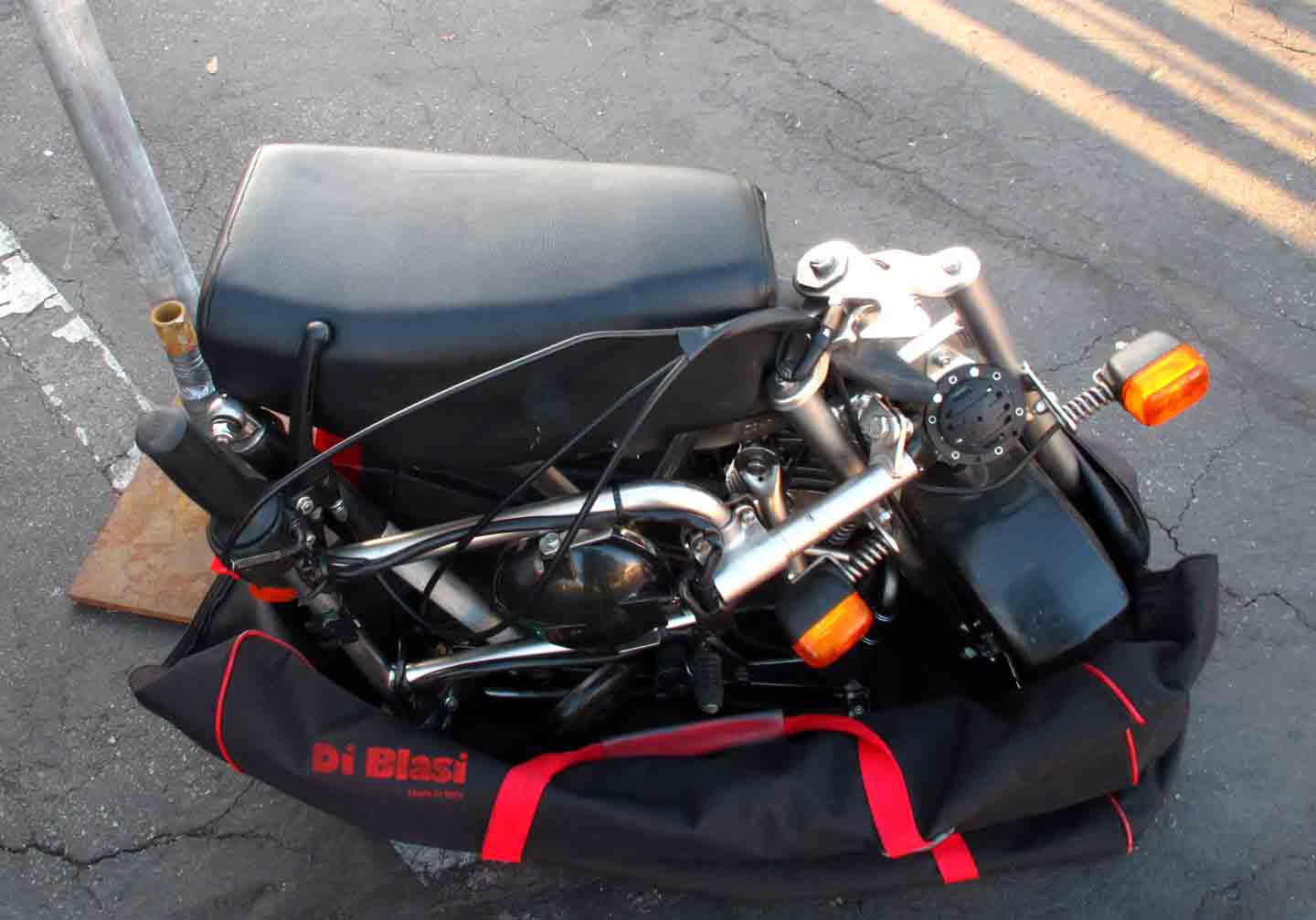 Y Drive LA folded scooter.
I do have some suggestions for next year:
Please provide a map or a guide that lets people know which restaurants and trucks are sampling and which are not. I wasted a lot of time standing in lines for a sample only to reach the front and find out they weren't offering a free taste of anything. They were there to sell food to general admission people like me.
Try to use cones or some method for distinguishing lines. Often it was hard to get from one stage to another for a panel discussion due to lines and crowds of people in front of an exhibitor's booth or food truck. Established walking paths would be great.
Provide more tables and areas where people can sit down and eat. We had to fend for ourselves, sitting on sidewalks or leaning against loading docks (and further blocking pathways).
Consider either having more all-inclusive VIP tickets available. (It's really nice just lining up for treats rather than having to dig into one's wallet every five minutes.) Or consider selling food tickets so people can buy food with tickets to reduce the long lines waiting for change, etc.
Don't be discouraged by this light criticism -- it's a wonderful event, and made me realize how much culinary variety Los Angeles has.
I learned Los Angeles is teeming with creativity from her sound stages to her kitchens.
Terry Gardner testing whether props can create a chef (trying to finesse both cheese and grapes).
All photographs shot by Terry Gardner