New York's art scene is fairly sedate in August (though we did manage to pick out ten can't-miss shows), so it's the perfect time to wax cosmopolitan. In this first installment of ARTINFO's global gallery guide we swing through Reykjavik, Salzburg, and Basel before returning to the loving arms of MoMA (not to mention a fantastic group show of painters in Chelsea). Read on for Matthew Barney's muscular contortions, experimental beauty in Iceland, and Daniel Richter's surreal universe.
For more on the exhibitions, and to view pieces from the show, visit the original Five Shows to See Around the World on ARTINFO.com.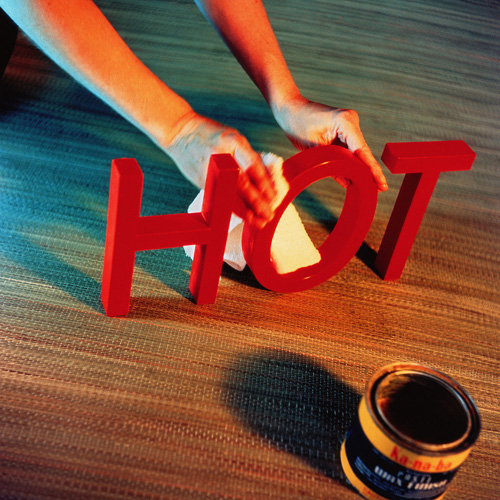 Courtesy Museum of Contemporary Art, Chicago, Gerald S. Elliott Collection; copyright 2010 Bruce Nauman/Artists Rights Society (ARS), New York
"The Original Copy: Photography of Sculpture, 1839 to Today," at the Museum of Modern Art, 11 West 53rd Street, New York, United States, through November 1, moma.org
See a slide show from the opening of "Original Copy" at MoMA.
This wide-ranging survey plays fast and loose with the definition of the genre, and challenges the way we think about capturing three-dimensional objects. Bring a friend, and then debate whether Gabriel Orozco's image of cat food cans balanced on watermelons is a sculpture or a photograph. (Whichever you decide, we say it's pure genius.)
Elin Hansdottir at i8 Gallery, Tryggvagata 16, Reykjavik, Iceland, through August 21, www.i8.is
This young, multi-disciplinary Icelander's previous body of work involved immersive installations, like 2007's warped staircase, "Drift." Here she changes course, exploring the filmed movement of dance to create brightly colored abstract photos that occasionally resemble psychedelic flowers.
Daniel Richter, "Spagotzen," at Galerie Thaddaeus Ropac, Mirabellplatz 2, Salzburg, Austria, through August 28, www.ropac.net
Richter's oil on canvas works are simultaneously light and unnerving. These playfully enigmatic pieces have a thematic connection to an opera set he designed for "Lulu" (which, like "Spring Awakening," uses Wedekind for its source material.) In "Besuch der Wirklichkeit" we see either a crowd of marauding zombies, or a mob of Day-Glo ravers. In the vibrantly volcanic landscape of "The Escapist," a naked woman squats off the edge of a cliff.
"The Big Picture" at Priska Juschka Fine Art, 547 West 27th Street, New York, United States, through September 11, www.priskajuschkafineart.com
Co-curated by Ryan Schneider -- whose bright canvases can recall David Hockney, and often feature an exquisitely offbeat take on naked human anatomy -- this massive exhibition is based on a simple premise: big art. From exploding bears to Picasso portraits and a demonic Adam and Eve, this can't-miss group show proves that large-scale painting is still capable of eliciting a visceral reaction.
Matthew Barney, "Prayer Sheet with the Wound and the Nail," at Schaulager, Ruchfeldstrasse 19, Basel, Switzerland, through October 3, www.schaulager.org
The Laurenz Foundation and MoMA recently purchased Barney's extensive, 16-part "Drawing Restraint" series, and this show, curated by Neville Wakefield, pairs the American's output with European work from the 15th and 16th centuries. Now we just need Criterion Collection to ponder a Cremaster box set, and Barney's artistic dominance will be complete.
For more on the exhibitions, and to view pieces from the show, visit the original Five Shows to See Around the World on ARTINFO.com.
- Scott Indrisek
Follow ARTINFO on Foursquare: http://foursquare.com/artinfo