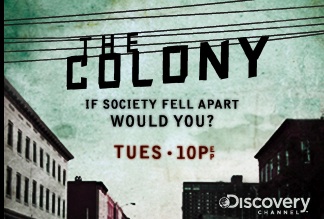 BusinessWeek writes that Louisiana is the laziest state in the union. The article shows a picture of men in caps watching television, so it must be true.
I read this online after waking up for a leisurely sunset breakfast, realize we have no ingredients and do not care to make breakfast. So I gather assorted spare change into a rag, tie that rag onto a stick and stroll to Cafe Dumonde hobo style. There I order beignets without powdered sugar. I like sugar, but this is easier to eat. After six coffees I begin to summon the energy to stroll home and begin an evening of watching The Colony on the Discovery Channel. It was filmed in St. Bernard Parish in the areas that have not yet been rebuilt post-Katrina for a post-apocalyptic feel.
The host mentions that in the event of a world disaster, humans will need to acquire shelter, water, food, security and one other thing. I grow concerned that the fifth thing is something I should probably have made a mental note of, but the coffee has me jittery. It is now twilight and time to settle down with a cocktail of gin and juice. I like neither gin nor juice, but heard it in a song once and can't remember any other drink recipes. The Colony residents are now creating a water filtration system. One of them says she's a model, and I'm already concerned about her. I wonder why producers would set the post-apocalypse in the laziest state in the union, if not to give us all the yips?
Cutting to coming attractions and the survivalists are menaced by angry marauders clearly not from Chalmette, alligators and various other head-scratchers. The stress of the show is making me nervous, and jangled nerves make me drowsy so I call an end to another five hour day. I wonder what the industrious people in the second laziest state of the union, South Carolina, are up to tonight. And I wonder why if we're so lazy, Orleans, Plaquemines and St. Bernard Parishes have managed this much rebuilding five years after it all went to hell in a hand basket. I fall asleep confident that Louisiana will somehow have the strength to recover from yet another man made disaster, the 100 foot oil geyser raining on Barataria Bay tonight.
Then I remember that according to the ominous narrator in The Colony the fifth element you need in a world disaster is fire. I make a mental note to buy a lighter. Tomorrow.