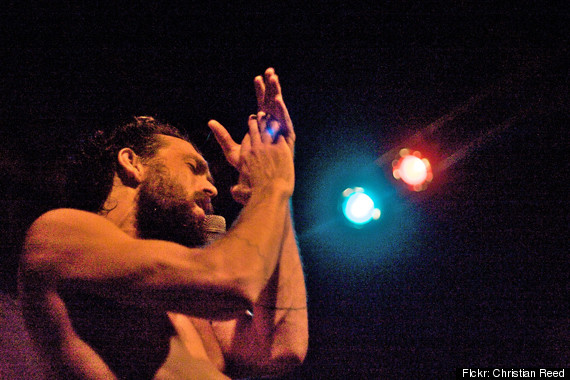 Hippies and hipsters of all shapes and sizes turned out last night to hear the happy music of Edward Sharpe and the Magnetic Zeros at The Beach on Governor's Island. Though thunderstorms had threatened all day,the air was crisp and the skies clear by show time.
Excited partiers walked along the beach barefoot as openers We Are Each Other warmed up the crowd, their folksy and upbeat energy a good match for the headliner.
Shortly after 9PM, Alex Ebert, a.k.a. Edward Sharpe, and his band of ten strolled out to roars from the audience. Strangely absent at the start was vocalist Jade Castrinos, who is arguably just as recognizable a face of the band as Alex, and is featured prominently in the group's three biggest hits.
Something very similar had happened in DC the night before, with the group claiming Jade was lost at the start of the show. Gimmick? Probably. The band surely knows that the chemistry between Jade and Alex is one of the more compelling elements of their music, and might have been saving this trump card for the big finish.
Nevertheless, with Jade's early absence, the energy and enthusiasm waned; a loss likely exaggerated by the somewhat moodier and less danceable opening songs. After just a half an hour and maybe 4 songs, the band took a set break. A set break that went on. And on. For 35 minutes. Restless audience members pulled at their plastic cups and kicked around sand.
When they finally returned to the stage, Jade joined, to the audience's great pleasure, and they gave a rousing rendition of their hit, "40 Day Dream", the first truly rocking moment of the night. The rest of the show was energetic and incredible, with the audience singing along to hits "Janglin'" and "Home".
Waiting for a band to take the stage like, we did for this merry-troupe last night, can be an exhausting and irritating ordeal; when things are in sync, however, Edward Sharpe and the Magnetic Zeros exude a bright and warm energy that really takes hold of the audience. The have something really special going for them, it'll continue if they stay out of their own way.