I have the best job in the world.
I've been blessed with traveling the world in order to teach people yoga. I realize yoga still carries stereotypes such as granola-loving, uber flexible chant-till-you-drop fanatics, but I'm here to prove those people wrong.
Yoga will change your life.
I had a doctor's appointment this week with a new ENT and he waltzed in after looking at my chart and greeted me with a warm, "namaste!" He continued to tell me how he had practiced yoga for 12 years. Yoga had completely changed and enriched his life. We were fast friends -- my dislike of doctors' offices dissipating as we bonded over breath and neti pots.
Fortunately for me, my visit was to deal with a non-life threatening case of vertigo. I count my lucky stars as I know the endless list of people who deal with consuming disease on a daily basis. This brings me to my dear student, Danelle Frazier Wilson. I first met Danelle at a workshop of mine in Washington D.C. She shone so brightly out of a room of 60 yogis -- determined to try everything without any aggression. Always smiling, laughing when she would fall, and getting right back up to try it again. There was such a strong energetic connection to her lust and love of life. I didn't get her story on this trip but was reconnected with her again as she attended a workshop of mine in Winter Park, Florida.
She was there with her best friend, Angela Preat-Shershen (check in next week for her equally inspiring story) and I fell in love with them all over again. Their joy for yoga was so effusive, I couldn't help but pull them aside after class and demand their story -- and what a story. They both came from extremely severe trauma and disease.
Their knight in shinning armor? Yoga. Breathe. Belief.
I begged them to put their stories down in writing as they both blushed over the idea of penning their experiences. I told them it didn't matter if they were "writers" -- that when you speak your truth -- nothing can be wrong. Their stories needed to be shared with the world to help others who are stuck in the dark hoping for a shred of faith.
Off they went, and a week later two beautiful stories popped up in my inbox. They both explained the amazing cathartic release from putting their experiences out into the world. I'm here to share them with you, as you may share them with someone who needs the belief and support in their life to carry on.
When in doubt --breathe.
My Lungs and Yoga by Danelle Frazier Wilson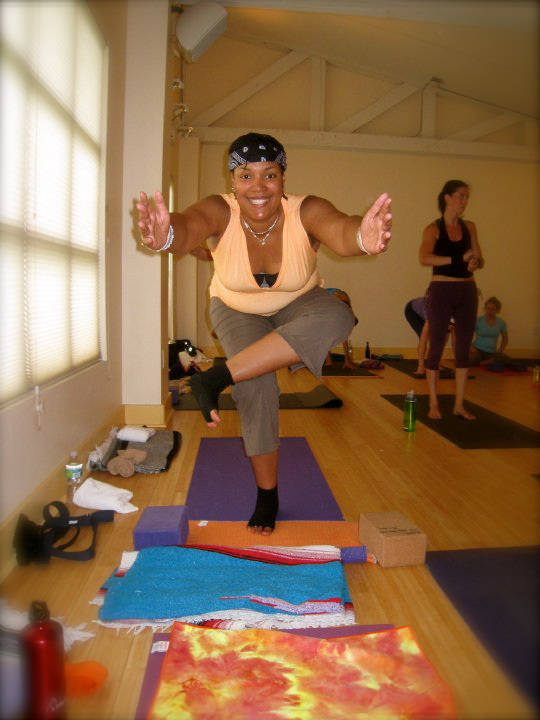 The luminous Danelle loving every moment and breath on her mat.
In the summer of 2007, I was diagnosed with a rare disease that had conquered my lungs called Sarcoidosis. I had 40 percent lung capacity and could barely walk without lung pain. The fevers and fatigue kept me on the couch for months in disbelief that I would ever walk briskly, run or have a normal life again. The medications deepened my depression and their stronghold on the other organs within my body. Friends and family wanted to help. All the Sarcoidosis chat rooms were filled with others whose bodies had succumbed to the disease. Their tales were dark and grim, as they were emotionally dying. Activities such as lifting weights, biking and running were out of the question for me as I neither had the strength nor the lung capacity.
A year ago, I entered a yoga studio and laid on a yoga mat faced down in the pose of a child. My chest was heavy and sunk deeply with each breath. My knees ached as I could not find a place of comfort no matter how much I shifted my weight. Those 90 minutes of Vinyasa flow were overwhelming, confusing yet gratifying. Of course, I could not keep up. When the others flowed upward -- I was down. When I was down -- they were up. My breathing became increasingly out of sync and heavy. Down dog felt like an upside down shimmy as my entire body shook uncontrollably. At the end of this class everyone smiled at me and said I did great. That day was my "birthday."
Yoga quickly became the answer to have a chance at living and feeling better. Each time I came to class I felt like such a misfit. Physically I could not keep up with the practice. I never had a suitable mat as I always slipped and struggled.
"Surely it was the mat," I thought, as I was in denial about my mental focus or dhristi (gaze).
My teacher was incredibly encouraging and reinforced that just showing up on my mat each day was one of the greatest things I could do for my mind and physical condition.
Today, I practice a minimum of 3 days a week and attend as many workshops as I can. It has truly become my practice. At times it is full out and I push through what ever my body is feeling. At other times it is restorative.
I listen to my body completely.
I surrender.
None the less, I have learned to mind my mat, set my intention and breathe. My disease is in remission now and my medications are slowly being weaned from my body. My happiest days are after class when my fellow yogis thank me for my ujjayi breathing. I never thought I would see the day when my breath could motivate others.
Danelle began and continues her study of yoga at a Mystic Power Yoga, a Baptiste affiliate studio in Hazleton, PA, owned by Michele Fisher.