Two years after the credit crunch mushroomed into a full-blown credit crisis, the Federal Reserve continues to search for answers in its quest to boost bank lending to small businesses, Fed Chairman Ben Bernanke indicated today.
Speaking at a conference on small business lending in Detroit sponsored by the Federal Reserve Bank of Chicago, Bernanke noted the drop in bank lending, yet expressed doubt on the reasons behind it or how to fix it.
"Unfortunately, lending to small businesses has been declining," he said in his prepared remarks. "Indeed, outstanding loans to small businesses dropped from almost $700 billion in the second quarter of 2008 to approximately $660 billion in the first quarter of 2010."
The approximate 5.7 percent drop is steeper than the 4.4 percent decrease in overall lending by U.S. banks, according to Federal Reserve data maintained by the St. Louis Fed. Outstanding loans at banks dropped by $303.4 billion from the end of the second quarter of 2008 (June) to the first quarter of 2010 (March).
"Unfortunately, small business credit remains severely constricted," the Congressional Oversight Panel, a federal bailout watchdog, acknowledged in a May report. "[L]ending plummeted during the 2008 financial crisis and remained sharply restricted throughout 2009.
"[B]etween 2008 and 2009 [Wall Street banks'] small business loan portfolios fell by 9.0 percent, more than double the 4.1 percent decline in their entire lending portfolios. Some borrowers looked to community banks to pick up the slack, but smaller banks remain strained by their exposure to commercial real estate and other liabilities. Unable to find credit, many small businesses have had to shut their doors, and some of the survivors are still struggling to find adequate financing."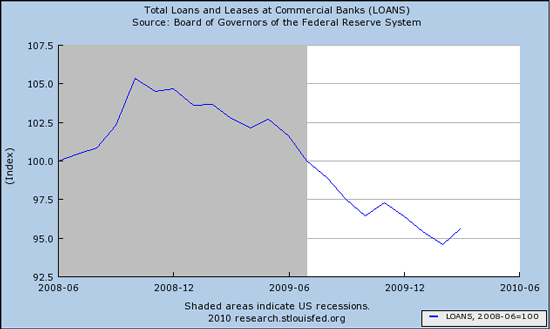 In his Thursday remarks, Bernanke presented the question as to whether the decline in lending is due to a reduction in the availability of credit, or whether it's due to shrinking demand.
"An important but difficult-to-answer question is how much of this reduction has been driven by weaker demand for loans from small businesses and how much by restricted credit availability," he said.
He didn't answer it.
"To be sure, the distinction between demand and supply is not always easy to make. For example, some potential borrowers have been turned down because lending terms and conditions remain tighter than before the financial crisis, perhaps reflecting banks' concerns about the effects of the recession on borrowers' economic prospects and balance sheets.
"From the potential borrower's point of view, particularly a borrower who has been able to obtain loans in the past, these changes may feel like a reduction in the supply of credit; from the lender's point of view, the problem appears to be a lack of demand from creditworthy borrowers."
It's up to the Fed to figure out which is having the greater effect so small businesses can get the financing they need.
"Although lenders and borrowers may have different perspectives, our collective challenge is to help ensure that creditworthy borrowers have access to credit so that, should they choose, they can expand their businesses or increase payrolls, helping our economy to recover," he said.
To that effect, the Fed's meeting in Detroit is one of 40 such gatherings that the Federal Reserve System is hosting across the nation. But the answer as to why credit has been so constrained -- and ways to revive it -- won't come until later this summer, nearly two years after the height of the financial crisis.
"The findings from the entire series of meetings sponsored by the Federal Reserve will be presented at a culminating conference at the Board of Governors in Washington later this summer," Bernanke said.
Meanwhile, small businesses continue to suffer from a drought of credit, imperiling the thus-far jobless economic recovery.
"Small businesses have long been an engine of economic growth and job creation in America," the Congressional Oversight Panel noted in its report. "More than 99 percent of American businesses employ 500 or fewer employees, and together these companies employ half of the private workforce and create two out of every three new jobs.
"Because small businesses play such a critical role in the American economy, there is little doubt that they must be a part of any sustainable recovery."