Scroll down to listen to podcast interview
In a podcast interview for CBS News and CNET, Facebook CEO Mark Zuckerberg referred to the past few weeks as "intense" and when asked about the backlash over Facebook privacy, he acknowledged that "some people are going to be critical and are going to have feedback" but "overall, it doesn't seem like a big movement."
I spoke with Zuckerberg at Facebook's Palo Alto, Calif headquarters shortly after the company announced that it was simplifying its privacy settings.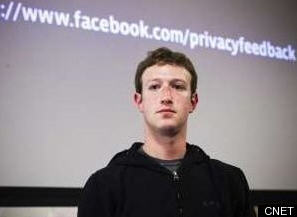 When asked whether Facebook can make money without mining user data he said "The answer is clearly yes and added, "We've focused on keeping the advertising on the site very minimal and sparse...We run a lot less ads than a lot of other sites do." He added that "the reason why we don't have to is because the ads work well and we're making enough money to support ourselves." Zuckerberg said that for long term success "the best thing we can do is build products that help people share and stay connected with the people they care about."
I asked him to "take your Facebook hat off and talk as "26-year-old Mark and tell me what it means to have privacy in the 21st century." He said, "People will always care about privacy and will care even more about how they share stuff." He told me about how he used Facebook to share his own family photos, "I wanted to share the photos of that with my family but not with everyone. If my only option was to share them with everyone, than I wouldn't have shared them at all." Unlike many Facebook users, Zuckerberg actually knows how to use the site's current privacy settings. Hopefully the rest of us will be able to figure out the more simplified settings as they are rolled out.
Podcast
Listen to the 13 minute podcast
Read more at my Blog on CNET News
Disclosure: I serve as co-director of ConnectSafely.org, a non-profit Internet safety organization that serves on Facebook's Safety Advisory Board and receives funding from the company.