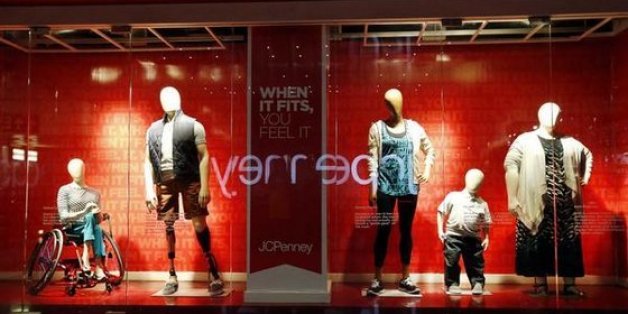 The fashion industry has come a long way in terms of inclusive mannequins. From tattoos to pubic hair, many brands have taken initiative to represent a broader range of bodies in their storefronts.
Now, J.C. Penney has gone even further. The department store revealed five new mannequins at its Manhattan location Wednesday that not only represent real bodies, but have all been modeled after real people. The idea was originally brought to life for a "Today" show series titled "Love Your Selfie," which centers around positive body image. The models range in height and weight, and include one wheelchair-user and a veteran with prosthetic legs.
We are committed to fitting our customers just as they are – all shapes, sizes & styles. #loveyourselfie @TODAYShow pic.twitter.com/IBC4zne7NQ

— JCPenney (@jcpenney) July 15, 2014
But the much-welcomed move by J.C. Penney, who back in 2012 was slammed with a petition to remove "super-skinny" mannequins from stores, actually seems long overdue. And it makes us wonder why this particular aspect of the retail business is still lagging behind.
Here are just some of the reasons why it's about darn time:
1. Humans vary in size: According to a survey done by ModCloth in 2013, more women wear a size 16 dress than a size 0 and 2 combined. With all of the different possible shapes a person's body can take, it can be difficult to understand how something will look on anyone who doesn't resemble the slender mannequins.
2. A significant portion of the U.S. population is currently underrepresented: Approximately 41.5 million people were recorded as having physical disabilities in the 2010 census yet there are barely any mannequins to reflect this.
3. Everyone else is doing it: Normally we wouldn't agree with this logic, however, in this case we're happy to make an exception. Just days after J.C. Penney announced its new mannequins, Nordstrom announced a new advertising campaign that includes four models with disabilities. The giant retailer has been featuring models with disabilities since 1997, but it's nice to see another major store join in their effort to showcase underrepresented people. Combine that with news like IMG's addition of five plus-size models to its roster and rumors of Tim Gunn's vision for a more inclusive "Project Runway" prove that other facets of the industry have made strides in showcasing a broader range of people than ever before.
4. Everyone in this world is not 6'2": There are 30,000 people in the United States with dwarfism.When discussing diversity in the industry, it's easy to assume we're talking about just plus-size, but it's clear that there are many other underrepresented people in the fashion industry as well.
5. It's better for business: Provocative mannequins create a flurry of attention, mannequins with disabilities spark viral videos. If someone sees a piece of clothing on a body that looks more like theirs, they feel more included in the entire shopping process, and will likely feel more inclined to purchase. According to Meg O'Connell, a partner at the consulting firm Global Disability Inclusion, "people with disabilities represent a significant marketing opportunity, with $225 billion in discretionary spending."
6. We are all uniquely beautiful -- and should be praised for it: Thankfully (and obviously), people don't actually look like mannequins. And while some argue that they are simply used to display clothing in a more creative way than a hanger, seeing the way the garment fits on a size two is, well, pretty unhelpful for anyone who is not a size two.
7. And anything is better than this.