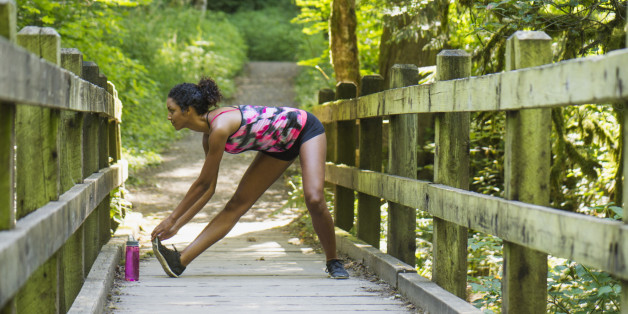 By Jeremy Berger for Men's Journal
This won't be the first time somebody tries to get you into yoga. Yoga converts are evangelical: There's the peaceful friend who wants you to find your heart center; the intense friend who dips out of work for Bikram and comes back 10 pounds lighter; and the insane friend who invites you to yoga, on a paddleboard, in the ocean, and then posts photos on Facebook to prove it's a real thing. Now there's us: Our modest proposal is that yoga will make you a better runner, improve your form and balance and decrease your susceptibility to overuse injuries of the lower extremities, including plantar fasciitis, achilles tendonitis, patellofemoral (knee) pain, IT band syndrome and trochanteric bursitis (hip pain). Yoga will also improve your focus before and during the race, when mental staying power is as important as physical endurance.
We worked with yoga instructor and endurance sports coach Sage Rountree, which is actually her real name, to identify 10 yoga poses that will improve your running game. Rountree, herself an accomplished athlete, has worked with everyone from Olympians to ultrarunners to us average folks, and is recently the author of The Runner's Guide to Yoga. "We're not trying to get runners to touch their toes or get their feet behind their head," says Rountree. "We're trying to keep them fluid through the range of motion they use for running, so there isn't a hitch in their stride that leads to an overuse injury." That, and it'll keep you from curling up and looking like a shrimp during the last leg of the race. Her word, "shrimp."
More from Men's Journal:
How to Do Yoga At Your Desk
11 Tips for Becoming a Better Runner
How to Recover from Running Injuries