If you're afraid of heights, you might want to sit this one out.
But if you like the idea of getting a bird's eye view of the Chicago streets from 94 floors--and 1,000 feet--above the ground, the John Hancock Center's new "Tilt!" platform on its observation deck is definitely for you.
The attraction opens to the public on Saturday at 9 a.m. and entails a moving glass and steel platform that relies on hydraulic pumps to tilt eight participants at a time forward to get an unusual--and, surely, terrifying to many--downward-facing look at Chicago's Magnificent Mile from a 30-degree angle.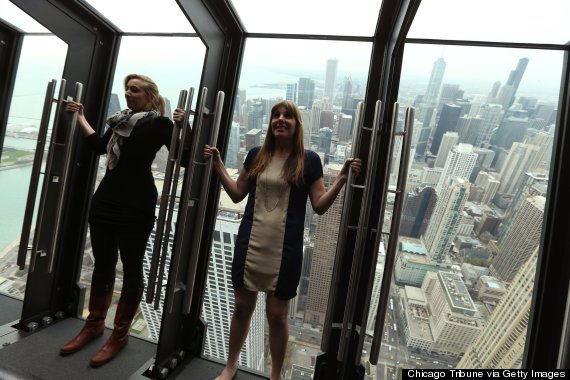 Marketing manager Leslie Cooke, left, and Laura Collins, of Isabelli Media Relations, lean back on 'Tilt' in Chicago, May 7, 2014. (Phil Velasquez Chicago Tribune/MCT via Getty Images)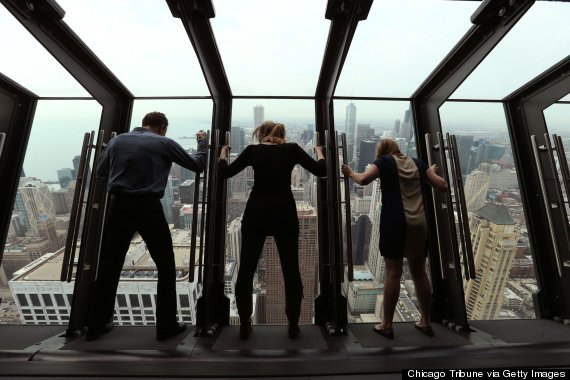 On media preview day, May 7, 2014, Chicago Tribune reporter Steve Johnson, left, and marketing manager Leslie Cooke (center) and Laura Collins, right, of Isabelli Media Relations try out 'Tilt.' (Phil Velasquez Chicago Tribune/MCT via Getty Images)
Get ready for the "Tilt!" http://t.co/YfCkqFs2fV #Chicago pic.twitter.com/StQJHomrOR

— Ashlee Rezin (@Ashlee_Rezin) May 8, 2014
John Peronto of Thornton Tomasetti, the engineer behind the new tourist attraction, insisted to DNAinfo Chicago the attraction is "very, very safe" so those wary of the adventure should feel at complete ease.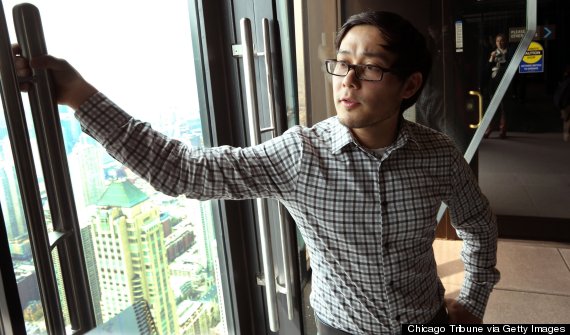 John Peronto of the engineering firm Thornton Tomasetti describes the design and effort needed to build 'Tilt.' (Phil Velasquez Chicago Tribune/MCT via Getty Images)
Hancock's "Tilt" deck opening this weekend, scaredy-cats need not apply: http://t.co/f4QxSRYXjB pic.twitter.com/volYO2GZPW

— ABC 7 Chicago (@ABC7Chicago) May 8, 2014
Nichole Williamson, general manager of 360 Chicago, the relatively new name of the Hancock Center's observation deck, told the Today show this week part of the goal with "Tilt!" was to "introduce a sense of movement into the experience" of taking in the sights of downtown Chicago from the deck.
When it was first announced that it was in development last December, "Tilt!" was said to be the Hancock Center's answer to the Willis Tower's popular "Ledge" boxes, which allow visitors to experience the illusion of, essentially, standing on air. Some Chicago journalists are already suggesting the Hancock may have outdone the "Ledge" with "Tilt."
A ride on the "Tilt!" costs an extra $5 fee on top of the $18 admission fee for the Hancock's 94th floor observation deck and reservations -- 72 hours in advance -- are required.
The Hancock Center is Chicago's fourth-tallest skyscraper and the seventh-tallest tower nationwide.