The Novorealist Movement will be well represented at this year's Representational Art Conference (TRAC2014) in Ventura, which begins Sunday Mar. 2nd. I come from the Nerdrum School myself, and find many similarities with this group that is organized in California and see them as one of many pockets of painters who are striving for the same lofty goal: to paint like the Odd Masters, or better!
I want to get to understand them better so I asked a few questions.
Novorealism, according to Alexey Steele, who coined the term,
addresses the capabilities of evolutionary developed human sensory systems as opposed to technologically based expressions. Novorealism has opposite priorities to those of 'official art'. Instead of chasing novelty it strives for authenticity, instead of glorifying ugliness it contemplates beauty, instead of prescribed irony it searches for sublime, instead of detached objectivity it engages the personal, instead of craving shock, it strives for greatness.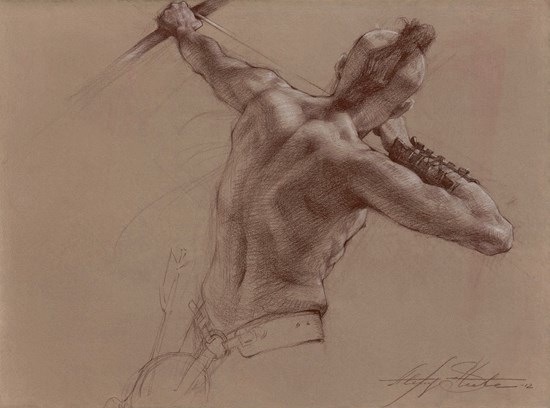 "Study for the Dawn," by Alexey Steele
Alexey Steele will be giving a demonstration at TRAC2014, which has been organized by Michael Pearce and has all the makings of an extraordinary event!
Steele:
In the cultural space were post-modernism establishment represents the emergence of New Academy, Novorealism represents the rise of a The New Avant-Guard. Novorealism is a practical and theoretical platform that allows me as ART-maker to realize my complete opposition to currently dominating practical and theoretical conventions of this New Academy. I came up with this new term to describe my own goals and to chart my own course within Contemporary Art that is shared with my Brothers and Sisters-in -ART, who chart their own artistic ways out of the same impulse and toward the same goal.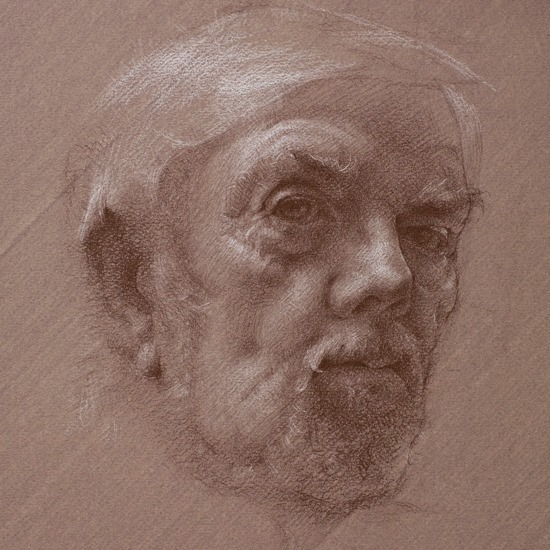 "Tom" by Alexey Steele

Steele:
Despite a well-known opinion to the contrary, I believe firmly in the ever-alive, eternal and in-suppressible ART as it is deeply rooted in human's evolutionary development and part of our genome. I firmly believe in the social function of art when it formulates cultural priorities for society and is now actively opposing the glorification of greed and commercialism advanced by post-modernist paradigm. By opposing the New Academy we set to re-define the purpose and the function of the artworld, participating in charting new ways for the society in the 21st century.
Another Novorealists who is participating in TRAC, a virtual who's who of this contemporary classical revival is keynote speaker Juliette Aristides who gives her talk on Wednesday Mar. 5th, the closing day of the four-day conference. You can follow this link to read my recent interview with her.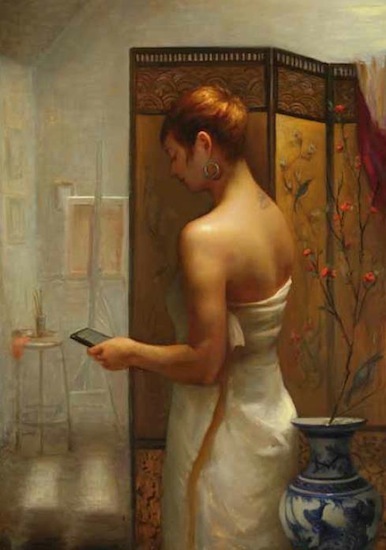 "The Artists Model on Break" by Juliette Aristides
Jeremy Lipking is one of America's premier realist artists and also has Novorealists tendencies. He has been wowing us with his work since the turn of the century and will be giving a demonstration on Monday evening, as will Alexey Steele. Tony Pro, a founding member of the Novorealists, will give his demonstration on Sunday evening.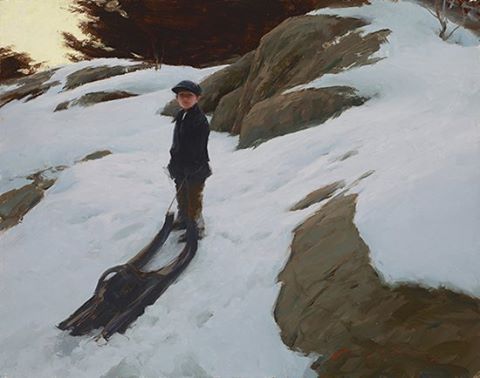 "The Sled" by Jeremy Lipking
Pro:
Novorealism was the answer to a question that I had been asking to myself for many years about 'What it is I have been painting and why?' It gives a name to what we are building based on the foundation our torchbearers passed on to us who were working in the height of modernism in the 1950s and '60s in America. Art to me is communicating ones thoughts and feelings with honesty and integrity; this is a much-needed outlook for a contemporary artist who desires to move forward out of stagnation brought upon the art world by Postmodernism.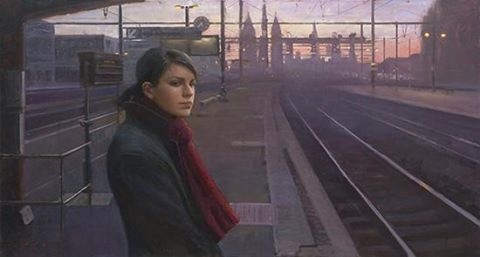 "Last Train Home" by Tony Pro
It will certainly be interesting to see what comes out of TRAC2014. What is coming in is a large group of painters, collectors, writers, educators and historians from around the world to raise the level of our appreciation for representational painting and even more than that, to discuss the philosophy behind the popularity of this new renaissance in painting.
Roger Scruton,phisopher and the man behind the BBC special, "Why Beauty Matters" will be debating with Odd Nerdrum, Painter, philosopher, and founder of the Kitsch Movement, who will make a rare public appearance at the conference. There will be panel discussions and a variety of academic paper presentations ( I give mine on Tuesday) and, of course, exhibitions of some of the best paintings being done today!
Subscribe to this blog and you will definitely hear about it.